With ski season over, bikes are on our minds. It's time to plan your spring or summer mountain biking trip to Gunnison-Crested Butte!
Spring riding in Gunnison
If you've ever taken a spring mountain biking trip to Moab, Fruita, Grand Junction or Sedona, chances are you'll enjoy Gunnison, too. It's higher elevation and less crowded than some of the more mainstream destinations. The trail systems around Gunnison boast dozens of miles of high desert singletrack, featuring everything from flowy trails to technical rock riding.
Mountain biking at Hartman Rocks Recreation Area in Gunnison, Colorado.
Gunnison mountain biking trails
Hartman Rocks Recreation Area is Gunnison's high-desert mountain biking playground. Riders can explore more than 40 miles of trail and over 30 miles of road spread across 14,000 acres of land managed by the Bureau of Land Management. Trails range from mellow and flowy to steep and technical. Any rider can find a route suited to their ability level. The open landscape provides sweeping views of Hartman's namesake rock formations and the Elk Mountains in the distance.
The Signal Peak trail system is a newer trail area located directly adjacent to the city of Gunnison. The best access point lies just east of the Western Colorado University campus. The trails begin in the rolling, sagebrush-covered hills and become rockier and more technical as they ascend towards Signal Peak (9,042') itself. The Signal Peak trail system opens to mountain bikes May 1.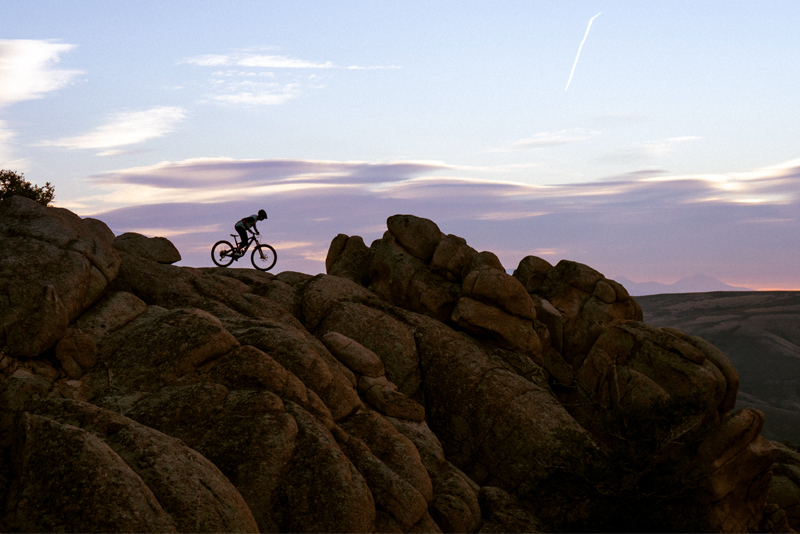 Crested Butte mountain biking trails and conditions
In spring, Crested Butte bike trails generally take longer to dry out than Gunnison trails do. Expect Crested Butte trails to start opening in early June. By the middle to end of June, most or all Crested Butte trails will be rideable. For up-to-date Crested Butte trail conditions, visit Crested Butte Mountain Biking Association's trail conditions page.
North valley bike trails
Trails near Crested Butte and Mt. Crested Butte include some of the most iconic Gunnison Valley rides, such as Trail 401. These rides are high in elevation, often above treeline. Wildflowers are plentiful in this area during the summer months. Trails include Snodgrass, Lupine, the Upper/Lower Loop system, Deer Creek, Baxter Gulch and Trail 403. The Crested Butte Mountain Bike Park offers lift-served trail access to fast-paced downhill trails. There are also many miles of singletrack accessible from Kebler Pass road, including Beckwith Pass, Lily Lake and the Dyke Trail.
Mid-valley bike trails
Bike trails abound between Crested Butte and Gunnison. Strand Hill offers short, steep loop options through the aspen trees. Trails connecting the Brush Creek and Cement Creek drainages are lightly trafficked but offer some of the best advanced riding in the entire valley. These trails include 409, 409.5, Point Lookout, Double Top, Crystal Peak and Strawberry. The famous Doctor Park trail can be accessed on the Taylor Canyon Road (County Road 742), just a few miles east of the town of Almont.
Trail conditions and openings
Spring trail conditions are variable due to weather. Please respect trail closures and obey posted signage.
The Signal Peak trail system is closed to mountain bikes from Jan. 30 to April 30 for sage grouse conservation, with no use before 10 a.m. from May 1-15. All Signal Peak trails are closed to motorized use from Jan. 1 to May 15. 
At Hartman Rocks, all roads and trails south of Powerline Road are closed to motorized and mountain bike use from March 15 to May 15 for sage grouse conservation. 
For more information on seasonal spring trail closures in the valley, visit Gunnison Trails' spring trail closures page. For more information on Gunnison-area trails, visit Gunnison Trails' website.
Safety and responsibility on the trails
Spring conditions
Spring weather in the mountains can be unpredictable. If possible, plan your route to avoid riding on wet or muddy trails. If you do encounter snow or mud on the trail, ride through it rather than around it.
Bathrooms
Pit toilets and portable toilets are scattered throughout Hartman Rocks. There are no public restrooms at the Signal Peak trail system. "Go before you go," and learn how to properly dispose of waste if you have to answer the call of nature outdoors.
Basic mountain biking etiquette
Only ride on open trails.
Riders traveling downhill should yield to riders traveling uphill.
Bikers yield to all other trail users, including horses and hikers.
Ride under control at all times.
Leave No Trace
The seven principles of Leave No Trace guide us on how to behave in the outdoors. Abiding by the principles helps minimize human impacts on the land. To learn more about Leave No Trace principles specific to mountain biking, visit LNT.org.
Gunnison Valley trail maps
Download the free CBGTrails app for a complete map of every trail in Gunnison, Crested Butte and everywhere in between.
Download CBGTrails