6 Favorite Lines in the Crested Butte Extremes
Crested Butte Mountain Resort is not just a regular ski area. What sets this resort apart from the rest is that it harbors some of the best steep terrain in North America where you'll find genuine Colorado extreme skiing. It's the kind of steeps that make expert skiers pucker, keep the locals continually challenged, and humble even the best of us.
It was this kind of challenge that drew us here in the first place. Growing weary of the lack of steeps and the superfluous crowds on the Front Range drove us to seek a different home to pursue Colorado extreme skiing. We landed here knowing that Crested Butte was a different scene. In fact, it's so different that many of our best runs are not even on the map.
That's right. In order to know the names of the steeps, you have to look at the "Extremes Map", officially called the Extreme Limits Ski Guide by Greg Payne and Sandra Cortner. (editor's note: available at many local ski shops)
After many years of Colorado extreme skiing at Crested Butte Mountain Resort, we have honed in on some go-to favorite ski runs. These are the kind of runs that we try to ski every time we hit the resort. Here's six of our faves:
Brittany's Favorites
1) Headwall, Powder 8 Gully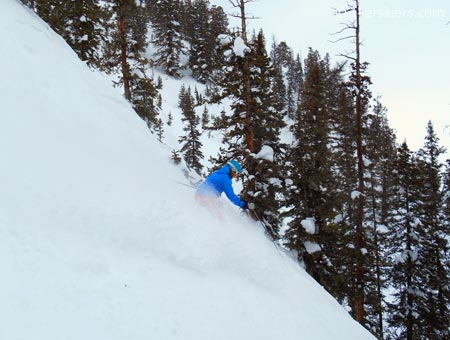 While this run is part of the extremes, it is also my favorite "warm-up run." I love being able to cruise up the Silver Queen and then on up to the High Lift to have my first run be on sloughy recycled pow that seems to be a near-permanent fixture in the Powder 8 Gully.
2) Sock-It-To-Me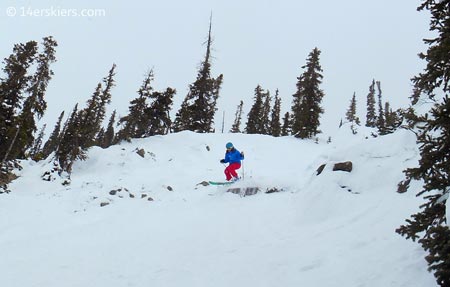 I hate to give this one away, but it's simply one of my favorites. The entrance can sometimes be rocky and uninviting. But, the rock jumping is almost always quickly rewarded by a stash of powder that tends to slough into the chute below.
3) Banana
Talk about a leg burner!  While this run isn't so steep, it is long. It's a classic ski line that originates from a steep upper bowl called Hall of Fame. It snakes down the mountain through a gully between the trees. Technically, it's an avalanche path. But, the Crested Butte Ski Patrol go to lengths to ensure that avalanches from above don't come crashing down on skiers below. Every time I try to ski this run I try to ski it top to bottom without stopping, like I'm Wendy Fisher in the 7 Hours of the Banana 🙂
Frank's Favorites
4) Third Bowl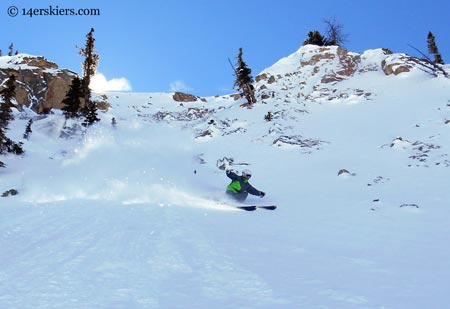 It isn't just some of the best ice cream around, it's also my favorite part of Crested Butte Mountain Resort. While I could narrow it down even further, the fact is I love everything about Third Bowl. Maybe it's the fact that it takes a bit of a hike to get there, or maybe it's the fact that it isn't open every year, but there is simply something magical about Third Bowl.
5) West Wall
Often overlooked due to its location just off the Paradise chair, this is where I go when I want to work on my steep technical skiing skills. Filled with trees, roots, and rocks, you need to be on your game to ski West Wall from top to bottom in a clean and fluid manner. And that's what keeps me coming back.
6)Teocalli 2 Bowl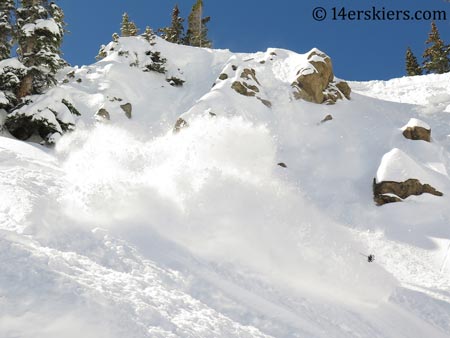 Truth be told, I've only skied this area once, after the ski area closed one spring. Slated to open this season, "Teo 2" has never been open to the public before. That's what makes it one of my favorites- it's new, and I always love exploring new terrain!
In the end, our favorite line in the Crested Butte "Extremes" is whichever one we're currently skiing. Every day and every run is different and that's what keeps us coming back for more. See you out there!