12 Reasons to Spend the Holidays in Crested Butte and Gunnison
Thinking about celebrating the holidays in Colorado? What better place than a town that looks like a snow globe! Crested Butte is magical in winter. Surrounded by snowcapped peaks, this little town exudes holiday spirit. Gunnison, which is just down the road, sports a giant Christmas tree and a decked out downtown. Come for the decorations and celebrations, or to ski Crested Butte Mountain Resort. Or you could curl up next to the fire and watch the snow fall from inside. Check out these 12 reasons to spend the holidays in Crested Butte and Gunnison.
1) THE SKIING
Crested Butte Mountain Resort (CBMR) is located in Mt. Crested Butte. CBMR is known for steep and extreme terrain, but there is plenty for beginner and intermediate skiers as well! Advanced and expert skiers can challenge themselves on the extremes. Beginner and intermediate skiers can stick to green and blue groomers. Don't forget to check out the apes scene on the mountain once you're done skiing for the day!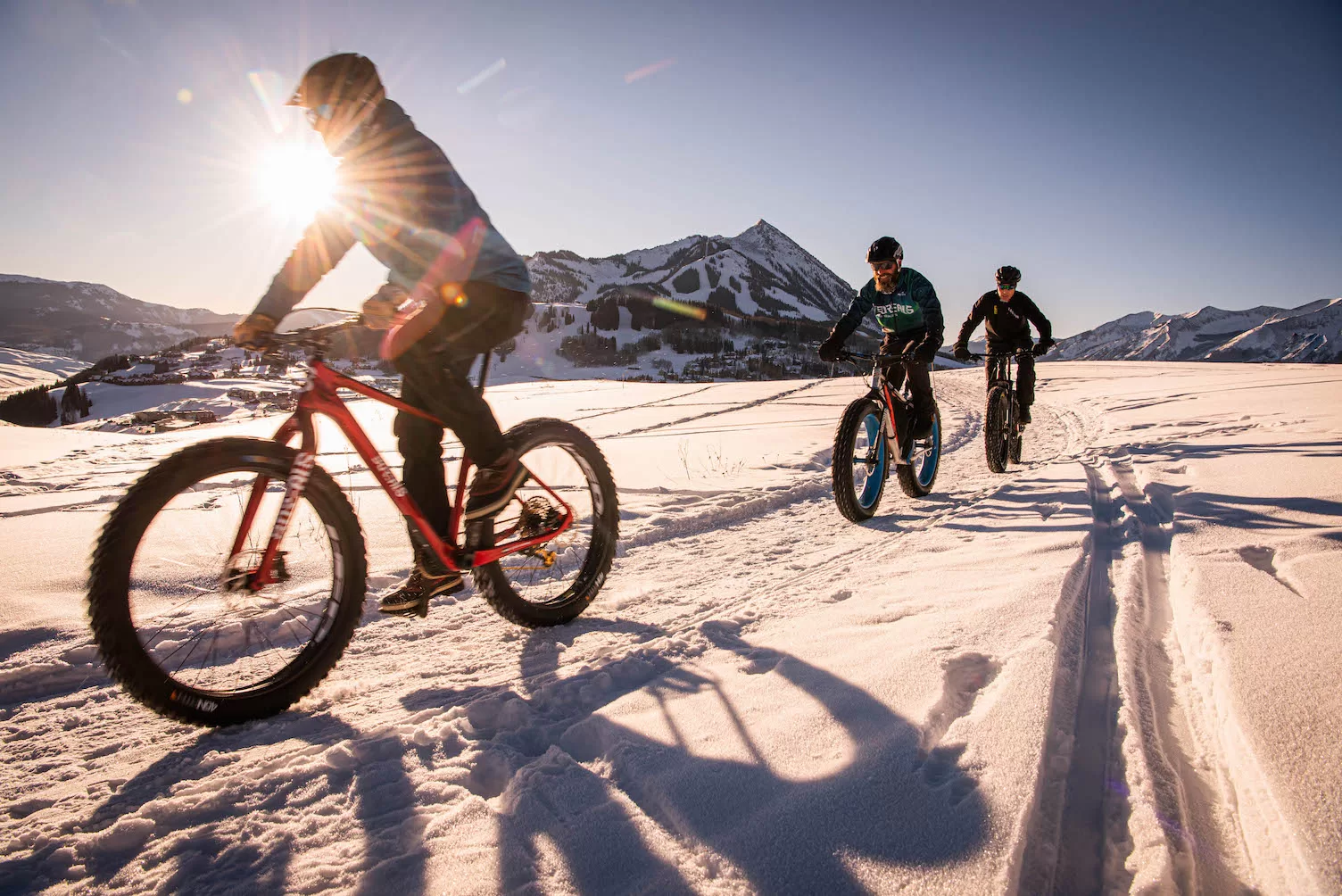 2) FAT BIKING
It's no secret that Gunnison and Crested Butte are crazy for biking in the summer months. Fat biking has gained popularity in the winter. Fat bikes have extra-wide, low-pressure tires that enable them to glide over snow. Hartman Rocks Recreation Area in Gunnison is a popular fat biking spot. The Crested Butte Nordic Center has a few trails open to fat bikers. Many summer hiking and biking trails around Crested Butte can be fat biked in the winter.
3) NORDIC SKIING
Sometimes called the "Nordic Skiing Capital of Colorado," Crested Butte has an amazing network of cross-country ski trails! The Crested Butte Nordic Center grooms 50 kilometers of trails. Many of them can be accessed right from town. Though these trails are close to town, it doesn't take long to be away from the noise of cars and people. Other places to ski near Crested Butte include Slate River Road, Washington Gulch Road and Cement Creek Road. There are a few places to ski right in town in Gunnison. Gunnison Nordic Club grooms a track at the Western Colorado University practice field, Van Tuyl Loop and Dos Rios Golf Club. Hartman Rocks and Mill Creek are a little outside of town and also groomed.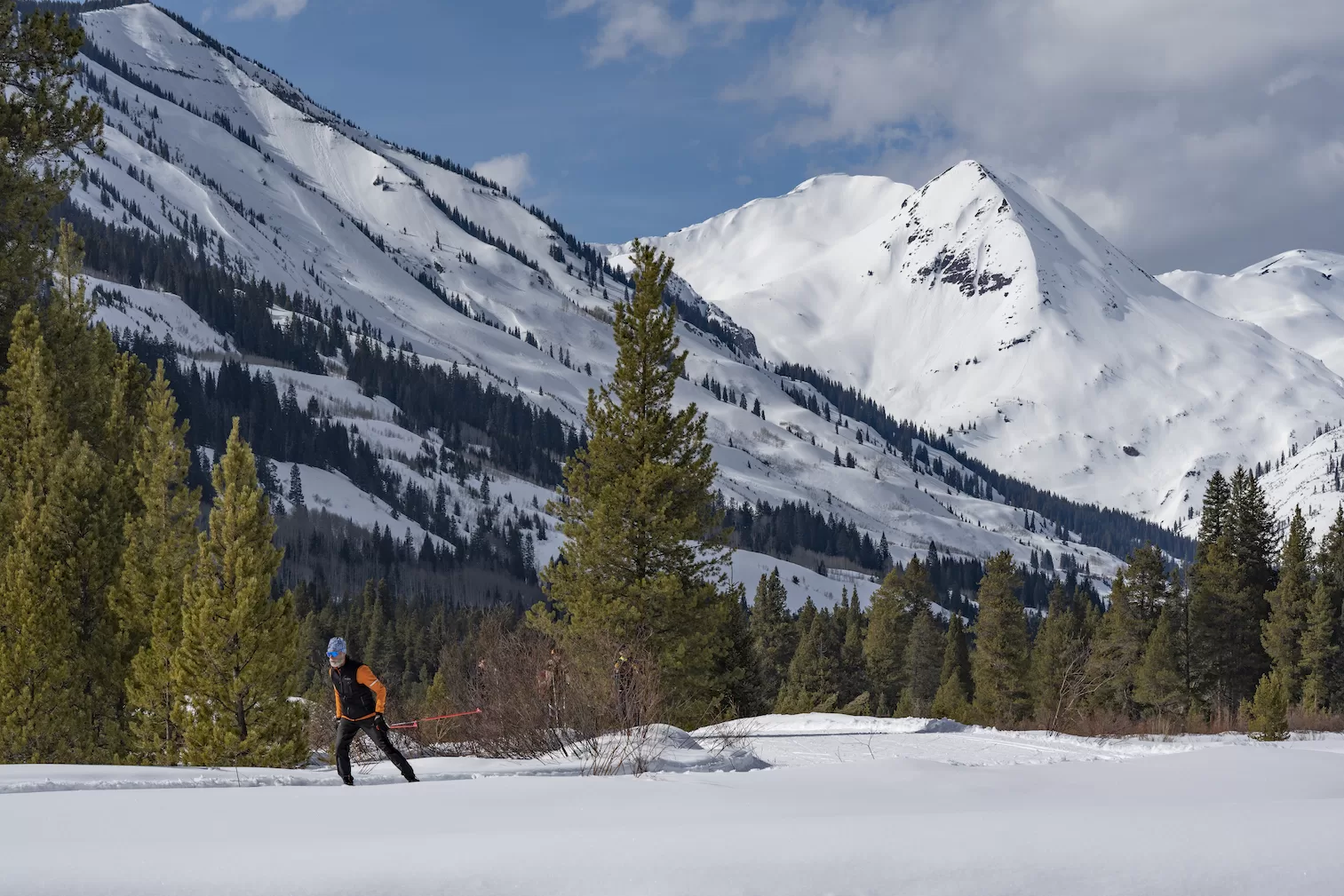 4) OTHER WINTER ACTIVITIES
If skiing isn't your thing, there are a few other winter activities to try. Gunnison and Crested Butte have dog sledding, ice skating, ice fishing and snow sledding. Depending on the dog sled guide you choose, you can sit back and relax the whole ride or learn to mush. Whatever kind of experience you want, you're in for good views and hanging out with pups. Crested Butte and Gunnison each have ice rinks available to the public. Many guide services that run summer fishing trips do ice fishing in the winter.
5) WINTER EVENTS
Some of Gunnison and Crested Butte's most beloved annual events happen in the winter. There are world-renowned ski races, tree lightings, gear testing summits and more. This winter guide can help you plan winter events and activities to do while you're here.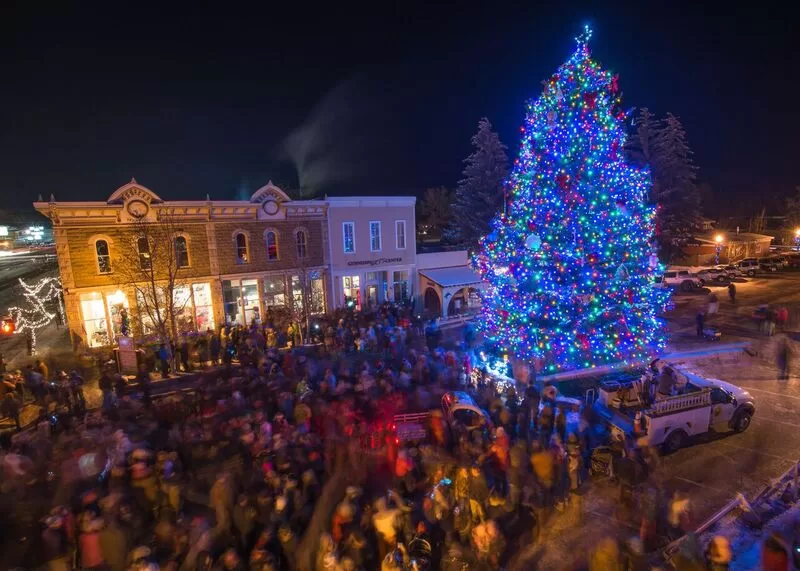 6) TREE LIGHTINGS
The Christmas season is kicked off in Gunnison with Night of Lights. Main Street closes down, local businesses serve hot chocolate and cookies, and Santa lights the tree. All of downtown is decorated with lights and festive greenery. Enjoy the Winter Wonderland Holiday Celebration at the base area of CBMR too. This festive event has a tree lighting, a visit from Santa, holiday snacks and more.
7) DINING AND SHOPPING
Gunnison and Crested Butte are home to some of the finest eateries and watering holes in the American West. From casual to fine dining, mild to spicy, and everything in between, you're sure to find a tasty restaurant to satisfy everyone in your group. You can make like the locals do and enjoy "apres ski" at one of the area's unique bars. Elk Avenue in Crested Butte and Main Street in Gunnison are lined with local shops. These shops sell local art, outdoor gear, clothing, souvenirs, housewares and more! You're sure to find something for everyone on your list.
8) SNOW
The holidays in Gunnison and Crested Butte usually mean snow! Getting outside to enjoy the snow or watching it fall while being cozy inside is a great way to spend the holidays. There are so many fun ways to play in the snow. Skiing, fat biking and snowshoeing are just a few. Curling up by the fire with a warm mug of cocoa as the snow falls outside is another favorite.
9) THE ARTS SCENE
The Gunnison Valley isn't just about outdoor adventure and great food. It's also home to a thriving arts scene with the Gunnison Arts Center and Center for the Arts Crested Butte. Check our events calendar to see what events they have going on. Attend a performance or join a local gallery art walk. Stroll up and down Elk Avenue in Crested Butte or Main Street in Gunnison and peruse the beautiful work of our talented local artists and artisans. Our galleries and shops make a great location for last minute holiday shopping as well.
10) NEW YEAR'S EVE TORCHLIGHT PARADE
Celebrate New Year's Eve at Crested Butte Mountain Resort with the torchlight parade. The Crested Butte Ski and Ride School instructors schuss down the mountain with torches lighting their way. Fireworks follow the parade to ring in the New Year. The festive, welcoming atmosphere is great for families.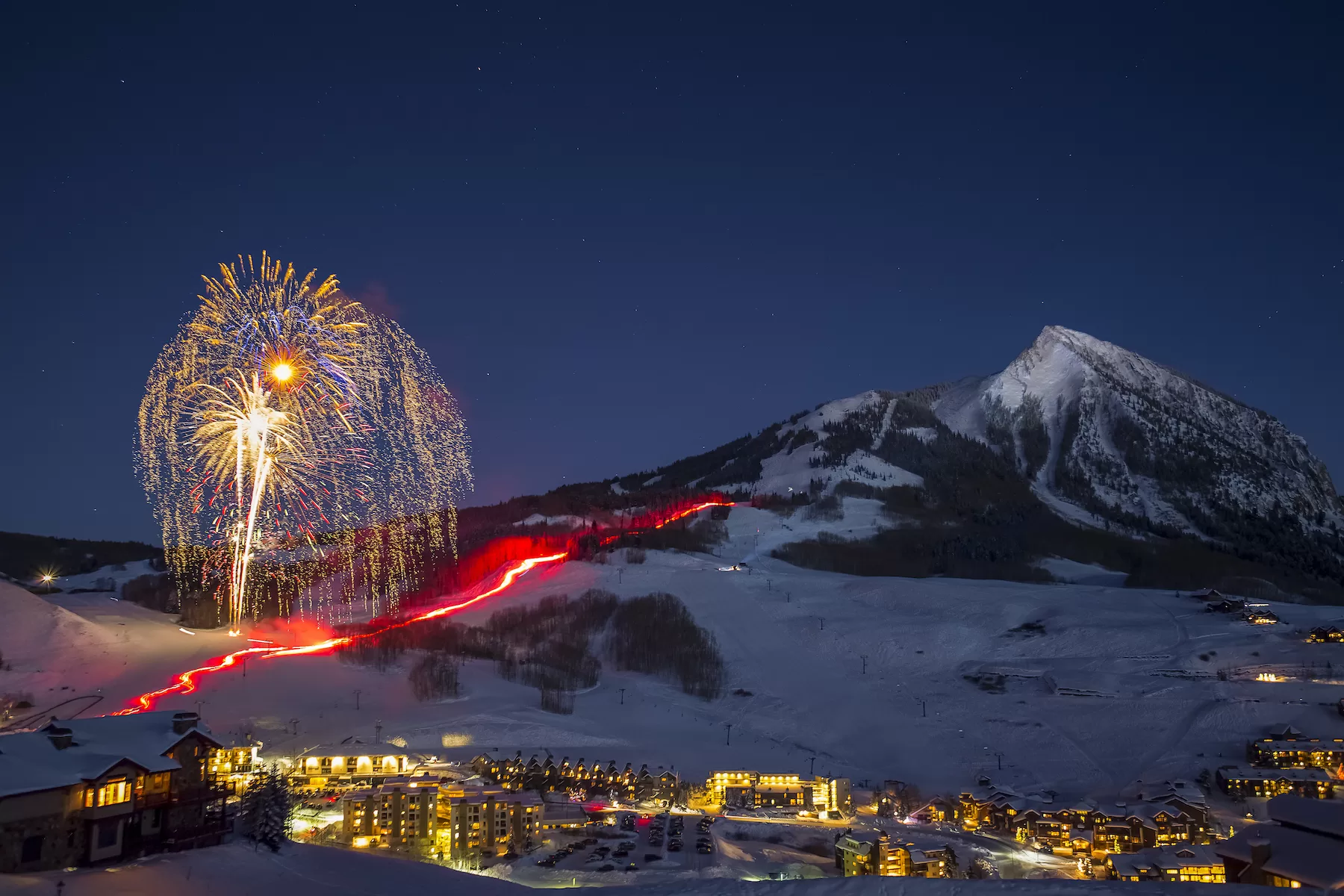 11) PLACES TO STAY
There are many options for places to stay on your winter trip to Crested Butte and Gunnison. Choices include traditional hotels, vacation rentals, ski-in, ski-out resorts, inns and more. Browse lodging options to find the perfect place to stay. Use our direct booking tool to filter desired amenities, dates, number of people in your party and more.
12) GETTING HERE
Though Crested Butte and the Gunnison Valley are at the end of the road, that doesn't mean it's hard to get here. The drive from the Front Range will take three to four hours, but you're unlikely to experience heavy traffic and road closures like you might traveling to a ski resort on I-70. If you plan to drive check the weather and road conditions before you head out. Or, better yet, fly instead! Gunnison-Crested Butte Regional Airport (GUC) is only about forty minutes from Mt. Crested Butte, where Crested Butte Mountain Resort is located. There are a few car rental options. However, you can get around Gunnison and Crested Butte without a car. There are shuttle services that can get you to your hotel or vacation rental. There is a free bus system that runs from Gunnison to Mt. Crested Butte and back and a free shuttle service in Crested Butte and Mt. Crested Butte. Both go right to the base area of CMBR.