10 Reasons Crested Butte is America's Coolest Small Town
We are proud that Budget Travel has selected Crested Butte as one of the 15 semi-finalists for recognition as
America's Coolest Small Town
. It's no secret to those of us who live here or who keep thinking about this sweet mountain town upon returning home from an awesome vacation, but in effort to capture why we came up with 10 reasons why Crested Butte is ultra-charming.
1. The Sheer Beauty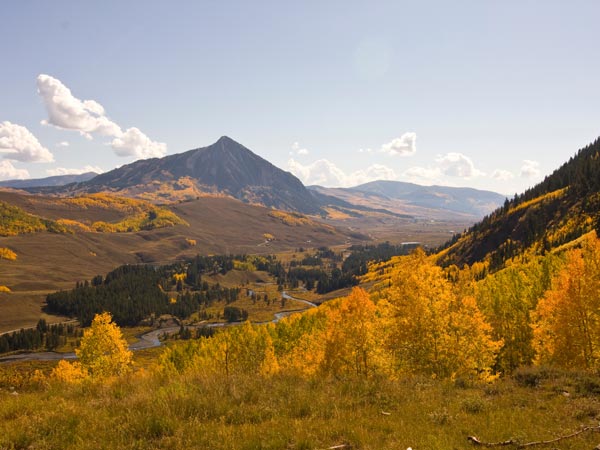 There are a lot of pretty places, but our mountains know how to beautifully deliver white, green, red, gold, orange, and all sorts of colors of the rainbow during winter, spring, summer and fall.
2. Wildflower Frenzy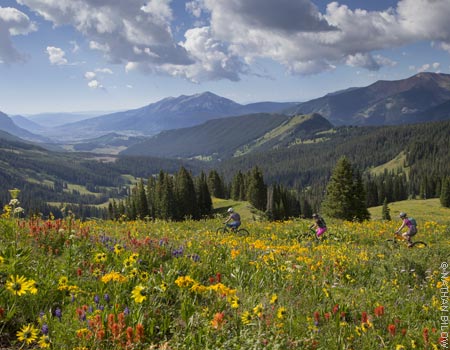 If you think "Wildflower Capital of America" is just some fancy marketing slogan, you'll become a believer when visiting the end of June through early August. Someone once wrote it's like riding a bike through a florist shop.
3. Bike Crazy
Crested Butte is synonymous with mountain biking as one of the birthplaces for the sport. No kidding. Most locals also have a bright townie cruiser and/or a road bike in their two-wheel collection, and there are biking trails and events galore.
4. Skiing Mecca
While there is plenty of mellow terrain for the smallest of tykes and people who prefer cruising, we are proud of the fact that we can throw it down the most lift-served double black diamond terrain in North America and smile about it. Crested Butte Nordic also provides some of the finest groomed trails on the planet, we're sure of it!
5. Music on Tap
Some of the world's top talent regularly grace our stages, inside and out, during Dean Dillon's Mile High Music Festival, the seven-week Crested Butte Music Festival, outdoor summer concerts twice a week and Center for the Art's regular programming. We are musically blessed.
6. Colorful Town, Colorful Downtown
All of Colorado's mountain towns have distinct personalities and Crested Butte has a reputation for being friendly and free-spirited. It's been that way since our Eastern European roots. One look at our National Historic District downtown with colorful paint jobs that somehow seem to work, and you know you've landed someplace special; even our Mountain Express buses are painted brightly with scenes by local artists.
7. Off the Beaten Path
It has saved our soul and our land, plus the ski slopes and trails we love so much are not overrun with people and stay "I always wish I have my camera" gorgeous.
8. Just Say Yum!
All that exercise in the outdoors is bound to make a person hungry, and we like our food homemade and fresh. You won't find any fast food chains here, but you will find everything from latkes and sushi to elk tenderloin and ultra-creative pizza pies. From a former miner's shack turned high-end French bistro and authentic Nepalese food to gourmet small plates prepared by a James Beard Foundation-hosted chef and skiing to a five-course dinner in a yurt, we've got you covered.
9. Never Too Serious
If you have a costume or like to see people wear costumes, Buttians know how to dress up to ski (Alley Loop Nordic Marathon and Al Johnson Memorial Uphill/Downhill Telemark Ski Race), to parade (Fourth of July and Mardi Gras) and dance (Soul Train and Red Lady Ball). Wear a costume down the street and people probably will just nod and smile.
10. Artsy to the Core
Just walk along our downtown streets, and the sheer number of art galleries, including a vibrant artist cooperative in our historic town hall building, is sure to surprise. Plein air painters dot the landscape year-round, and Crested Butte Arts Festival is one of the busiest weekends of summer.
We could go on, but we think you get the point. There are just so many reasons we deserve to win, won't you cast a vote?