10 Mountain Experiences You Can Only Have in Gunnison-Crested Butte
We happen to be pretty partial to our corner of Southwest Colorado and we wanted to share with you why we feel that way. So we put together a list of mountain experiences you can only have right here in Gunnison Crested Butte. Check them out and start planning your trip to our little slice of paradise.
1. Explore Colorado's Biggest Lake
Gunnison is home to the Blue Mesa Reservoir, Colorado's largest lake. And this year it's even bigger than normal due to our wet May. Whether you're looking to SUP, fish, kayak, or camp beside the water, the Blue Mesa is a glorious place to do just that.
2. Hike in the Wildflower Capital of Colorado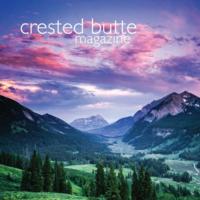 Crested Butte is Colorado's Wildflower Capital. Officially. Come out this summer and hike our trails surrounded by the beauty of Colorado's most diverse wildflower display for true mountain experiences. Looking to learn more about the flowers? Come during the Crested Butte Wildflower Festival (July 13-20, 2015) and enjoy a botany tour.
3. Watch Colorado's Oldest Rodeo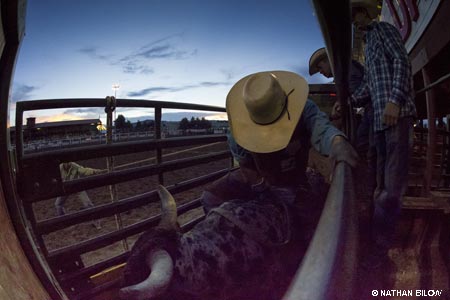 Held every year in Gunnison, Cattlemen's Days (July 3-12, 2015) is Colorado's oldest continuously running rodeo. Stock shows and parades lead off the week, then we cap it off with three big nights of professional rodeo action. Grab your boots, hat, and belt buckle and get to Gunnison for this unique mountain experiences; Cattlemen's Days.
4. Fish in the Valley with Five State Fishing Records
The Gunnison Valley's streams, rivers, and lakes are full of great fishing. In fact, we have 4 Colorado State Records by weight: Rainbow, Brown, Mackinaw, and Kokanee salmon (snagging). The state of Colorado also tracks records by length and Blue Mesa Reservoir is where the state record Lake Trout by length was caught. So bring your rod and go catch some fish.
5. Climb the Guides Ridge
Crested Butte Mountain is one of the most iconic, and rugged, peaks in Colorado. Irwin Guides offer a guided climb up the the technical "Guides Ridge". This route up the jagged summit ridge is technically challenging while still being easy enough for novice climbers (with a guide) and is often described as the closest thing you can get to a European style alpine ascent in the United States.
6. Ride 750+ Miles of Singletrack Without Riding the Same Trail Twice
Here in the Gunnison Valley we have more mountain bike trails than anywhere else in the world. Seriously. We have high alpine meadow riding like the 401, great downhill riding on the mountain, fast and fun descents like Doctor Park, and miles of desert track at Hartman Rocks in Gunnison. So be sure to bring your bike because there is some riding to be done.
7. See the World's Best Pros Ride the World's Best Trails
You're not the only one who wants to get here and ride our mountain bike trails. This summer Big Mountain Enduro is bringing the Enduro World Series to the Gunnison Valley (July 31-August 2). All of the biggest names in Enduro mountain biking will be here putting themselves to the test on our backcountry trails and this is your only opportunity to see them race in the US this season.
8. Tour the Black Canyon National Park by Boat with a Ranger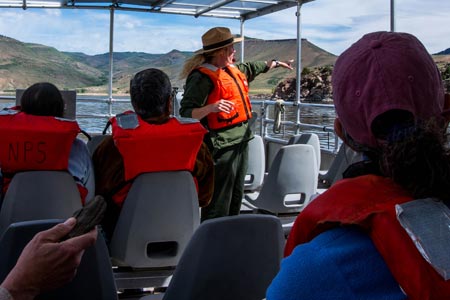 Join one of our local park rangers for a unique mountain experiences and a perspective on the Black Canyon of the Gunnison National Park. When conditions are right, you can board a pontoon boat in Morrow Reservoir and get a tour, complete with a history of Curecanti National Recreation Area including the geology, the history of the Ute people, and some stories from the days when the narrow gauge railroad actually traveled through the canyon itself. Advance reservations are required. Be sure to review the Morrow Point Boat Tour info page for logistical information including how to reserve your spot(s).
9. Ride Over 100 Miles with Dave Wiens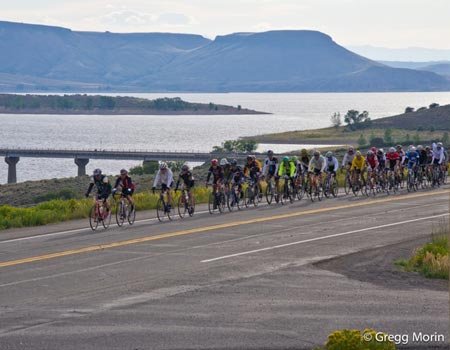 Gunnison's own Dave Wiens won the Leadville 100 Mountain Bike Race 6 years in a row. Now, he organizes and leads the annual West Elk Bicycle Classic in September. It's a timed tour from Gunnison to Crested Butte the long way. Ride along the Blue Mesa, the Black Canyon, and through the farming communities of Crawford, Paonia, and Somerset before climbing the crushing Kebler Pass and then descending into downtown Crested Butte. With 134 miles of riding and 9,300 feet of climbing, this is a true physical challenge.
10. Visit One of the Oldest and Largest Field Stations in the World
Rocky Mountain Biological Laboratory, founded in 1928 by Dr. John C. Johnson, is one of the oldest and largest biological field stations in the world. If you're curious about the natural world and our beautiful high mountain ecosystem, make time to attend a lecture or take a tour of the facilities out at RMBL. With experts on everything from aquatic ecology, pollination, mutualisms, mammalian behavior, and more making RMBL their summer home and research lab, you're sure to learn something fascinating when you stop by the lab.
These are just ten of the uniquely Gunnison-Crested Butte mountain experiences you can look forward to in our special spot here in Colorado. We have plenty of other events and activities to fill in your trip and make it one to remember, so start planning your getaway.