Spring Wildflowers at Hartman Rocks
Early Season Colorado Spring Wildflowers at Hartman Rocks
With 40 miles of singletrack trails and 33 miles of dirt road, Hartman Rocks Recreational Area is a recreational meca. In the springtime, Hartman's is the ideal spot for mountain biking, dirt biking, climbing, hiking, trail running, camping, horseback riding and more. Hartman Rocks is loved by locals for its easy access from the town of Gunnison and its early season thaw. What is lesser known about this area is that it is home to a diverse selection of Colorado spring wildflowers, native plants and grasses that can be discovered in perfect pockets of rocks and alongside winding trails.
Whether you are interested in viewing a perennial wetland, blooming forbs and shrubs or native grasses the ecology of this landscape is impressive in the springtime. For those of you who tend to experience Hartman's in a blur (mountain bikers & dirt bikes) you may want to leave your wheels in the truck for a leisurely springtime hike or run amongst the blooming desert showing off Colorado spring wildflowers. There may be ticks with such a wet spring, so long pants and long-sleeved shirt recommended.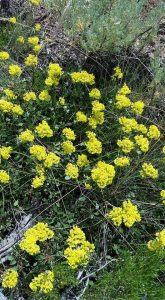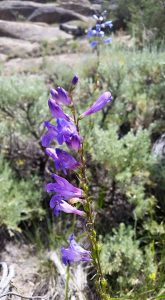 Local trail advocacy group Gunnison Trails works with the local BLM office as well as alongside other user groups to help maintain existing trails and create new ones at Hartman Rocks. Trail info can be found at HERE but the basic rules are stay on the trail, pack out what you pack in and be courteous to all users! Below are some of the wonderful Colorado spring wildflowers and edible plants that grow in our own Hartman Rocks Recreational Area in the spring time months.
Indian Paintbrush
Lupine
Pasque
Purple Asters
Mariposa Lily (a.k.a. Gunnison Sego Lily)
Gunnison Milk vetch
Various Cacti
Blue mustard
Tumble mustard
Pennycress
Artemisias (sagebrush)
Yarrow
Dandelions
Balsamroot
Phlox