Natural Selection Tour Duels will be held in Crested Butte and Irwin, Colorado
Crested Butte and Irwin, Colorado to host 2024 Natural Selection Tour DUELS events in February
The Gunnison Valley will host not one, but two DUELS competitions on the 2024 Natural Selection Tour. Crested Butte Mountain Resort and Eleven's Irwin Cat Skiing will each host a DUEL in February. In the DUELS, two pro snowboarders will go head-to-head on Crested Butte Mountain Resort's iconic extreme terrain as well as the scenic backcountry of Eleven's Scarp Ridge. In DUELS, 12 challengers from across the global snowboarding spectrum will compete for six spots at the final competition in Revelstoke—two for women and four for men. Athletes, event dates and more details will be announced as the events draw closer.
The Natural Selection Tour DUEL at Crested Butte Mountain Resort
As one of the early venues of the freeskiing movement, Crested Butte Mountain Resort was an easy pick for a DUEL location. Crested Butte ski area's notorious extreme terrain is bursting with chutes, cliffs, trees and other technical features that will challenge even the most skilled professional riders. Crested Butte Mountain Resort will also host an on-snow concert at the base area to celebrate the event. The competition window in Crested Butte is February 6-11, 2024. Exact dates, locations and times of the competitions will be determined by weather and snow conditions. Stay tuned for more information to come!
The Natural Selection Tour DUEL at Eleven's Irwin Cat Skiing
Eleven's private backcountry terrain at Irwin was also chosen as a DUEL venue. Scarp Ridge contains 1,000-plus acres of alpine bowls, glades and chutes. This pristine cat-skiing terrain in the heart of the Rocky Mountains averages a whopping 450 inches of snowfall each year—some of the most in Colorado. This stunning zone will provide an epic backdrop for the DUEL. The competition window in Irwin is February 6-11, 2024. Exact event times will be determined by weather. Learn more about Eleven and their special offerings around the event.
How can I watch the Natural Selection Tour DUELS?
Follow @naturalselection, @visitgcb, @skicrestedbutte and @elevenskiing on Instagram for information on when and where to watch the DUELS. Full edits from each DUELS competition will stream globally in late February 2024.
The final competition at Revelstoke on March 10-17 will air free and in its entirety, live on NaturalSelectionTour.com and Natural Selection's YouTube channel.

What is the Natural Selection Tour?
The Natural Selection Tour showcases some of the best snowboarders on the planet as they compete on "naturally enhanced" terrain at some of the world's most exciting skiing venues. The tour is the brainchild of Travis Rice, and its mission is to inspire people to forge a deeper relationship with Mother Nature.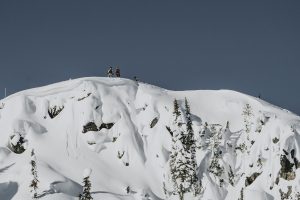 Where will the other Natural Selection Tour events take place?
Other DUELS locations include Andermatt+Sedrun+Disentis in Switzerland; Red Mountain Resort in Rossland, BC; Purgatory Snowcat Adventures in Durango, CO; and (location TBD) in Japan.
The champions (four men and two women) will go on to compete at two locations in British Columbia, Canada. The first is a naturally enhanced venue at Revelstoke Mountain Resort, and the second is backcountry terrain within the Selkirk-Tangiers heli-skiing zone.