Hunting the Gunnison Valley
Many of the hunting licenses in Colorado are purchased through a lottery system. The application for these licenses are due the April of the year you want to hunt. If you didn't apply for the lottery you can still buy Over-the-Counter (OTC) tags for certain Game Management Units and species. These licenses are available anywhere hunting and fishing licenses are sold and sales begin in mid-July of each year. For specific information on these licenses and the lottery process follow this
link.
Summer in the Gunnison Valley means preparing for Fall in the Gunnison Valley; specifically hunting season.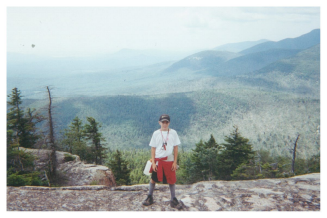 I was one of those kids that went to adventure and survival camp in the summer, rather than space camp, soccer camp, or the arcade. I would spend weeks at a time backpacking and camping in the New England wilderness learning how to survive with nothing more than some tin foil and a potato.
As life has chugged along, I have found new hobbies (Like mountain biking. Some of the best in the world is found right here in the Gunnison Valley), and lost time. This means I don't have many opportunities to spend days at a time backpacking in the backcountry. This is unfortunate, because the trail systems here provide a plethora of opportunities for amazing experiences in the wilderness.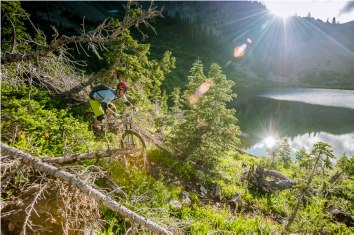 Hunting is the most recent addition to my list of interests and activities. Growing up, if my mother found a nest of baby mice somewhere around our home, she would raise them until they were old enough to survive on their own, and then release them back into the wild. There were no judgments against hunting, it just wasn't something the Freson family did.
Moving to Colorado, I met and made many friends who were avid outdoorsmen and hunters. We shared similar perspectives, goals, and lifestyles, and I quickly found myself tagging along to take part in the experience. Hunting provided the opportunity to return to ultralight backpacking and solo days exploring the backcountry, and with the potential to return home with natural, organic, free range, non-gmo, hormone free meat, it's a win-win.
Part of being successful in the Fall means putting time in throughout the rest of the year to know the terrain you'll be hunting and the patterns of the animals who inhabit it. Basically you want to work to reduce the number of unknown variables you may encounter once your season actually arrives. The most devout (and likely successful) will be in scouting and reconnaissance mode 52 weeks out of the year, but for me, things really ramp up in August and September. It's a great chance to get out and do some exploring, backpacking, and figuring out where the elk are hanging out. Did I mention it's beautiful?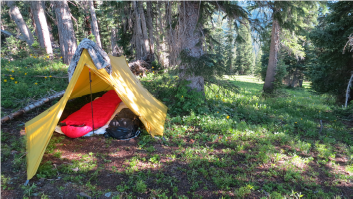 Many of those who hunt in Colorado find themselves in Units that are hundreds or even thousands of miles from home. That is part of the appeal. Exploring is an integral part of the experience, but you can always do things to move the odds in your favor.
One way to do this is glassing. With optics, you can pick apart terrain that would take you days and tens of thousands of calories to cover, and do it without spooking wildlife, or broadcasting your presence. I spend a lot of time with an eye patch over one eye (under the guise of reducing eye strain, but really, pretending I'm a pirate), looking through a spotting scope to find animals, terrain features, water, and other points of interest that may give me an edge come first rifle season.
Once you have identified areas you want to explore further, it is good to get in on the ground and see what is around. You want to look for signs that animals inhabit the area you plan to hunt. Signs such as rubs, wallows, or bedding areas can all be valuable information about who inhabits an area, what time of year they live there, and what they are up to when they are there.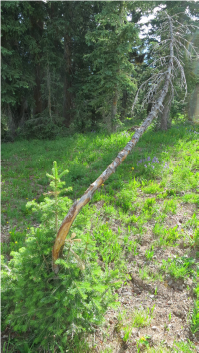 The biggest hurdle to success that I believe most hunters will face is the mental game. Both the highs and lows of being on the hunt, especially alone, are an important, yet challenging part of the experience. How well you know yourself is crucial to your outcome. Staying comfortable is an important part of being motivated, engaged, and on point (all key factors to success). To this end, know your body, its needs, and how best to achieve those ends. For me, I have been experimenting with backpacking food this year, trying to find healthy choices which are lower in sodium than traditional dehydrated options. I have found myself eating less in the backcountry, precisely when I should be eating more, because the food I have been brining doesn't sit well. This has left me feeling tired and underpowered. This year, by finding foods that work better, I plan to go harder and longer.
For you, especially if this is your first time in the area, this might mean hunting with one of the Gunnison Valley's many excellent guides. Or, if you will be on your own, consider the value of lodging in town. Gunnison offers easy access to many amazing hunting units, often with trailheads being less than a 30-minute drive away. Consider what it would mean to leave the woods at the end of the day, take a warm shower, sleep in a soft bed, and eat a meal you didn't have to cook. These little luxuries can make all the difference when it's day three, you haven't seen anything, and you are feeling frustrated.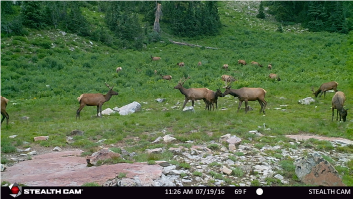 Giving yourself a boost in this way will keep you working hard, pushing through, and means that when your season is done, either because you punched your tag, or because you need to return home, you feel the success and accomplishment that can only be reflected by seeing a rewarding task through to the end.
I hope to see you out there.