Live Music in the Gunnison Valley
You probably already know Gunnison and Crested Butte for the amazing outdoor recreation you can do when you take a Colorado vacation. There are two million acres of public lands in the area. Did you know there's a vibrant music scene in the Gunnison Valley as well? From music in the park in the summer to indoor shows at bars in the winter, you can find music to dance and vibe with all year. There are a few outdoor venues and parks in Crested Butte and Gunnison that host shows in the summer to catch after a hike or MTB ride. Head inside to the arts centers and bars for winter tunes after a day out skiing. Enjoy talented local bands and GRAMMY award-winning singers and songwriters. Use this guide to learn more about where to see live music and what events to attend on your Colorado vacation.
Live Music in Gunnison
Where can I see live music in Gunnison?
Gunnison has an arts center with a theater, an outdoor concert venue and a theater in the local college. You can also catch shows at parks and some of the bars.
The I Bar Ranch
I Bar Ranch hosts concerts all summer long. This venue is an open-air barn with seating and a dance floor. Get drinks from one of the two bars and sit by the bonfire if it's a chilly summer night. Most I Bar shows also serve food. The Wailers, The Motet, The Bellamy Brothers, Michael Franti and more have played at the I Bar. You can also rent the venue out for your event or wedding. The I Bar is open seasonally in spring, summer and fall.
Gunnison Arts Center
The Gunnison Arts Center has galleries and programming for different art mediums as well as a black box theatre. The theatre hosts plays, talks, live music and a variety of other performances. Past performances have included John Statz, Wood Belly Band, and David Lawrence and the Spoonful.
Mid-Week on Main Street
Mid-Week on Main Street is presented by the Gunnison Chamber of Commerce. This free concert series is held at IOOF Park in Gunnison once a month from June to September. Bring a picnic to this family-friendly event and let the kids enjoy the splash pad at the park. The mural at the park contains information about the plants, animals and insects of Gunnison. Scan the QR codes on the mural to learn more!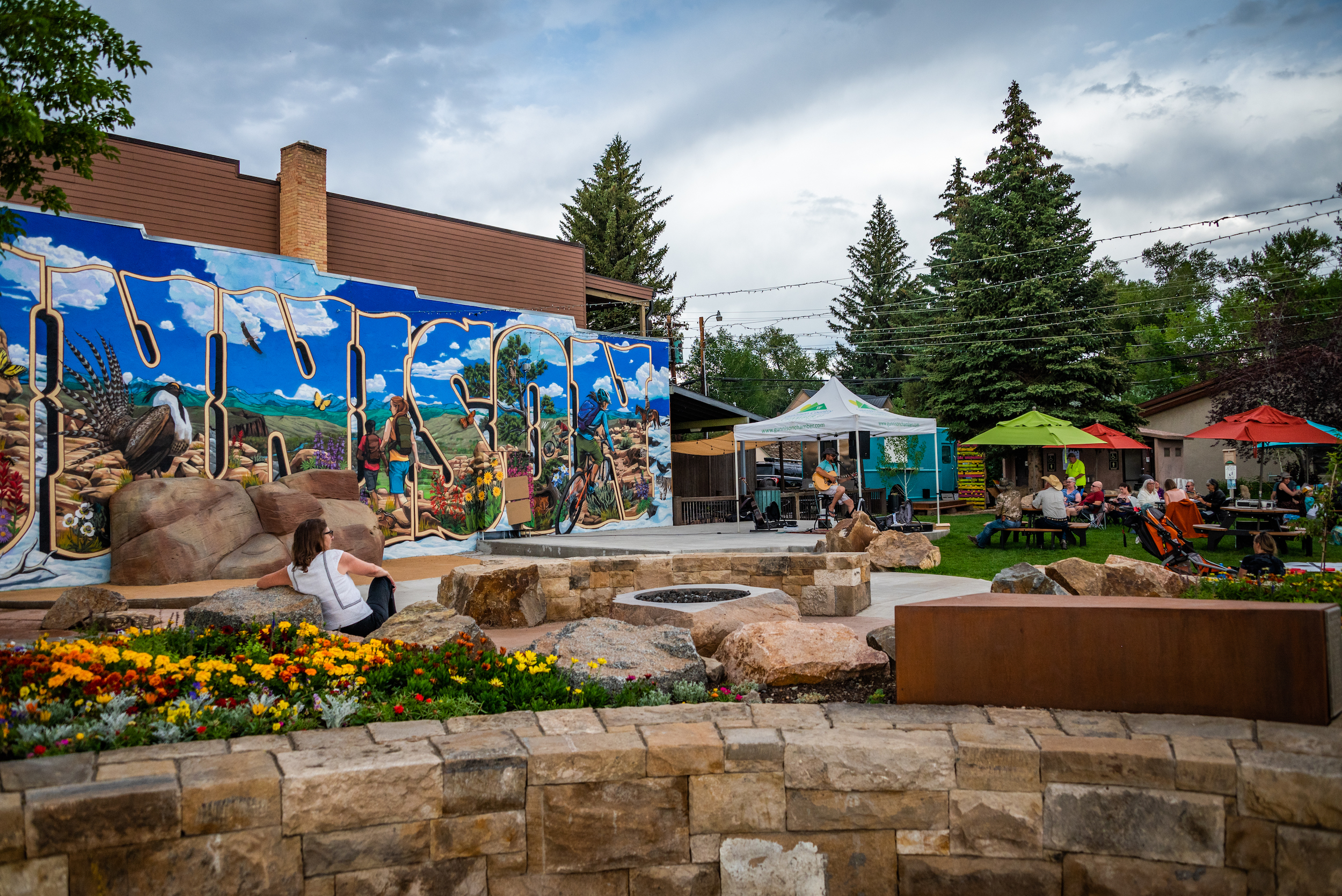 Western Colorado University
The music department at Western Colorado University offers students the chance to perform in a variety of bands. These include concert band, jazz band, a handful of ensembles, orchestra and drumline. There are also choirs and chamber singers. There are many performances throughout the school year, including a holiday gala. You can catch Western performances on campus and around the valley at the arts centers and other venues. The drumline also performs during football games.
River Bar at Garlic Mike's
The River Bar is behind Garlic Mike's along the Gunnison River. The River Bar has drinks and a light dinner menu. Enjoy drinks, the river view and live music on Fridays and Saturdays from Memorial Day through September. Past performances have included Between Drifts, Matt Grant and Rachel Van Slyke.
Live Music in Crested Butte
Where can I see live music in Crested Butte?
Crested Butte has an arts center with a theater, an outdoor stage and bars that host live music.
The Crested Butte Center for the Arts
The Crested Butte Center for the Arts has an indoor theatre and an outdoor stage. It also has a gallery and hosts art classes and community events. Performances at the Center for the Arts have included The California Honeydrops, Big Something, Leftover Salmon and more. Local artists also perform.
Alpenglow
Alpenglow is one of the Center for the Arts most longstanding traditions. This weekly summer concert series is at the Town Park in Crested Butte every Monday from June to August. Head out to hear a mix of local and national bands.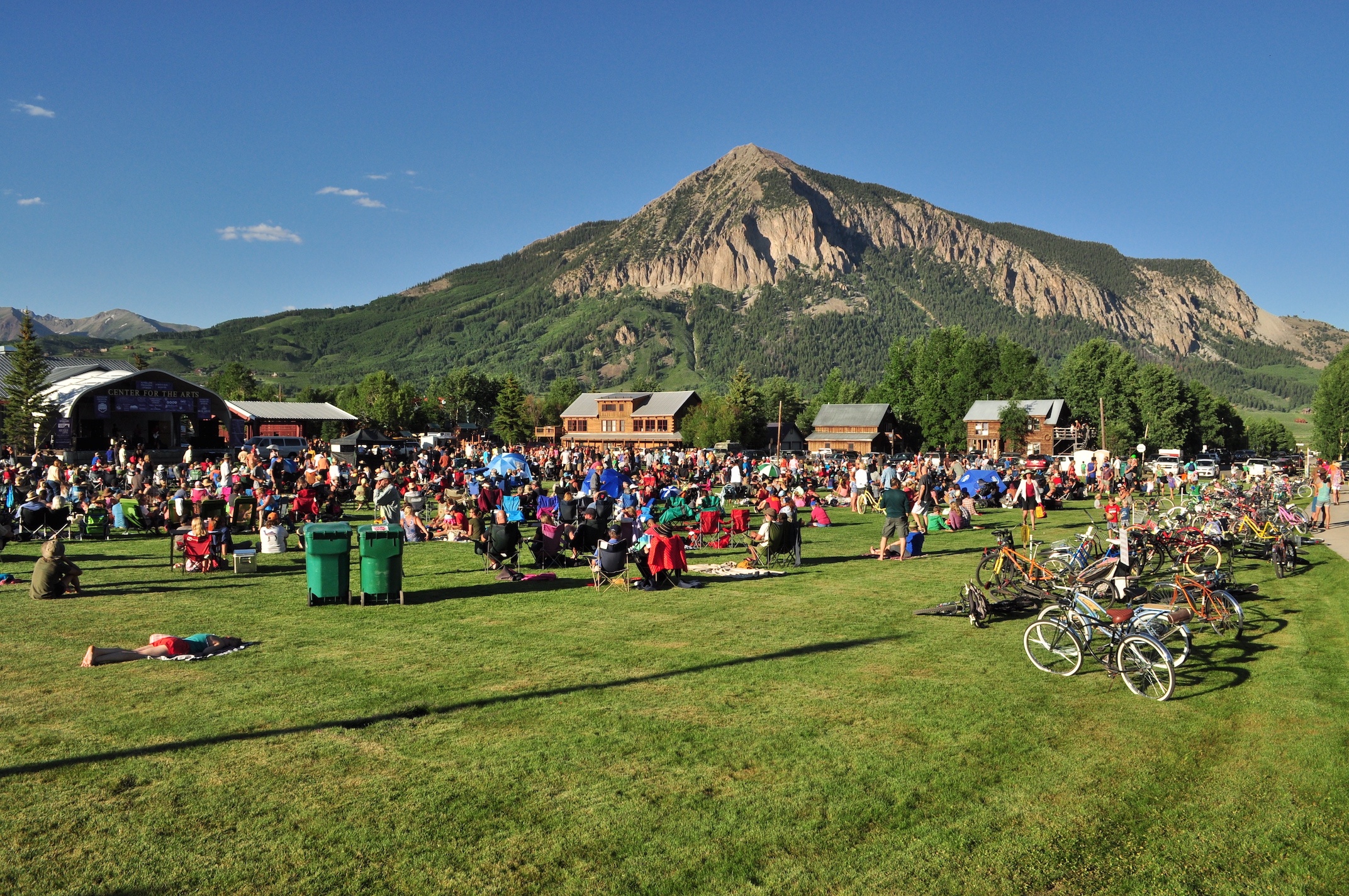 The Crested Butte Music Festival
The Crested Butte Music Festival is part of the Arts Center. This festival offers enriching and educational programming for classic, jazz, blues and bluegrass music. Events happen all around the valley every summer.
Crested Butte Museum
The Crested Butte Museum hosts Live Music in the Garden on Tuesdays July through August. This free music series is possible thanks to sponsors and supporters of the museum.
What bars play live music in Crested Butte?
If you're looking for late night music in a causal bar setting, head to Elk Avenue. There are a few bars you can see performances at.
Crested Butte Public House
The Public House hosts live music all year. This venue is also a restaurant and has rooms for rent on the top floor. Past musical acts include DJ Woody, Floodgate Operators, Kitchen Dwellers, Spafford and more.
The Eldo
The Eldo brewpub serves craft beer, Himalayan food and weekly music. Pasts shows include Sam Eberle, Shannon Redmon, Magic Beans and DJ Club Cracker.
Talk of the Town
Talk of the Town is a favorite spot for many Crested Butte locals. Shoot pool, get drinks and catch a show. Past performances include Warsaw Poland Bros, The Angle and Better Than Dead.
Kochevars Saloon
Kochevars is a bar and gaming hall on Elk Avenue in Crested Butte. It's the oldest bar in town. There are a few shows a month at Kochevars. Past acts include Justin Howard, Beer Hunter and Secondhand String Band.
Live music in Mt. Crested Butte
Most of the live music in Mt. Crested Butte happens at Crested Butte Mountain Resort (CBMR). There are a few shows every winter during the ski season. You can also catch performances at the Red Lady Stage at the base area all summer.
Where can I see live music at Crested Butte Mountain Resort?
You can see live music at the Red Lady Stage and Butte 66 at the base area. Sometimes bands play at Uley's Cabin and Ice Bar, too.
Butte 66
Butte 66 is a restaurant at the base area of CBMR. Its deck overlooks the base area and hosts music regularly throughout the year. See bands play on the deck opening day and closing weekend at CBMR, throughout the ski season, opening day of the bike park and more. Past performances have included Sunny Downpour, Secondhand String Band, Tyler Hansen and Fenn Jortin.
Red Lady Stage
The Red Lady Stage is situated at the bottom of the Red Lady lift. There are a few regular events at it during fall and summer, which is when it's set up.
Live! at Mt. Crested Butte
Head to Crested Butte Mountain Resort in the summer for Music on the Mountain, Live! at Mt. Crested Butte. This free concert series features local bands, national acts, food and drinks for purchase, and free children's activities. A local non-profit is featured every week as well. Past acts include Okie Dokie Band, North Mississippi Allstars and Cha Wa.
Chili and Beer Festival
Chili and Beer festival is held every fall at the base area of CBMR. This festival features Colorado craft beer and a chili cook-off. Sample the beer and chili and vote for your favorites. Two musical acts perform every year. Take a break from taste testing and get up and dance! Past acts that have performed are The Lil Smokies, The Black Canyon Ramblers and Coal Creek Connection.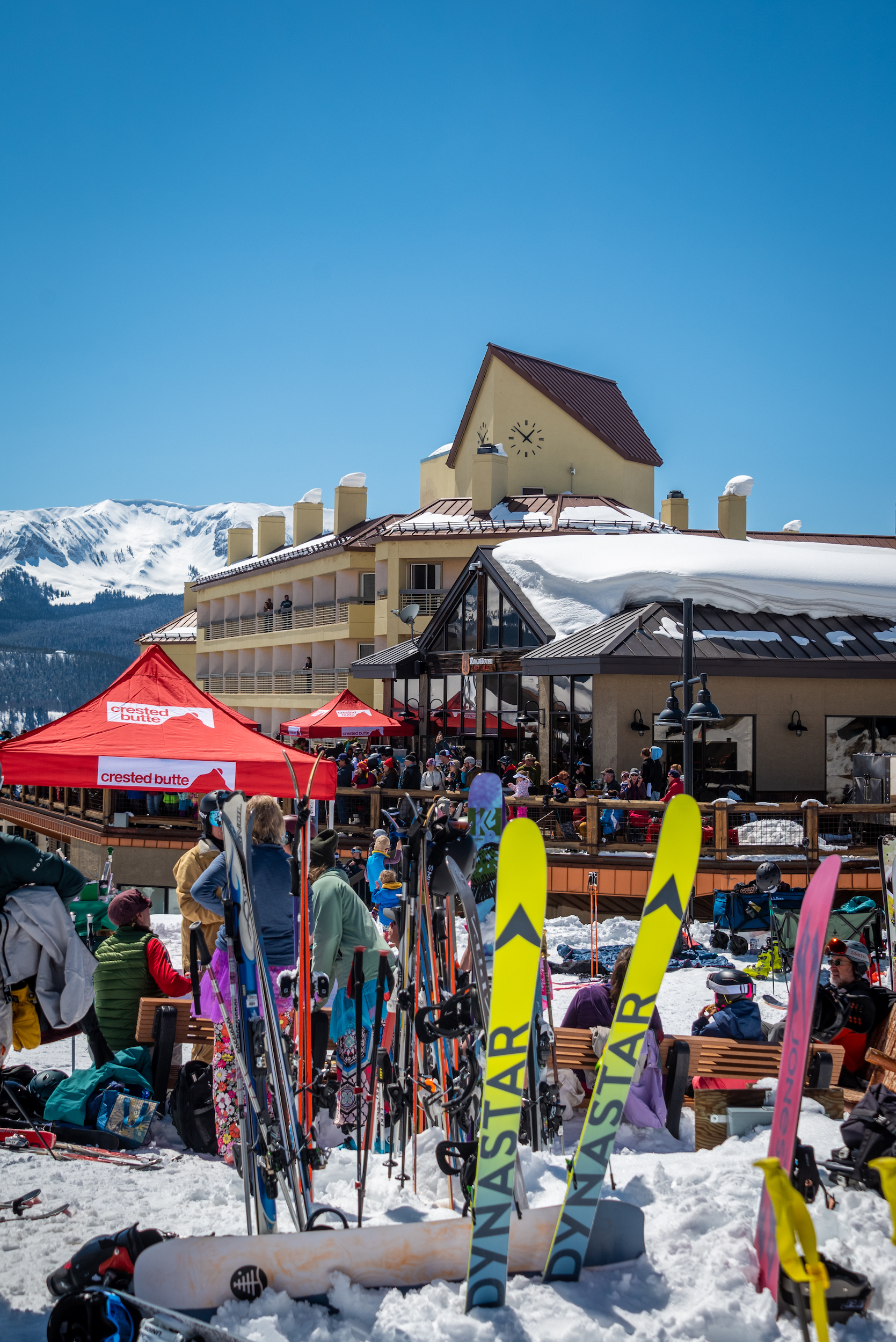 A Bar Above
A Bar Above is located near the base area of Crested Butte Mountain Resort. A Bar Above serves beer, wine, cocktails and food. With live music every night, make this your après spot during ski season! Or check out a show on your summer trip after a day of mountain biking. Past performances include Sam Heart, Trevor Galvin and Maggie Leslie.
Live Music in Almont
Where can I hear live music in Almont?
Almont, Colorado is a small community located between Gunnison and Crested Butte. There are a few lodging properties here that host events and music for their guests and the community.
Harmels on the Taylor
This ranch resort is located on the Taylor River. It has cabins, an onsite restaurant and bar, and can be booked for weddings and events. They host music all summer. You can catch a show during the week and on the weekends. Past acts include Sunny Downpour, Evelyn Roper and Rusty Rierson.
Almont Resort
The Almont Resort is a bar and restaurant and has cabins for people to stay in. It hosts live music throughout the year. Enjoy a show on the patio during brunch in the summer, weekly open mic nights and the Snowdance Winter Concert Series in partnership with I Bar Ranch.
Plan your trip
Ready to get groovin'? Start planning your trip to the Gunnison Valley! Book flights and find a place to stay. Plan things to do such as biking and hiking. Check out the events calendar to find shows as well as other fun events.