Summertime in the Gunnison Valley doesn't mean just amazing outdoor adventures, it is also a time ripe with musical offerings. From talented local bands to GRAMMY award winning singers and songwriters, this valley doesn't skimp on musical entertainment. Below are some of the highlights for musical venues and offerings. This is not however an exhaustive list so check in on our Events page to see a full list of shows, performances and educational musical opportunities.
Down Valley Music
The I Bar Ranch is the place to be for weekly concerts. The Castle Creek Guitars Summer Concert Series features Burgers N Brews on Tuesday nights with concerts happening weekly for just $8 per person. Their "Classic Colorado" series welcomes headliners with some well known names such as The Wailers, Michael Martin Murphy, The Motet, The Bellamy Brothers and many more. The I Bar Ranch offers a unique setting for entertainment with a large open aired venue located next to the Tomichi Creek in a large open hay field.  Visit their website for a full list of shows, events and to purchase tickets.
Sundays at 6, brought to you by the Gunnison Arts Center, is a great way to top off or begin your week! This free concert series takes place weekly at the pavilion in Legion Park and features local and regional bands. Grab your lawn chair and pack a picnic for you and the family and head on over to meet up with friends at the park every Sunday from 6-8pm. See their full lineup of music.
The Big Blue Festival by KBUT, happening August 24-25 is Gunnison County's biggest summer festival! The Big Blue Festival is two days of camping and live music. Start at the I Bar Ranch on Friday night with camping and live music from Shakedown Street. Saturday morning, take a free shuttle to Blue Mesa Reservoir for stand-up paddleboard races, games and clinics. Then head back to the I Bar for more live music from Blackalicious, The Sweet Lillies, Ragged Mountain Bluegrass and others. It's a family friendly event! Get your tickets!
Local restaurants and pubs like High Alpine Brewing Company and Wapiti Ridge Saloon offer up weekly bands and open mic nights. Check out their pages to see what their current shows are.
Up Valley Music
The Center for the Arts' presents Alpenglow, a free outdoor concert series happening on Monday evenings throughout the summer. With Crested Butte Mountain and Paradise Divide as the backdrop, enjoy the sounds of a variety of music while in the company of friends and family. Bring along your chairs, snacks and non-alcoholic beverages, kick back and take it all that summer has to offer. With acts like Leftover Salmon, The Black Lillies and Paa Kow, it is sure to be a great summer of Alpenglow music. See their full lineup of music.
The Center for the Arts' also hosts some of music's top acts in their expansive indoor auditorium. The Center for the Arts has been committed to providing arts and cultural experiences that inspire and entertain all audiences for over 30 years, whether they call Crested Butte home everyday or are just visiting for the weekend. This summer their indoor performance schedule includes live performances by Alpin Hong, Robert Earl Keen, MarchFourth Marching Band and many more award winning artists. See their full schedule and reserve your seat.
The Crested Butte Music Festival brings to Crested Butte a multitude of events with over 100 world-class, award-winning artists. The Festival included symphony, chamber, family music, opera and gypsy jazz.  In addition, educational programs in every genre will be offered. Their mission is "to present an annual festival of diverse music, opera and dance performed by outstanding artists, to inspire a greater appreciation of these art forms, and to help develop the performers of tomorrow." Performances and clinics happen in various locations throughout the valley. Visit their website to see a full list of performances and opportunities.
In town we have several opportunities for intimate musical performances such as the Crested Butte Public House, The Princess Wine Bar and the Eldo Brewing & Tap Room. Check out their websites to find out what great musical performances are happening there during your visit to Crested Butte!
On the Mountain
LIVE! From Mt. Crested Butte Summer Concert Series takes place every Wednesday evening between June 27 and August 15  at the base of Mt. Crested Butte. This musical backdrop is like nothing you've ever seen before with the beautiful summer mountainscape surrounding your evening of music and great people. From bluegrass, blues to street funk and roots rock this summer's lineup for LIVE is looking great! Some of this summer's acts include: Kitchen Dwellers, Matthew Curry, Con Brio and many more. See their complete lineup. All shows will take place at the Red Lady Stage in Mt. Crested Butte from 5:30 – 7:30 pm and are FREE!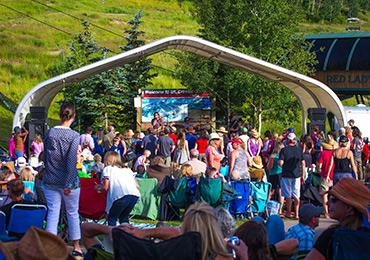 Photo credit: SkiCB.com
Aside from the venues listed here both the Gunnison Farmer's Market and the Crested Butte Farmer's Market feature music weekly and almost every event in the valley has great music to accompany the fun as well!