Town Profiles: Pitkin
Visit Pitkin: In this series of town profiles, we'll highlight the history and current stories of several smaller towns around the valley. Some still exist with year-round residents, while others only existed for a few brief years during the mining boom of the late 1800s.
Pitkin, the oldest incorporated town on the Western Slope of Colorado, sits 27 miles northeast of Gunnison. From downtown Gunnison, head east on Highway 50. In the town of Parlin, take a left on County Road 76 through Ohio City and onwards to Pitkin, Colorado.
The town was originally named Quartzville after Quartz Creek which passes through. Prospectors found gold and silver in the area and the town boomed to 1800 residents. As quickly as it came, the town began to decline 5 years later in 1882. As of the 2010 census, only 66 permanent residents live in town.
The town itself is very small but offers a few amenities. The Silver Plume General Store offers side-by-side rentals, a couple of lodge rooms and a small restaurant. In addition, there are lodging options at the Quartz Creek Lodge and the Pitkin Hotel. The true beauty of Pitkin comes with its incredible access to unspoiled public lands.
The most popular activity is to go drive the many passes connecting the tiny mining outposts throughout the area. The most commonly visited would be Cumberland Pass between Pitkin and Tin Cup. Hancock Pass offers another fun alternative.
The Alpine Tunnel, which was the first tunnel to cut underneath the Continental Divide, remains the highest (11,523′) railroad tunnel and the longest (1,772′) narrow gauge tunnel in North America. While the tunnel itself is closed, the old railbed is a popular hiking and biking trail and the restored telegraph station makes for a great destination. The trip starts from the split of Forest Service Road 839 and 881.21 because of a landslide in recent years. This adds 4.6 miles on a trip up to the Alpine Tunnel, but does follow the old rail grade which makes for easy travel. The landslide itself is easily passable on foot or bike.
The Fairview Peak Fire Lookout, which at 13,214 feet is the highest fire lookout in North America, was built in 1912. From the town of Pitkin, take Terrible Mountain Road (4WD required). It is recommended to park at the ruins of the Fairview Mine and hike from there along the road and then to Fairview Peak Trail. At the top, there are sweeping views into the Fossil Ridge Wilderness and along the Continental Divide.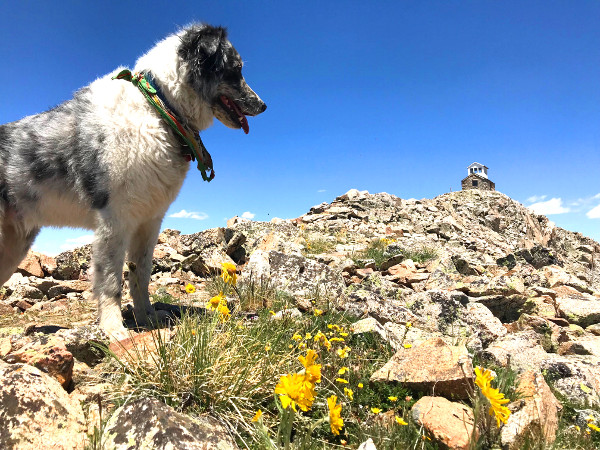 Visit Pitkin, the town is a must stop for those looking to find an off the beaten path glimpse into Colorado's history.