The Grand Traverse: A First-Time Racer's Foggy Recollection
This past weekend marked the 20th Annual Grand Traverse ski race from Crested Butte to Aspen. Teams of two leave at midnight, racing 40 miles over two mountain passes with 7800′ of climbing along the way. The race sells out in several hours once registration opens in December, so most people know what they're signing up for well in advance.
This was my first year participating in the Grand Traverse, and I was pushed into service three weeks in advance when a friend mentioned that one of her friends, an acquaintance from a hut trip, needed a new teammate. Needless to say, I was nervous before the race. Gear check-in made me sweat, I could barely sleep Friday afternoon, and at 9pm I was pacing and making coffee just waiting for the sufferfest to begin.
Fortunately, I hadn't completely lapsed in slovenliness during the epic powder days of January. We executed our strategy settled upon during the ONE training tour we took together two weeks previous. We got up early in the front quarter by way of some light jogging (which almost killed us) and then held position to the 5-way. This section can be a bit of mess as racers clog up. Almost everyone wants to skate from here so there's a flurry of shedding skins, poles, and skis as people transition and try not to get kicked or stepped on.
This was go-time for us at the Grande Traverse, and the last time we held to any of our strategy. After our long downhill we put skins back on and started the 12 mile grind to Star Pass. Ups and downs on icy crust, 2 bootpacks and creek crossings later, we finally hit our happy pace. We weren't surrounded and jockeying for position, and we were finally allowed to settle into a sustainable pace that we hoped would carry us into Aspen in under 10 hours.
Our biggest setback hit around 3:30am. While trying to keep up with my calorie intake I ate a Gu packet that managed to slowly drop my pace as I became more and more nauseated. We hit Friend's Hut checkpoint and I swear if you made me drink 8 beers and hit a fatty I'd be more lucid. I remember thinking that eating a Nutrageous bar would fix everything. Wrong! I looked at Roger and told him I was going to blow chunks and that we needed to get away from the checkpoint so they wouldn't turn us around.
After purging the offending Gu, water, and Nutrageous from my system a little way up the skin track I suddenly found things to be a little clearer. Unfortunately, the next 1000 ft. of climbing on an empty stomach screwed that up quick. Skiing to Star Pass I clipped a pile of dirt and rocks covered in a bit of snow (sorry about the skis Alpineer) and took a big tumble. Thankfully I didn't lose a ski or it would have gone flying downhill never to be seen again.
At the bottom of Star another foggy transition happened. Skinning uphill in the dark trees and still running on empty, I tried to take a sip of water. It was frozen. I had forgotten in my delusion to blow water back into the bladder at the top of Star. Another step further back into the pain cave.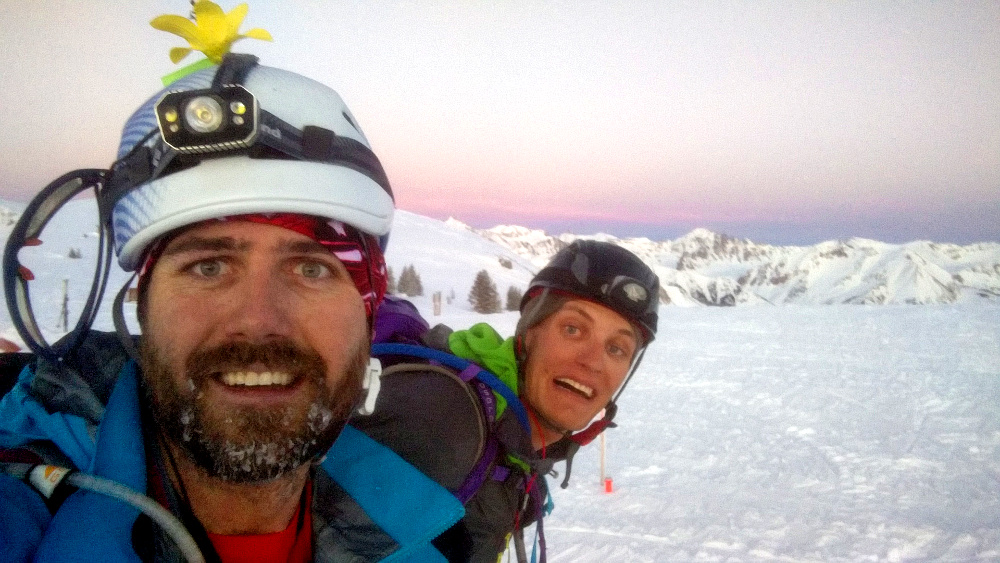 Just before Taylor Pass at dawn, with Roger still towing my sorry tail, I decided I had to try eating again. I busted open some energy chews and two minutes later I lost it again. This one was worse than the first and featured multiple dry heaves. Roger joked with me later that he should've taken a picture and used it in the #MyGrandSunrise contest race organizers were running. I think he would have won.
For the next rolling 7 or 8 miles you couldn't imagine a sorrier looking team. Roger continued to give me a boost on the tow rope, and I continued to slow down more and more. At the top of one of the transitions I tried to balance to rip a skin and just fell over. In my defense the sunrise was really pretty and I'm sure some part of me just wanted to enjoy it, but in reality I was spent.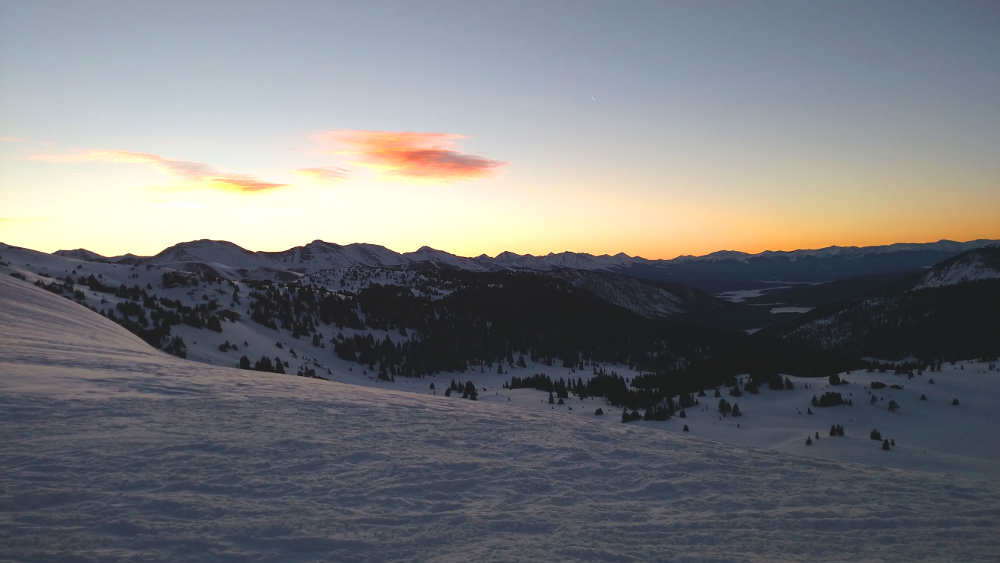 We saw Barnard Hut, our last checkpoint and mandatory rest stop. I said nothing to Roger because I could barely speak. All I could do was to keep shuffling. At the checkpoint I collapsed in a heap. Roger brought me some Ramen broth and that was the first thing I managed to keep down in 5 hours. Fifteen minutes later I could stomach anything. I slammed a 5 Hour Energy and some other food and plugged into my headphones and I was back.
The final seven miles to the Aspen Sundeck was a total turnaround from the previous five hours. Roger at this point was tanked so I helped him (not nearly as much as he helped me) with a tow from there on out. We covered the 7 miles in a little over 1.5 hours, and were totally relieved when we finally saw the ridge drop down in front of us all the way to Aspen.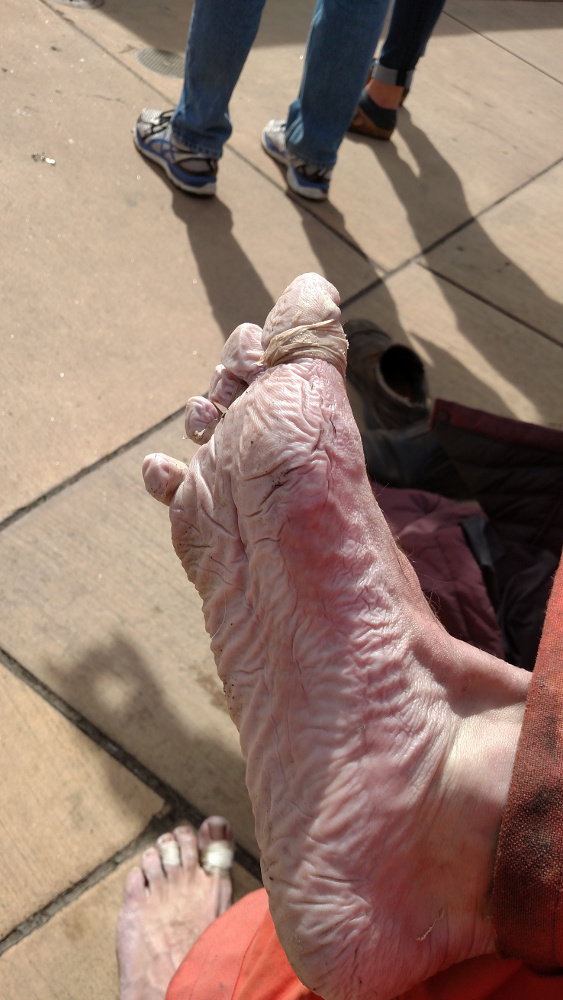 The 3,000 foot descent from the top was fast, and I was impressed by my little randonee setup's ability to carve and hold an edge. Skidding into the bottom we finished the Grand Traverse within our goal of under 10 hours or in the top 50, with a time of 10:35 and 48th place. Honestly we were just happy to make it to Aspen after the trials and tribulations of our slog. To celebrate we finally unleashed our feet from their sweaty vises and spent the rest of the afternoon recovering and celebrating with our friends, all while drinking as much of the beer as we could stomach. It is, after all, one of the better recovery drinks out there!