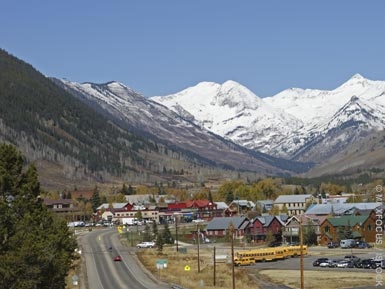 Our valley is tucked high in the West Elk Mountains of Colorado, right on the border between the central mountains and the southwestern ones.
There is no doubt that Gunnison-Crested Butte is harder to get to than quite a few places in Colorado, maybe even most places in Colorado. But the trip is worth it. Nothing beats the drive up Highway 135 with towering mountains in either direction and a wide valley floor filled with snow or wildflowers depending on the season, except for maybe the drive over Kebler Pass in summer or fall.
Flying to Crested Butte and Gunnison
If you're coming from farther away, flying to our airport in Gunnison is the way to go. The Gunnison-Crested Butte Regional Airport serves the communities in the Gunnison Valley with air service on United during the summer and off-seasons and United, American, and Alaska during the winter.
Fall Flight Schedule, 2016
During the fall months, non-stop service from Denver (DEN) to Gunnison-Crested Butte (GUC) runs once daily. This schedule is subject to change. Check with the airline for confirmed flight times.
Call (877) 213.5357 to book with one of our Gunnison-Crested Butte Reservations Agents.
| Flight | Departure Time | Arrival Time | Dates |
| --- | --- | --- | --- |
| Denver-Gunnison | 11:15 AM | 12:40 PM | Daily, August 16, 2016- December 14, 2016 |
| Gunnison-Denver | 12:40 PM | 1:36 PM | Daily, August 16, 2016- December 14, 2016 |
Winter Flight Schedule, 2016-2017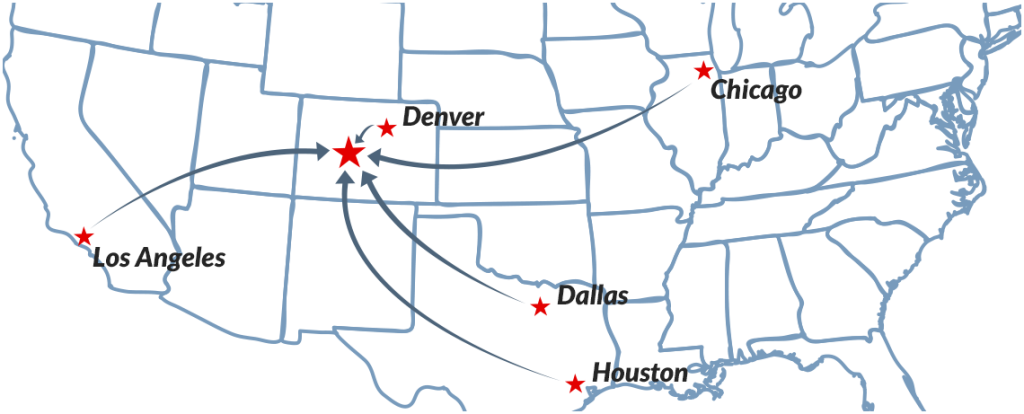 We have non-stop flights from five cities on three airlines this winter. No matter your origin, our agents at Gunnison-Crested Butte Reservations can get you in to the Gunnison-Crested Butte Regional Airport. Call (877) 213-5357 to book your trip.

Local Transportation and Rental Cars- Do you need a rental car?
In the winter, you definitely don't. Free buses run by the Gunnison Valley RTA and Mountain Express get you pretty much anywhere you could need to go. The one exception to that rule is for airport transfers. If you're staying in Gunnison, most of the hotels have their own vans so just check with Gunnison-Crested Butte Reservations when you book your hotel and make sure you can get a pick-up at the airport. If you're staying in Almont, Crested Butte, or Mt. Crested Butte, be sure to ask your agent at Gunnison-Crested Butte Reservations to reserve you a shuttle from the airport to your hotel.
In the spring, summer, and fall months, you don't need a car, but you will probably want one. We have pretty good free public transportation year round. But that transportation only gets you so far out of town. If you're looking to hike or mountain bike trails other than the ones right near town, you will want to rent a car. The same is true if you're planning to do much sightseeing or go on any of our scenic drives.
The Gunnison-Crested Butte Regional Airport (GUC) is serviced by Hertz, Avis, and Budget car rentals. We recommend making advance arrangements to rent a car prior to arrival.
Driving to Gunnison-Crested Butte
To orient you to a few landmarks, we're a 4 hour drive more or less due southwest of Denver. Gunnison is pretty much due west of Colorado Springs (by about three hours) right on Highway 50. Crested Butte is south-southwest of Aspen, about 14 miles as the crow flies but separated by some mountain passes that are impassable except by foot (or horse).
Drive into our valley on Highway 50, a scenic road that runs across our great state, or enjoy a scenic mountain drive in the summer: Kebler Pass (Gunnison County Road 12) and Cottonwood Pass (Chaffee County Road 306 to Gunnison County Road 209).
Cottonwood Pass will be closed for the Summer 2017 season while crews pave the Gunnison County side of the road.
Stay up to date on driving conditions and pass closures
Don't let road construction, weather conditions or road closures impede your plans to get here. To check Statewide Travel Conditions from inside Colorado dial 511, or from outside Colorado, dial (303) 639-1111 or visit Colorado Trip, a website maintained by the Colorado Department of Transportation.
Pass Status– Check COTRIP.ORG for the most up to date information. We do our best to keep this table up to date, but recommend checking with the proper State or County authorities before traveling these routes.


Pass
Status
Cottonwood Pass (Chaffee County Road 306 to Gunnison County Road 209)
CLOSED until Summer 2018 at the earliest for paving on the Gunnison County side

 

Kebler Pass (Gunnison County Road 12)

CLOSED

Schofield Pass/Gothic (Gunnison County Road 317)

CLOSED

Independence Pass (State Highway 82)

CLOSED