Crested Butte Golf Diary
By Ryan Hoynacki, PGA
On a recent August evening, I was playing golf in Crested Butte with three great friends. We were playing the signature hole at The Club at Crested Butte, the 434-yard, par 4 #13. On the tee box, elevation 9,003 feet, it began to rain; by the time we were hitting our approach shots to the elevated, blind green the sun was gleaming through dark clouds, a rainbow popped out for a short moment, and several deer pranced through the fairway without a care in the world. After we all struck quality approach shots, we sat silent for a moment to marvel at the beauty of Crested Butte.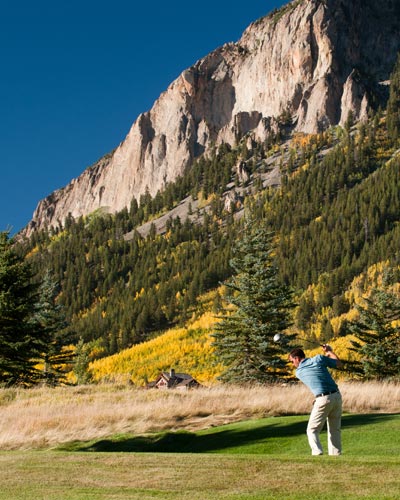 In my mind, these are the moments that make this valley such an incredible place. When you are pursuing your
passion and the mountains respond in a manner that touches your soul.
Being an assistant golf professional at The Club at CrestedButte is a phenomenal vocation. It is a privilege and an honor to teach golf to the members, resort guests and junior golfers who visit this beautiful facility. In addition, nearly every day I have the opportunity to play golf at The Club at Crested Butte on a course designed by Robert Trent Jones II. I approach this privilege very seriously as golf at 9,000 feet is a short-lived pursuit every season.
Appropriately, golf in the high country of Colorado's Western Slope comes with many challenges. Three-hundred inches of snow a year, drought periods, dry winds, monsoon seasons, and mid-July frost make turf grass management at The Club at Crested Butte a lofty pursuit. As temperatures increase day-by-day during June, the golf course heals from its long winter wear. Once July roles around, The Club hits its stride and conditions are ideal. Then, as the cool August night's approach, the aspen leaves begin to yellow and provide even greater beauty to the Gunnison Valley splendor in September and early October.
The most exciting time to golf in Crested Butte is Friday afternoons. Golfers in the upper valley come out in full force; libations and our weekly Grill Night fill The Club with a great vibe and lively scene. In July, we golf until dark, usually 9:20 p.m. Making birdie on the Par 5 18th hole in the fading minutes of light is a great feeling and a moment I look forward to every summer.
Personally, my favorite time to golf in Crested Butte is post 6 p.m. The midday golf rush is over, winds are silent, birdies are ever-present, and often you do not see another golfer your entire round. Additionally, the golf course provides one the best amphitheaters in the valley to witness Crested Butte's distinctive sunsets, post thunderstorm shine, inspiring rainbows and abundant wildlife.
As we approached the 13th green on that recent August evening, my friends and I all stared down our makeable birdie putts. Lip out after lip out, our hopes of birdieing the most challenging golf hole in Crested Butte dwindled with yet another par. The frustrations and joys associated with golf — the highs and low and the never ending search for that perfect swing — are all reasons why golfers continue to hack away at the ole' whitey. But for me, for my friends on this day, we keep playing to experience those beautiful mountain moments that make Crested Butte such a phenomenal town.
Ryan Hoynacki is the 1st Assistant Golf Professional at The Club at Crested Butte. Nine years ago, Ryan left the East Coast to pursue his passion for skiing. Needing a quality summer job to validate his ski bum habit, Ryan chose to pursue certification with the Professional Golf Association of America. Now a "Class A" Golf Professional, Ryan spends his winter's snowmaking, coaching for the CMBR Mountain Sports Team, and competing in freeride ski competitions across the country. When the snow melts, Ryan can be found teaching golf and living the dream at The Club at Crested Butte.