Jeff's Cattlemen's Days Bucket List
Cattlemen's Days in Gunnison, Colorado is the summer holiday week for our family! We start planning for these July events well before the winter snows melt. My wife Tami is an avid barrel racer. My son, Rhodes, and I look forward to being her pit crew as much as the whole family looks forward to all there is to see and do during rodeo week. Cattlemen's celebrates Western Culture completely.
Open Horse Show
For our family, Cattlemen's week begins on Sunday with the Open Horse Show. Tami's always a little nervous the day before as she prepares. Sunday morning she wakes early to arrive at the rodeo grounds with plenty of time to warm up. The Open Horse Show is the amateur rodeo for the passionate and talented riders in our region. There are many events ranging from pole bending to reigning. This show is an intimate test of horsemanship skills without the fanfare that accompanies the pro rodeos.
Watershed Barrel Race
Our big night is the Watershed Team Roping and Barrel Racing event on Wednesday night. Tami aspires to win a Watershed Buckle. This competition draws riders and ropers from all over western Colorado. After finding a friend to view with our son in the grandstands, I find a spot near the starting gate to film Tami's ride. It's never too early to gather training footage for next year.
Wednesday night is the first night of the carnival that accompanies Cattlemen's Days. Rides, shooting galleries, and cotton candy make it the highlight for a 10 year old boy. After sampling various rides and snacks, he always settles in on the BB gun machine guns. The goal is to shoot out the red star at the center of the target before all of the rounds are fired. Inevitably, there is always one corner of the star left hanging. Rhodes has been working and saving to have several chances and the many consolation prizes at home are testimony to the number times tried.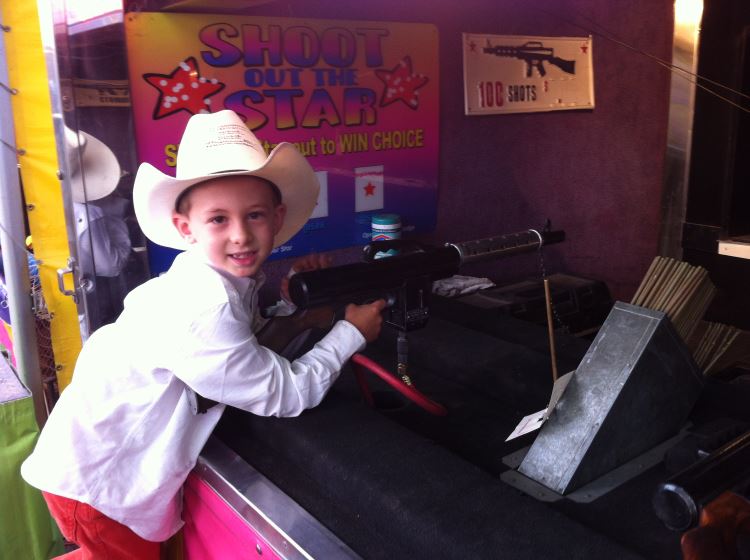 We leave late with a tour through the 4-H section seeing the pigs, goats and other animals local kids have been raising to auction during the week.
Professional Rodeos
The professional rodeos begin on Thursday night with the Tough Enough to Wear Pink Rodeo, followed by Patriot Night on Friday and Family Night on Saturday. We always make it to one and some years all three. Tami goes behind the scenes to seek lessons with professional barrel racers. The grandstands are filled with spectators watching competitors from across the country. Once we were fortunate enough to get VIP seats above the chutes. I can't think of a better way to describe the experience other than it was one of the most intense sporting experiences of my life.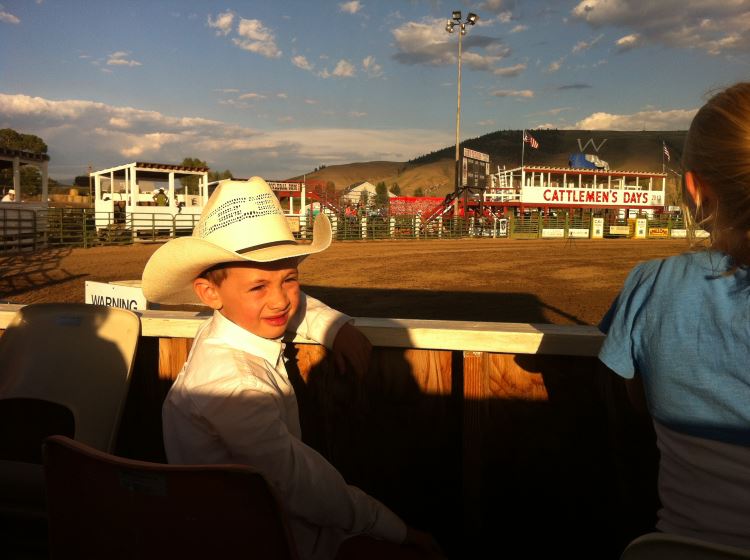 Eventually, the week comes to an end, but not without one more pass by the BB gun gallery and another chance for a grand prize.