Instagram Takeover Karan Bhatia + Eric Rubens
We met Southern California based photographers Karan Bhatia and Eric Rubens last fall. We loved their photography so much, we invited them back to experience summer in the Gunnison Valley. They'll be spending the weekend shooting the Black Canyon of the Gunnison, Blue Mesa, Lake Irwin, wildflowers, and mountain biking. We asked Karan and Eric a few questions to get to know them a bit better.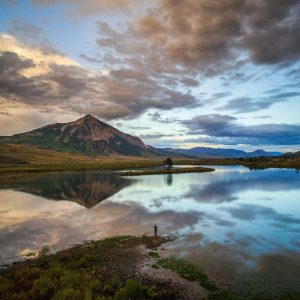 What kind of camera do you use?
Karan: I try not to put too much importance on the camera I use. Sometimes my phone is all I need.
Eric: I love shooting with my Sony A7R2.
Sunrises or Sunsets?
Karan: Sunrise. It's less crowded. You have the space to shoot and be creative.
Eric: Sunset because it's not so early! I like to have time to brainstorm and get ideas the day of the shoot.
What's your favorite thing to do in the Valley?
Karan: Grab coffee at Camp 4 Coffee. I'm a coffee freak and can't wait to get back. I've been thinking about Camp 4 since hearing about this trip.
Eric: I'll go with food/drink, too. Eating pizza at The Secret Stash. The pizza is tasty and the scene is fun.
What's your favorite travel gear?
Karan: I always have some sort of puffy coat with me and it usually has a hood. You never know what the weather will be like during a sunrise shoot.
Eric: I never leave for a shoot without a beanie. The weather may be fine for just a t-shirt and shorts, but I'll still throw a beanie in my bag. It's my go to layer.
You can find Karan on Instagram @sendingstache and Eric @erubes1.