ICELab Announces Local Incubator Program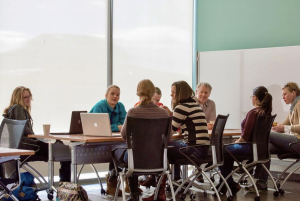 The Incubator
Do you have a business idea that you need help getting off the ground? Do you have a startup business that needs help getting to the next stage? Applications are being accepted for the ICELab 's Pre-Incubator program now through Dec. 15 at icelab.co/incubate.
The programming focuses on startup companies that need help in the beginning stages of their business planning.
Up to eight companies will be accepted into the four-week Pre-Incubator program. Starting on Feb. 4, teams will meet for one hour each week and have one hour of homework per week. The four-week program will culminate in a presentation of each team's elevator pitch at the ICELab Community Event on March 3. From there, up to four teams will be selected for the 2020 Incubator program.
Beginning March 17, the Incubator program will meet three mornings per week over the course of an eight-week program. Darcie Perkins, ICELab Assistant Director, explains, "Founders and teams participating in the Incubator program will develop successful business habits, create a solid business model and expand their entrepreneurial mindset in order to maximize the potential of their idea."
ICELab Means Business
This Incubator program fulfills one of the four groups of economic development that the ICELab is focusing on: co-working, startups, existing businesses, and recruiting businesses. Co-working is seen as the foundation piece of economic development and is experiencing year-over-year growth at the ICELab's physical facilities on the campus of Western Colorado University. The Incubator program will help startup companies from within the county. The Local Accelerator program covered the growth of existing businesses and graduated three teams in 2019. Later this year, the ICELab will host the Catapult Outdoor Recreation Accelerator for the second year, and this program will serve as a business recruiting channel for the ICELab.
The new ICELab team has been listening to community needs and is outcomes-oriented. The ICELab will be measuring economic development with the following five performance-based metrics through 2023.