Colorado Ice Fishing in the Gunnison Basin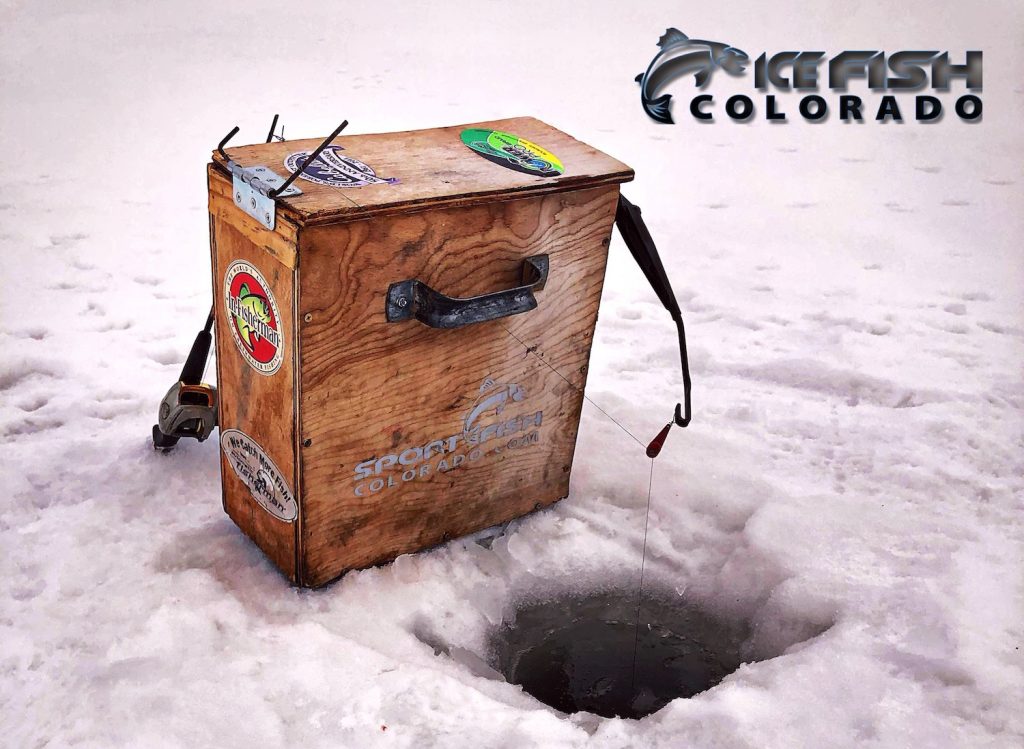 Colorado Ice Fishing Guide: The Gunnison Basin on Colorado's Western Slope is home to both Blue Mesa Reservoir and Taylor Reservoir "Blue Mesa is the state's largest" as well as several smaller lakes and ponds, making for a plethora of ice fishing options come early December. Although ice fishing has been perceived as a cold, beer-drinking sport in the past, new technology has paved the way for this sport to be a warm, exciting experience for anglers of all experience levels.
This guide will give you a glimpse at the ice fishing opportunities in the Gunnison Valley and how you can capitalize on them!
Cold Weather Clothing
As with any activity in the elements, the first step in cold prevention is good clothing. Dressing/layering as if you were going skiing or sledding is perfectly adequate for a day on the ice.
Good boots (preferably with some type of waterproofing) help keep your feet dry and warm. Layers are important so that you can shed once the ice hut warms up and then layer back up when you go outside.
Ice Safety
Frigid winter temperatures typically provide very thick and safe ice in the Gunnison Valley, but caution should always be used when ice fishing, especially during early and late ice conditions. Checking ice conditions before getting to the lake is a great first step. You can do this by visiting icefishcolorado.com for the current ice conditions.
Another option is to call Gene Taylors Sporting Goods in Gunnison or the Taylor Park Marina. Once you have any idea of the conditions, it is still important to be prepared and carry safety equipment. Fishing with a partner is always a good idea.
Some essential items include:
Spud bar
Ice picks
Rope
Throwable flotation device
Fishing Gear
Ice fishing gear has progressed to the point that you can make it as complex and expensive or as simple and cheap as you would like. Some baseline items to get someone new to the sport started include:
Ice rod & reel
Spud bar or manual auger
Ice scooper
Bucket
Once you try ice fishing and decide to invest in the sport, there are a lot of impressive toys that enhance the experience! There are ice huts, heaters, fish finders, underwater cameras, automatic hook setting devices, comfortable chairs, ultralight tables, grills, rod holders, jigging machines and snowmobiles or ATV/UTVs to pull all of these items to your favorite spot!
Now that you have your gear and an idea of the current conditions, you must pick a location to fish. Blue Mesa and Taylor offer a lot of great fishing spots, but typically some of the smaller lakes like Needle Creek Reservoir or Dome Lakes freeze up first. Maybe you are after a certain species of fish. Once there is safe ice on all of the bodies of water in the Gunnison Valley, it unlocks a variety pack of species options to pursue!
Ice Fishing Locations
Blue Mesa Reservoir
Blue Mesa is home to rainbow trout, brown trout, lake trout, kokanee salmon and yellow perch. Since it is so large, it usually gets some safe ice around the Gunnison River inlet in early December, but then takes at least two months for the rest of the lake to freeze.
There are a lot of opportunities, but the big water can be intimidating. Focus on the coves and rocky shorelines for best action! Or you can probe the depths looking to catch one of the trophy lake trout like the 50-plus-pound state record that came out of Blue Mesa in 2007!
The Lake City Bridge area is probably the most popular ice fishing spot in the entire Gunnison Valley thanks to all of the fish attracted to the food brought in from the Gunnison River inlet!
Taylor Reservoir
Taylor is a lot smaller than Blue Mesa, but it is still a big lake. Its species include rainbow trout, brown trout, lake trout, a small population of kokanee salmon and northern pike.
Taylor typically gets a lot more snow than Blue Mesa, which can make access tough. However, for the first time in a long time, the Taylor Park Marina will be keeping the road to the marina plowed this winter, which will really help!
The Taylor lake trout under 22 inches are some of the best-tasting lake trout in the state thanks to the mysis shrimp they feed on.
Needle Creek Reservoir
Needles Reservoir is a small impoundment east of Gunnison about 25 minutes. It houses a great mix of rainbow trout, brown trout, brook trout and cutthroat trout.
Needles along with Dome Lakes freeze up in mid- to late November and are usually the best early ice options. There are plenty of fish in this lake, but most of them are averaged sized.
As snow falls in the valley, access to Needles becomes by snowmobile only.
Dome Lakes
Dome Lakes are two small lakes east of Gunnison off of Colorado Highway 114, but don't let the small size fool you; the state record tiger trout was caught here!
Rainbow trout and brown trout along with A LOT of suckers reside in these lakes. Patience is required to sift through the suckers, but the potential of big tiger trout is very real!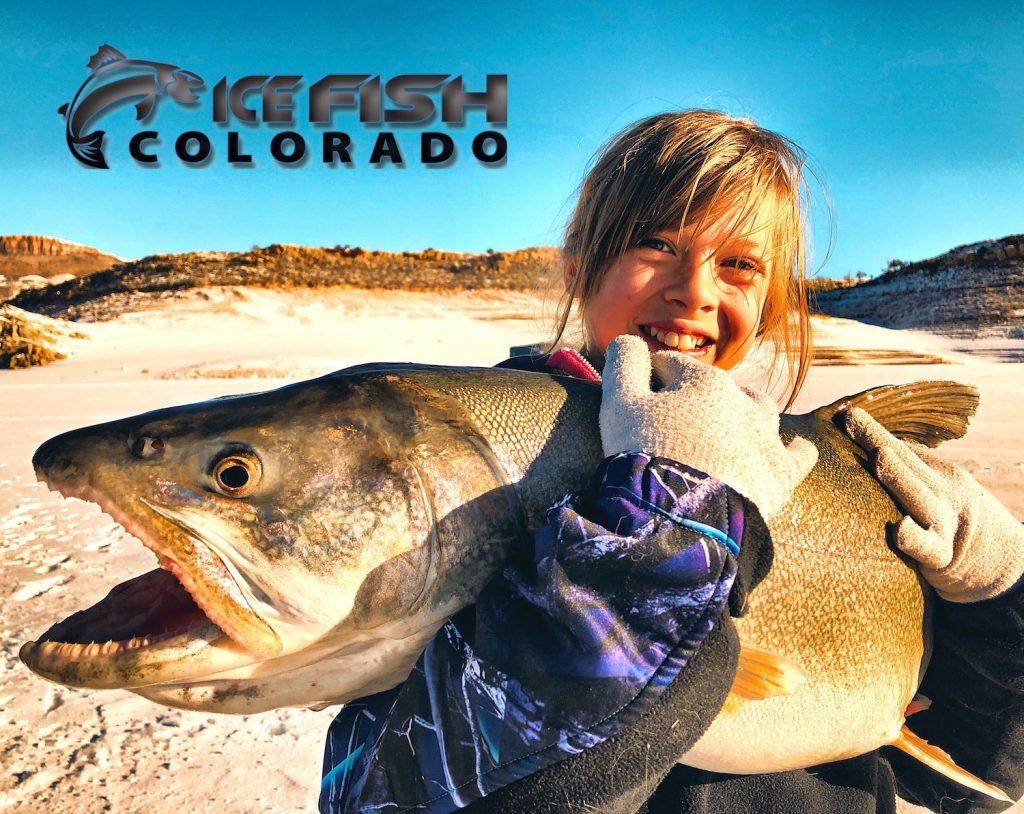 Ice Fishing Approach
A very similar approach can be used on all of these different lakes. The first key is to look for fish traffic along some type of structure. Rocky shorelines and coves are a great starting point.
Once you have located fish, it is important to show the fish a few different presentations in an attempt to figure out their mood. Colorado allows two rods to be used if a second rod stamp is purchased on your license. Use this to your advantage.
Drill two holes about three feet apart. Put a finesse presentation like a small tear drop jig tipped with a meal worm or wax worm on one rod and a quarter-ounce spoon like the PK Flutterfish tipped with a meal worm or wax worm on the other rod. Jig the spoon while keeping the tear drop jig still. The jigging motion will attract fish of all moods and the more aggressive fish will strike the jigging spoon! The less aggressive fish that don't want to chase the spoon will usually opt for the finesse presentation giving you a one-two punch!
The Easy Way Out
If all of this information sounds intriguing, but slightly overwhelming, there is another option. Hiring an ice fishing guide takes all the investment, hassle and question marks out of the equation! You and your party can experience the latest ice fishing technology while confidently resting in the safety and fishing expertise of your guide, resulting in a fun, safe, comfortable, fish-catching experience!
About the author: Robby Richardson grew up ice fishing and turned his passion into Ice Fish Colorado in 2009. Along with guided fishing, he also specializes in helping clients buy and sell hunting and fishing properties.
FIND FISHING GUIDES AND OUTFITTERS