By Shaun Matusewicz
Photo courtesy of CBMR/Nathan Bilow
There is nothing quite like the Crested Butte Santa Ski in the world!   It is my new favorite event.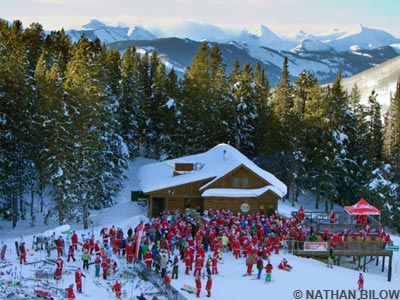 There is one moment from last year that will forever stay in my memory. We were skiing down from the mid-mountain Uley's Cabin at Crested Butte Mountain Resort to the base area, a huge group of Santas. About halfway down the run, I just stopped mid-trail and looked around.
Everyone I saw was smiling and laughing! Seeing this I couldn't help but smile and laugh myself; it was just such a fun and goofy moment. There were old Santas and young Santas , whole families of Santas, naughty Santas , nice Santas and there was even a "Where's Waldo" Santa!
It was an amazing scene, a huge cloud of red and white—hundreds of Santas swooshing back-and-forth on the fresh snow.  I've described it since then as pure fun wrapped in a red felt suit.
The Santa Ski is a perfect fit for Crested Butte and is happening again on Dec. 13. It has skiing, it has costumes and

it's just a ton of fun. Anyone who has hung out in Crested Butte for even a day knows that this town loves skiing and loves to dress up. We combined those two things, added a family friendly group ski and an adult oriented Santa Pub Crawl.  What came out was magic!
I think that's one of my favorite parts of the Santa event: giving people an experience they will never forget.
Beyond skiing with 1000's of other Santas, this year we are trying to set the World Record for most skiing Santas.  Crested Butte Mountain Resort is helping us make history by offering $22 lift tickets to anyone wearing a full Santa costume. Last year was our first year and wé fell just short; this year we are completely going to shatter the record!
It's not every day that you get to be part of history, but with this event you can! Register for the Santa Pub Crawl starting on Nov. 17.
Me thinking about Santa Ski & Crawl while in Belize!
Shaun Matusewicz  is the co-founder of Crested Butte Santa Ski.  He lives in Crested Butte and loves every moment of it.  Before CB, he lived in New York City for too long, worked too many hours and didn't ski or rock climb nearly enough. He's never going back.