2016 Fishing Tips: Green Drake Season
River and stream fishing, blown out by high water this past month, returns to the valley in the next couple of weeks. A reward for the hiatus is that the main fishing season launches with the Green Drake hatch, the best hatch for big trout on dry flies all year. The hatch starts on the lower Gunnison and moves up the Taylor and East Rivers over the course of a couple of weeks. Following the hatch as it moves upstream can provide two or three weeks of action. In very high water years we can miss the hatch completely, but this is not going to be one of those years.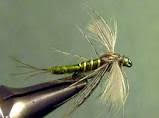 Use dry patterns or spinners, and have some nymphs in your box when the surface action slows.
Figure out the time the Drakes are flying. In my experience, it seems like 1pm but that's not a rule and timing canchange from year to year and on different sections of our rivers. The best way to find out the specifics are to check in with one of our local fly shops or guiding services. The trout aren't particularly leader shy when chasing these big mayflies. I usually tie 3X tippets because the chances of catching an 18″-20″ fish are very real.
Water will still be pushy when the hatch starts. A wading staff may be helpful. But the extra trouble is well worth the reward of catching this best hatch of the year.