The Grand Traverse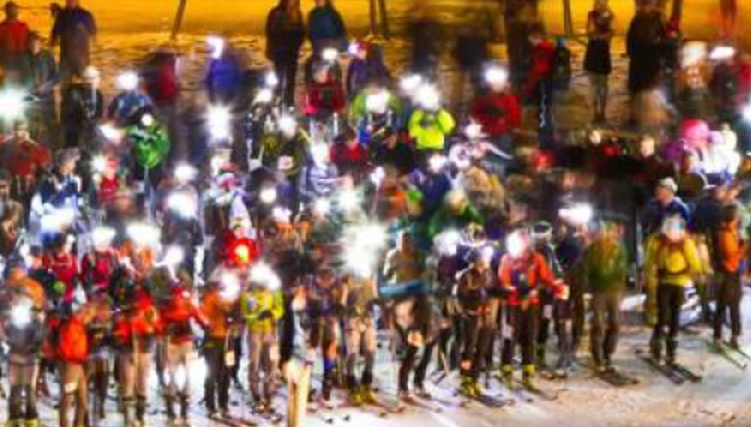 At the strike of midnight, skiers depart CB traversing the Elk mountain Range by twilight, propelling them to a dawn finish in Aspen.
Distance: 40 miles; Elevation Gain 7,800 feet. Finishing Times 7-16 hours
2020 Race Date:  March 29th
– START 12:00 AM –
The Elk Mountains Grand Traverse was conceived by Crested 'Buttian, Jan Runge and a band of  other backcountry devotees  in 1998.  The race's genesis was partially based on the historical mail routes that connected the Colorado mining towns of Crested Butte and Aspen in the 1880s;  but also drew inspiration from the Patrouille des Glaciers, a point-to-point ski race in Switzerland which Runge had become familiar with in the 80's.  Colorado's own competitive ski mountaineering legacy was born!
Typically, the race starts at midnight so participants reach the high point of Star Pass (12,303 feet) before the warmth of the day increases avalanche risk on the exposed eastern slopes of the pass. Because of the remote route through the Elk Mountains, each team of two is required to carry enough food and supplies to sustain themselves for 24 hours. Before the start of the race the team packs will be checked to be sure all essential gear is present including shelters, stove, fuel, avalanche beacons and rescue gear, first aid and repair kits etc.  The Grand Traverse is a true test of physical and mental endurance that keeps athletes returning year after year to experience perseverance in this Grand endeavor!
In 2012, event ownership was transferred to Crested Butte Nordic. The race has since been operated as an annual fundraising event for the local nonprofit.  To learn more about Nordic ski and snow sport amenities maintained by  Crested Butte Nordic, please visit www.cbnordic.org
GENERAL ENTRY
Team Entry – $400
Each team is required to have an emergency rescue beacon to race.  Your team may either rent, or provide a personal SPOT or In Reach tracking beacon.
Tracking Beacon Rental Fee – $40
Tracking Beacon Linkage Fee -$15
TRIPLE CROWN PRIORITY ENTRY
Registration for the Grand Traverse Triple Crown competition opens annually in October.  The first 50 individual registrants will have a reserved Team entry into the winter race, along with both Summer GT events.
Triple Crown Pre Registration – $400/individual

CHARITY TEAM ENTRY
15 event slots are annually reserved for teams racing for a charitable cause.  Charity teams pay the full registration amount, but will be afforded a guaranteed entry ahead of the opening of General Registration.  Athletes interested in racing for a cause should use the link above to apply for a charity team entry during the month of OCTOBER.
Waitlisted Registration
If your team fails to secure an entry through General Registration, the only way to gain entry into the event is to place your team onto the waitlist. We operate a non-priority wait list. When we receive notification of a team drop, every waitlisted registrant will be sent an email notification of the available registration. The first individual to respond will have their team moved onto the active roster.
In order to streamline our calendar we've moved guided mountain bike trips to a separate page on our sister site MTBHome.com. You can view those trips by guide service here.