4th of July in Crested Butte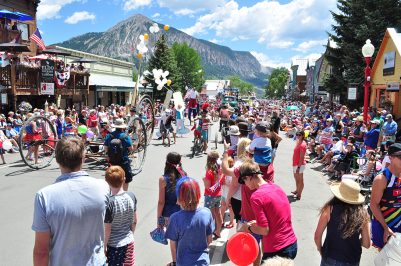 The 4th of July in Crested Butte is a patriotic celebration full of music, food, races, and fun. Join us this year to celebrate America's birthday with the country's biggest small town festival.
Get here early or stay late to enjoy a weekend of hiking, biking, fishing, or swimming in the mountains around Crested Butte while enjoying the festivities on Elk Ave!
THURSDAY, JULY 4, 2019
7-10 am Pancake Breakfast at the Crested Butte Fire & EMS Department
8 am Gothic to Crested Butte 1/3rd Marathon starts in Gothic and ends right at 3rd street and Elk Avenue. Cheer for the racers on the Rec Path or between 1st and 3rd streets on Elk Ave!
10 am-2 pm Food court, face painting and more at 3rd and Elk Ave
11 am Fourth of July Parade
12 pm Gothic to Crested Butte Marathon Awards at 3rd and Elk Ave
12:15-2:30 pm Live music at 3rd and Elk Ave (TBA)
5:30-9:15 pm Live music at the Red Lady stage in Mt CB (TBA)
9:30 pm Mt Crested Butte fireworks show!
FLOATS:
A float in the parade is a great way to advertise your business or cause. With estimated crowds in the 9,000- 12,000 range, you'll have a lot of eyes on you as you march down Elk. Plus, we'll announce your business as you hit 3rd and Elk right by the food court. A general float/group costs $50, marching bands are free, and a political float will run you $200. To register your float in the parade, please click the button below to download the parade registration form and submit it to the Chamber with payment for your float (if applicable).
In order to streamline our calendar we've moved guided mountain bike trips to a separate page on our sister site MTBHome.com. You can view those trips by guide service here.