5 Best Places to SUP the Gunnison Valley
With over 2 million acres of public lands, the headwaters of the largest tributary of the Colorado River in Colorado, and Colorado's largest lake, it's no secret that the Gunnison Valley has plenty of water. What do the locals do with it all? They grab a stand up paddle board (SUP) and enjoy it!
SUPing is really one of the best ways to enjoy the waters of the Gunnison Valley. With alpine lakes, rivers, and Colorado's largest reservoir, you could SUP all summer and not hit every spot. We've laid out the 5 best places to SUP in the Gunnison Valley so grab your board and enjoy an afternoon on the water.
#1: Blue Mesa
Colorado's largest reservoir is an obvious choice for a day or overnight SUP adventure. Over 20 miles of lake extend from the mouth of the Gunnison River to the dam at Highway 92. While the open water in the middle is fun to paddle, the real thrill is to head up one of the tributaries to see the wild side of the reservoir. Between Soap Creek, Cebolla Creek, and the Lake Fork Gunnison embayments you'll find lots of beautiful scenery, great fishing, and even some designated primitive campsites that are perfect for an overnight. If you're looking for a place to stay with a roof, Gunnison offers plenty of lodging opportunities and is only 15 minutes down the road.
As you stand up paddle on the Mesa be mindful about how far you are from your access point. Afternoon thunderstorms and wind are common and getting caught in either can be unpleasant. The most fun time to paddle the Mesa is during the sunrise when the sun breaks from the east and lights up the water.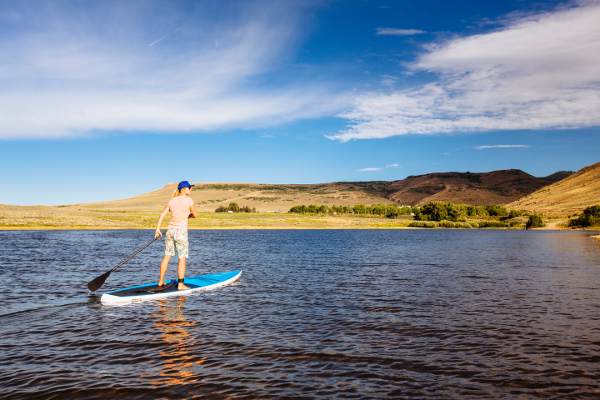 #2: Lake Irwin
About 15 minutes up Kebler Pass Road from Crested Butte you'll find the old mining town of Irwin and Lake Irwin. Nestled high in the West Elks under the towering Owen and Ruby Mountains this is a great first exposure to alpine paddle boarding. Access is very easy from parking areas near the campground and lake, and the weather is generally the most pleasant between 10am and 1pm before the afternoon thunderstorms start to build.
#3 Lower Gunnison River
If going from point to point is more your style, try a float on the lower Gunnison River. We recommend putting in your SUP at the Riverway Recreation Area and floating to Beaver Creek. Other access points like Neversink and Cooper's Ranch can also be used, but they shorten the float distance. The water is constantly moving, but never gets difficult in this section, though care should be used when the Gunnison River is above 1,500 cfs in Gunnison. If you want a guided tour down this stretch of river, check out Wheelies and Waves in Gunnison.
#4 Lost Lakes
Lost Lakes are a collection of three alpine lakes under the watchful eye of East Beckwith Mountain. The most accessible is the largest lake of them all and is called Lost Lake Slough on maps. Don't let the potentially unimaginative name scare you off, because it's one of the most beautiful spots around. The other two lakes, Lost Lake and Dollar Lake, are reached via short hikes between 1 and 1.5 miles one way. With an inflatable SUP board that's a fairly easy trek for an awesome adventure.
To get there take Kebler Pass out of Crested Butte towards Somerset and Paonia for about 16 miles. Turn left on Forest Road 706 and drive up to the campground and lower lake.
#5 Spring Creek Reservoir
If you've never been to Spring Creek Reservoir, you'll be blown away on your first time. This man-made reservoir lies high up in the mountains between the Taylor River and Cement Creek. Great SUPing plus camping is scattered around the area, and the fishing and 4-wheeling are top-notch too. The easiest access is just past the Mosca Campground on the right as you head up the road. To get to Mosca, take Spring Creek Rd. from Harmel's Resort for 11.5 miles. It turns to dirt around mile 3, but it's well maintained and suitable for all passenger vehicles.
SUP Safety and Etiquette
While enjoying the rivers and lakes of the Gunnison Valley, remember that Stand Up Paddling can be a risky undertaking if you're not mindful of safety. Afternoon thunderstorms are common in the Rockies, and being exposed in the middle of a lake can be dangerous. Always wear a lifejacket while you're out on a board since our water is cold and can zap your swimming abilities if you fall off unexpectedly. It's also a good idea to let someone know where you're headed and what time you'll be back.
When floating down the river or on the lake be mindful of private property and remain in the water. River law is a little different in Colorado and you can be charged with trespassing if you step off your board even to walk through a small shallow riffle on private property. When passing wildlife and cows be mindful of how much noise you're making and try your hardest not to disturb them. Leaving your dog at home is a good idea for river trips. There are usually plenty of restroom facilities around the spots mentioned above. Please use them before you get on the water!