3 Essentials for Colorado Mushroom Hunting
As a person who loves to both cook and explore the outdoors, it's hard to believe I lived in Crested Butte for 6 years before going on my first mushroom hunt. I had made do with the occasional exquisite taste of our wild delicacy at local restaurants. I was wary of foraging for mushrooms because of the advertised dangers of eating certain wild mushrooms. Now that I've actually experienced a foraging trip myself, I've put together three essentials for mushroom hunting newbies to help you take part in this unique Crested Butte tradition.
1) A Guide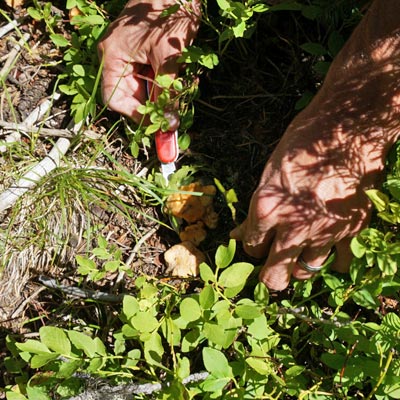 When I say guide, I don't mean a book (I'll get to that later), I mean someone who is familiar with mushroom foraging who can take you out. When our friend Rob called us on a Saturday morning to join him on a mushroom hunting expedition, we jumped at the chance. Rob had learned mushroom foraging from his mother-in-law. It seems like everyone I know around here who goes out foraging in the backcountry has learned that same way, with knowledge being passed from person to person. Crested Butte's on-again, off-again mushroom festival is a great time to learn from a local expert. Or you can ask around at your B&B, hotel, or favorite bar and you may find someone willing to take you out into the woods.
Rob picked us up in his old Scout, a perfect vehicle for driving dirt roads to mushroom habitat, and off we went into the woods. He taught us to seek out the right elevation and the right slope, a hillside, but not too steep. You look for moist pine forests that allow light to trickle in and dance on the ground. Within seconds, we started spotting mushrooms. Most of them were what Rob called
"little brown mushrooms- LBMs" — hard to distinguish and probably not too good for eating. Being beginners, Rob started us looking for chanterelles, with the instructions to look for "scrambled eggs." After 20 minutes of wandering around the woods, staring at the ground, we were starting to wonder if we would ever find them. Then Trevor found the mother lode, a 2 pound cluster of clumps of chanterelles growing near a downed log. It was time for the second essential of mushroom hunting.
2) The Proper Tools
We quickly got to work on our harvest. You'll need a pocket-knife, a bag — preferably paper or fabric, and a brush. Since I was out with a crew of painters, we used paintbrushes, but a soft toothbrush works, too.
The knife is very important. When mushroom hunting, proper etiquette dictates that you cut the mushrooms off above the ground, rather than pulling them out. If the conditions remain good, the mushroom will grow back in the same spot and you can return in a week or two and harvest again. If you pull the mushroom up, it won't grow back.
You'll need a brush to dust off your mushrooms. Chanterelles are known for being particularly delicate. Washing with water can make them mushy. Instead, gently brush off your mushrooms to get rid of any dirt or pine needles. Finally, you'll want a paper or fabric bag to store your mushrooms. If you put them in plastic, they can get mushy or slimy. After finding our chanterelles, we continued tromping around in the woods, cutting other mushrooms as we went. We collected some hawks wing mushrooms, a favorite of mine, and some milky caps and candy caps. Due to their green color, no one was willing to eat any of the milky caps until we had confirmed their identity, which brings up the third mushroom essential.
3) A Mushroom Book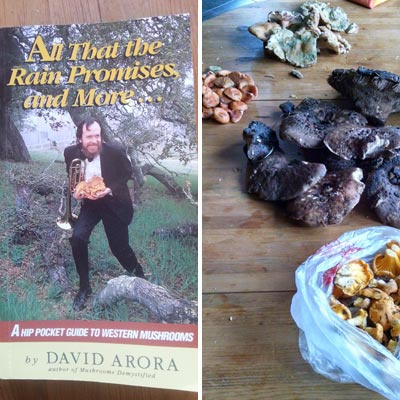 I know I mentioned earlier that a human guide is more important than a book. You should also pick up a book. Although the most skilled mushroom foragers have extensive knowledge of many varieties, most people are only confident with identifying a few varieties. It's best to have a book to back you up before you decide to taste your foraged mushrooms. So, after collecting 6 varieties of mushrooms, we loaded back into the Scout and headed for downtown Crested Butte to find a mushroom identification book. They are available at many of the local shops, including the store at the Crested Butte Mountain Heritage Museum and Townie Books. I knew I wanted a guide with photographs rather than drawings. I also wanted to be sure to pick one up with a common name index, not just a scientific index. I found the perfect pocket guide and then we headed home with our book and a bag full of mushrooms to identify.
We were exhausted, but not too tired to cook up a big feast of chanterelles and hawks wings. The chanterelles were delicate and buttery. In contrast, the hawks wings were meaty and bursting with umami. Many people complain that their flavor is too strong, but they're definitely my favorite. Like a portabella mushroom turned up a notch. I'm still hoping to get back out in the forest for more mushroom hunting before the season ends. Our chanterelle patch may be ready for a second harvest.
Note: although very few deadly poisonous mushrooms exist, many varieties can cause mild to severe stomach upset. These photos should not be used for identification purposes because other less palatable mushrooms resemble some of these varieties. Please consult a guide book or take a class before consuming foraged mushrooms.