Yurt Dinner Experience
We started by arriving at the Nordic Center at 5 PM, just after the sun set. There was still a slight glow to the sky as Tom went in to pick up his rental gear. We also checked in with our guides for the evening and picked up trail passes. Then most of the diners loaded into Nordic Center vans to drive out to the trailhead on Peanut Lake.
When we arrived at the trailhead, it was already getting to be quite dark and the snow was picking up. Headlamps were turned on and we stepped out on to the trail to follow the tiki torches out to the yurt. Tom hadn't been on Nordic gear in 15+ years and has a bad ankle, but he did fine on the mostly level trail out to the yurt. There were only two hills, perhaps more accurately described as "bumps." Several of our fellow diners used snowshoes rather than Nordic skis to get out to the yurt, so never fear if you've never tried skinny skis!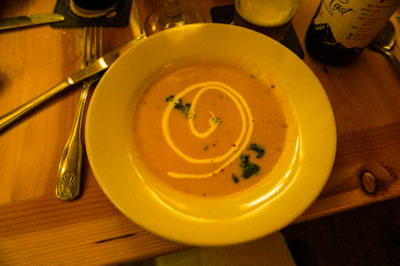 We arrived at the glowing yurt after our mile-long ski in and took our skis off. When we stepped inside, we were greeted by live music, a roaring fire in the woodstove, and a bar with a custom Montanya rum cocktail, beer from Elevation Brewing over in Poncha Springs, CO, and wine. Seats are assigned by group. In our case, there were only two of us so we shared a four-top with a couple from New Mexico who had made the trip back to Crested Butte to reprise their yurt dinner experience from 2 seasons ago.
After a welcome by Molly from Crested Butte Nordic, we got down to the serious business of our 5-course meal catered by Chef Josephine of Creative Catering. We started with a smoked trout mousse with homemade crackers and spectacular pickled vegetables. Then we enjoyed a salad with pear and feta on fresh greens. The soup was a lovely cauliflower soup with some Moroccan spices. For the fourth course I had the steak, which you would not have believed was cooked in a yurt, and Tom had the salmon. Finally, we finished our dinners with tiramisu.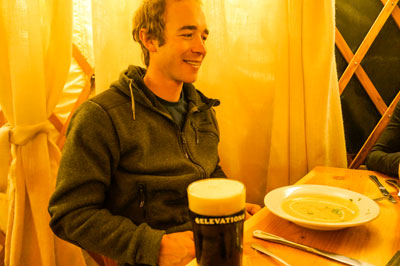 We were stuffed and quite happy to sit and enjoy more conversation and the last of the live music before bundling back up to ski the mile back to town. By that point, the snow was coming down hard. It was tempting to stay out and enjoy the magic of the evening a little bit longer. We even considered skipping the van ride back to the Nordic Center to ski through town on the way back.
The Solstice of 2015 will probably stay on my favorites list for a very long time. It was a truly wonderful experience and I really can't recommend it highly enough. If you're visiting this winter and there is a yurt dinner during your stay, I recommend signing up well in advance. It would be a real shame to miss out.
Know before you go:
The Yurt Dinner Experience includes trail passes, equipment rentals, guides, a five course dinner, live music, and libations and will run you $125 per adult/$75 per child all-inclusive, including beverages and tip. Meet at the Nordic Center at 5 PM and expect to return some time between 9:30 and 10. Pro tip: The Nordic Center has headlamps for most participants, but not enough for the yurt's full capacity. If you have one, you may want to bring your own.)
Dates for 2016 Yurt Dinners include:
January, 16 Crested Butte Nordic Team Fundraiser
February 6, 14, 20, and 27.
March 5, 12, and 19.
Visit cbnordic.org for the current dates and to make a reservation. Remember to book early, yurt dinner experiences often sell out.