We are Never-Never Land
I never set foot in the Gunnison Valley before late August 2008, but my husband Tom and I drove in with the hope of finding a new home. We came in from the West, driving along the Blue Mesa Reservoir as a full moon rose.

We had a great dinner in Gunnison, got a good night's sleep, and headed up 135 to Crested Butte. Our mission was to look at a condo we had seen on craigslist while we were dreaming of life in the mountains during our last few months in Las Vegas.
Within 6 hours of setting foot on Elk Avenue, we were signing a lease on a place in Mt. Crested Butte for our "one year" in the mountains. It just felt right. In fact, had Tom not had to go back and give notice at his job, we may have just stayed put in Crested Butte. Three weeks later, we loaded up the uhaul and set out for CB and our new life. After living here for about a week, I called my parents and told them we planned to stay forever if we could figure out how to make it work.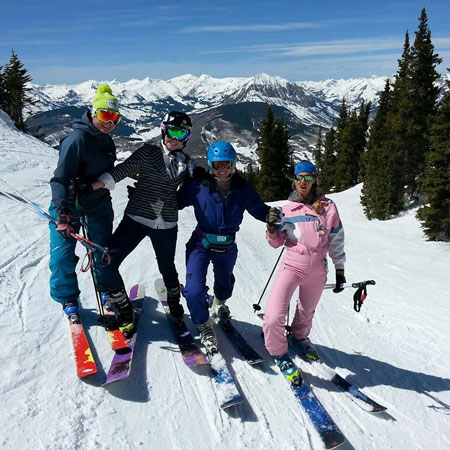 Nine winters, hundreds of ski days (some in ridiculous costumes), many jobs, a house, a cute puppy, eight surgeries (between the two of us), hundreds of miles of mountain biking and hiking, not enough potluck dinners, and many late nights around the campfire, we're still planning to stay forever, no matter how much hustling is required.
While the mountains are phenomenal, they're not the only reason, or even the most important reason, we can't fathom leaving. It's the people who make up this community. From my bff, Billy Barr, and the RMBL researchers up in Gothic to the friends we cherish in Gunnison, the people who live in these mountains are the ones who make this place so special. The people are Never-Never Land.
We have been documenting just a handful of the stories of our people over the last couple of winters with our Never-Never Land series. We hope you enjoy getting to know them, and this place, through these stories.
The Freeriders:
Mary Boddington and Tom Runcie live here because this mountain lets them push their limits, and the limits of their sports.
The Rad Dads:
Gary Pierson and Murray Wais show us that having a family doesn't make you any less stoked on the mountains. In fact, getting to share this place with their kids, and the students at Western in Gary's case, makes it even better.
The Builders:
Morgan and Caleb Weinberg of Romp Skis took their passion for skiing and this place and turned it into a boutique ski company that specializes in building skis that can live up to the challenge of skiing this mountain.
The Student:
Peter Noon is one of Gary's students at Western State Colorado University. He shreds on his snowboard and mountain bike and has definitely found the work hard, play harder balance.