Trip Itinerary: A weekend of skiing in Crested Butte
It's time to start planning a Colorado ski trip to Crested Butte Mountain Resort (CBMR). With steep skiing, pristine Nordic ski trails, and laid-back mountain towns that turn into winter wonderlands, Crested Butte and the Gunnison Valley isn't your average Colorado ski destination. We've put together this itinerary to help you plan your Crested Butte ski weekend. It includes information on skiing at Crested Butte Mountain, things to do around town in Gunnison and Crested Butte, other winter activities in the Gunnison Valley, and trip planning tips.
Day 1: Friday Night
You can get here by driving or flying. The most efficient way to travel here is by flying into Gunnison-Crested Butte Regional Airport (GUC). If you're worried about not having a car for your Crested Butte ski weekend, there are two free bus systems in the valley that run at regular intervals. If you're staying in Gunnison, the RTA bus goes from Gunnison all the way to the base area of Crested Butte Mountain Resort. In Crested Butte you could catch the Mountain Express shuttle to the base area. There are also ski-in, ski-out lodging options on Mt. Crested Butte. If you do drive, rejoice in knowing you can avoid I-70 to get here. Once you've settled into your hotel or vacation rental, hit Elk Avenue for some dinner and maybe a drink. Restaurant options include pizza, French cuisine, American fare and more. There are a few bars too. You can find anything from fancy cocktails to local craft beer.
Day 2: Saturday
Today is your day to ski at Crested Butte Mountain Resort! Catch a bus to the base area or ski in from your lodging. The lifts start spinning at 9 a.m. CBMR is known for its steep extreme skiing, but beginner and intermediate skiers have plenty of runs to choose from as well. 36.6% of the terrain is expert, 24.8% is advanced, 24.6% is intermediate and 14% is beginner. With a base elevation of 9,375 feet, Crested Butte Mountain Resort receives an average of 236" of snowfall annually. For a break, check out the après scene on the mountain. Warm up with a cup of coffee or refresh with a cocktail. Get a few more runs in on some of the resort's 1,547 skiable acres before the lifts stop running.
Things to do in Crested Butte in winter
Once you're done skiing for the day, head back into town. Elk Avenue exudes old mining town charm and is especially scenic when covered in snow. Crested Butte has an arts center, galleries, shops, museums, and bars and restaurants to explore. Local events are another fun way to experience Crested Butte.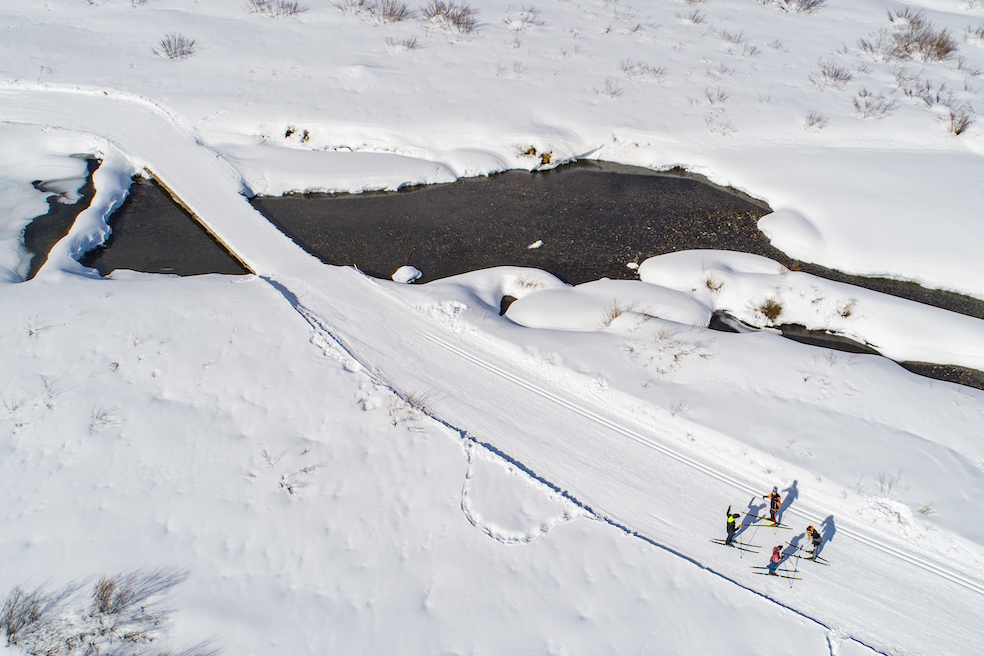 Day 3: Sunday
Before heading home, you could get more skiing in or check out another winter activity. Crested Butte has Nordic skiing, fat biking, snowshoeing, snowmobiling and backcountry skiing. The Crested Butte Nordic Center grooms a network of 50 kilometers of trails. These trails can be used for classic and skate Nordic skiing and snowshoeing. Some are open to fat biking as well. A pass must be purchased for all Nordic Center trails. Please abide by all trail signs and restrictions. Learn more about winter vs. summer trail use in the Gunnison Valley. No matter where you recreate in winter, please be aware of avalanche risks. Make sure you possess the proper skills, equipment and knowledge to safely navigate avalanche terrain. Please be mindful of winter trail etiquette as well.
Things to do in Gunnison in winter
South of Crested Butte, Gunnison also offers access to winter sports. Hartman Rocks Recreation Area is high desert managed by the Bureau of Land Management. In the winter it's a great spot for Nordic skiing, fat biking and snowshoeing. Mill Creek, on County Road 727, is popular for these activities as well as snowmobiling. Gunnison Nordic grooms a Nordic track at Hartman's and Mill Creek, as well as a few other places around town. If you want to grab something to eat or check out Gunnison, Main Street is the hub of the town. Here you'll find places to shop, galleries and an arts center, restaurants, and coffeeshops. Pitkin, Colorado is north of Highway 50 between Gunnison and Monarch Pass. Pitkin is a historic mining town located in Gunnison National Forest. Though the town is small, there is amazing access to backcountry skiing and snowmobiling in the area. Regardless of the season, there are many things to do in Pitkin.
Planning your Crested Butte weekend ski trip and Gunnison this winter
It's important to plan your trip ahead of time to maximize your ski time. Plan how you're going to get here. Book your lodging to cozy up in after a day in the snow skiing the steeps or experiencing the Nordic trails. Check the weather to stay safe, and plan other things to do. Make sure you take in the ski town charm of Crested Butte and Gunnison while you're here!