There's something to be said about experiencing a place simply by watching the day go by. You can't help but relax while dining outside on a pleasant summer's day. Whilst sipping coffee, a pint, sampling local foods, whatever it may be, outdoor dining enhances a culinary experience. This experience can be intoxicating when enjoyed in the beautiful natural surroundings of the Gunnison Valley.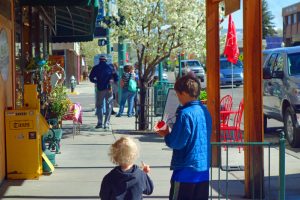 The charming, laid-back main streets of Gunnison and Crested Butte welcome locals and visitors to stroll along, shop, mingle, and dine. Countless cruisers can be seen passing by, along with cars topped with bike racks, happy alpine doggies, and kids on striders. Alfresco dining allows all of us to experience the outdoors while simply sitting, sipping, and nibbling.
I constantly hear locals and visitors alike say "let's sit outside somewhere." Luckily, the Gunnison Valley has a great mix of spots from which to choose.
Options in Sunny Gunny
Twisted Fork
The back patio is adjacent to a charming "pocket" park. Sweet! More open space to enjoy. Patio diners can see the restaurant's impressive garden where much of the menu springs forth. In fact, the garden exemplifies the whole farm-to-table dining movement.
An item on the menu not to be missed is the fried Brussels sprouts—they are simply delectable. We challenge any discerning foodie, kiddo, or adult not to love 'em. Salty, crispy with a touch of spice. You'll see forks flying as diners fight over the last few leafy sprouts. Vietnamese Pork "tacos" are another way to go. Lettuce wraps are an option, too.
Unique cocktails, like twists on the classic mojito and Moscow mule pair nicely with many pan-Asian inspired dishes. A touch of sweetness from the cocktails melds seamlessly with the spicy flavors. The staff, full of long-time locals, offers great service including tips of where to hike, bike, and climb locally.
Blue Table
Just outside Gunny. You're far enough away from town to admire the softly rolling hills surrounding Gunnison and avoid much of the summertime traffic.
Seafood in the Rockies?? Yes, please! Blue Table goes to great lengths sourcing fresh, excellent quality seafood for classic and signature sushi rolls, appetizers, and entrée specials.
The Grill's outdoor dining patio provides a relaxing atmosphere with direct access to the inviting lounge and refreshing cocktails on a warm summer's day.  A cornhole game on the patio encourages guests to linger a bit longer, order another round, or enjoy extra sushi roll.
Other Alfresco Options in Gunnison
El Paraiso—Head here for margaritas, salsa, guacamole, fajitas—all the Mexican-American classics.
High Alpine Brewery—The new brewery in Gunnison! Brews include IPAs, blondes and an espresso stout to name a few. A custom made brick oven serves up crispy pizzas. Enjoy a beer on their upper deck and bask in the sunshine.
Garlic Mike's—Classic Italian American cuisine. You'll need to hold the winelist with both hands. Behind the restaurant is outdoor seating near to the banks of the beautiful Gunnison River. Sit water-side, sip some vino, and savor classic Italian-American dishes.
Mikey's Pizza–Thin crust pizza, fresh salads, calzones, and sandwiches. The pizza sauce stands-out with a flavorful punch of herbs and a touch of spice. Mikey's isn't stingy with toppings. Expect plenty of feta cheese, olives and artichokes on the Greek Pizza.
5 B's BBQ–The hickory smoked chicken and beef brisket are divine, but the sides are what keep bringing me back. The fried okra matches any style of beer. The coleslaw is more crisp than creamy, and cools down the palate.
Sherpa Cafe–Nepalese food and traditional Indian cuisine from vegetarian dishes to tandori preparations. Do not skip the homemade chai. It's spicy, sweet, creamy flavors are perfect before, during and after the meal. Sherpa is family owned and operated. Guests may expect complimentary lentil soup to start their meal.
. . . And in Charming Crested Butte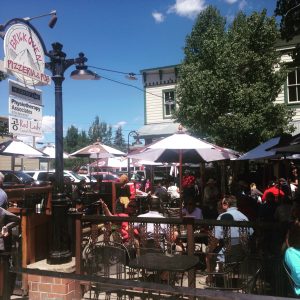 Brick Oven Pizzeria and Pub
Locally called "The Brick," this pizzeria boasts the largest patio in Crested Butte. You'll see a few leashed doggies chilling outside the fenced-in patio area next to their owner's tables. Cruisers and mountain bikes decorate the fence line, too.
The Brick specializes in beers and pizza, just about everyone's favorite grub after a day in the CB backcountry. The pizza would please Goldilocks—it's not too thin, not too thick, it's just right. A rotating selection of Colorado microbrews will keep beer snobs happy. A tough choice always presents itself—to pitcher or not to pitcher? We'd argue there's not a wrong answer here. Head over with a group, chill on the patio, and enjoy good tunes—classic rock tends to be the music of choice coming from outdoor speakers. Patio heaters encourage locals and visitors to visit The Brick's patio well into autumn.
Ginger Café
Elk Avenue is a pretty chill spot even in the height of the tourism season. For those seeking a cozy and quieter outdoor dining experience, Ginger Café has you covered. On the far-east end of Elk Avenue, colorful umbrellas will keep you cool even while the curry is hot. We love the chairs made of old skis outside the patio area. Even if you're not dining with Ginger Café, they don't mind pedestrians taking a seat to watch Elk Avenue go by. The curries are great and the hand-battered calamari is scrumptious, too. Daily specials range from seafood to spring rolls. Ginger Café is happy to accommodate large groups and takes reservations.
Other Alfresco Dining Spots in Crested Butte
Teocalli Tamale—Who doesn't like a good taco after a hike, bike ride?! Homemade tamales are also a treat at Teo's.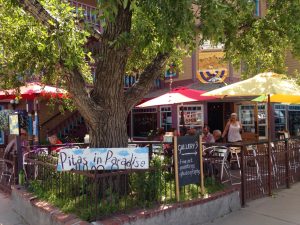 Pitas in Paradise—Get the lamb gyro; you'll thank us later. Rotating soup bar is a local favorite. They also get the last rays of sunlight in the afternoon. 
Montanya Distillers—Known for classic and seasonally-inspired rum cocktails and fabulous appetizers. Enjoy their outdoor patio facing Elk Avenue and shady back patio, too. The distillery offers tours as well.
The Secret Stash Pizzeria—Call it a boutique pizzeria. Ingredients include anything from truffle oil to prosciutto. Perhaps a fresh salad bar is more your speed. The large deck area sits to the east of the restaurant.
Ryce—Head here for classic stir fry, duck salad, and yummy soups, too. A great spot for lunch or dinner. Fabulous fixin's in the fusion style of cuisine.
Supper at the Sunflower—A chalkboard inside the restaurant lists local farms that provide seasonal vegetables and proteins found on the rotating menu. The menu changes regularly, depending upon which ingredients are fresh, and in season. Expect a shady back patio, and a staff that will treat you like family.
The Guild/ First Ascent Coffee Roasters– Serving breakfast, lunch, and the best coffee in town, The Guild is a local favorite. Everything on their menu is organic, and much of it is locally sourced. Their fenced in backyard and their upper porch are great way to soak up the morning sunshine.