Outerbike in Crested Butte, CO is an opportunity to test ride the cutting edge in mountain bike technology from the top manufacturers on over 750 miles of singletrack throughout the Gunnison Valley.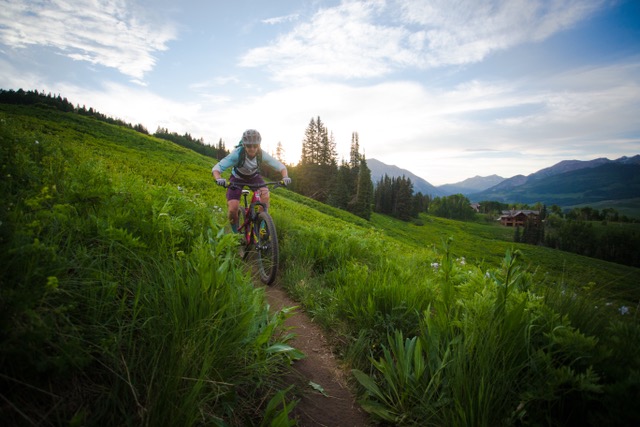 Outerbike will be held in the Central Rockies of Crested Butte, CO for the first time ever. Outerbike will be bringing the latest and greatest in bike technology for testing in the very birthplace of the sport. Lift served cross country riding on Crested Butte Mountain Resort's Evolution Bike Park will allow for quick laps on demos so that many models can be tried. Short loops from the base of Mt. Crested Butte to the town of Crested Butte will be assisted by the town shuttle bus.
Crested Butte, located in the Gunnison Valley, is the home of mountain biking. The sport was developed simultaneously in Crested Butte, CO and in Marin County, CA. The big difference is that while folks in Marin focused on bike tech, Crested Buttians focused on trail building. Now, over 40 years later, Crested Butte Mountain Bike Association, the oldest of its kind in the world, upkeeps over 450 miles of trail in the north end of the Gunnison Valley alone. Bring in the south end of the Gunnison Valley and there are over 750 miles of singletrack biking.
The events will kick off on Friday August 18 at the base of Crested Butte Mountain Resort. Three levels of entry allow participants to get the package they are looking for. The Full Demo includes demo bikes, lift passes, lunches each day, parties, beer, and contests. For those that aren't in the market for a new bike, BYOB (bring your own bike) includes everything except demos. The Social pass includes all of the parties, beer, lunches for the non-riders out there.
With more and more bike manufacturers moving to a direct to consumer model, Outerbike is the best way to find the perfect fit. The event is great for those in the market for a new ride, or just for someone who wants to try the latest and greatest from top bike brands.
###
Media Contact:
Andrew Sandstrom
[email protected]
720-220-5700