Spring 2023 trail openings in Crested Butte and Gunnison
With record high snowfall for winter 2022-2023, many Colorado trails will open later than usual in spring and summer 2023. This page will be updated weekly with new trail openings and updates for the Crested Butte and Gunnison zones. You'll also find other local resources for trail conditions so you can stay up to date on the status of all your favorite Gunnison Valley trails. Whether you're a hiker, mountain biker or dirt biker, bookmark this page to refer to throughout the spring. We've also included information on other spring activities, so check this page before heading out on any outdoor adventures in Crested Butte and Gunnison.
Page updated June 13, 2023
Trail openings in Crested Butte
What trails are open in Crested Butte?
There is still quite a bit of snow in the mountains around Crested Butte from an epic winter ski season, but there are several trails that are dry enough for hiking and mountain biking.
Crested Butte town trails
In town, the Rec Path is clear, as are Bridges, Deli, Divine, Tony's, Happy Hour, Woods Walk, the Upper Loops and Mogul Storage.. Baxter Gulch and Budd are open as out-and-backs for now.
Slate River and Washington Gulch trails
Lupine 1 and 2 and Gunsight Connector are good to go! As always, there is no parking at the top of Lupine Trail, so please ride from town. 
Snodgrass Trail is also dry and open.
Brush Creek trails
In the Brush Creek area, Farris Creek Road, Strand Hill, Strand Bonus, Canal, Whetstone Vista and Deer Creek are dry. Trail #409 is open, but keep in mind that 409.5 is still snow-covered.
Cement Creek trails
In the Cement Creek area, Lower Cement, Warm Springs, Walrod Cutoff and Caves are good to go. Middle Cement Creek is open but still quite wet. If you do choose to ride it, please ride through, not around, water or mud. Point Lookout is out-and-back for now.
Where can I get information on Crested Butte trail conditions?
Follow CBMBA on Instagram and check out their frequently updated trail conditions page for the latest MTB trail conditions in Crested Butte.
When will the Crested Butte Mountain Bike Park open?
The Crested Butte Bike Park is scheduled to open on June 17. This is later than the originally scheduled opening date of June 10 due to large amounts of snow on the trails.
What can I do while I wait for trails to open in Crested Butte?
Consider mountain biking in Gunnison instead! All MTB trails in Gunnison are open. Keep reading to learn more about what trails are open in Gunnison!

Trail openings in Gunnison
What trails are open in Gunnison?
Along with Fruita and Grand Junction, Gunnison is a reliable spot for early season mountain biking in Colorado. If you want to go mountain biking in the Gunnison Valley right now, Gunnison is your best bet. All the Gunnison MTB trails are currently open. The snow has melted, and the trails are riding great. Follow Gunnison Trails for the latest news on trails and trail-related events in the south valley.
Is Hartman Rocks open?
All trails at Hartman Rocks are open for the 2023 season! Check out some of Hartmans' best intermediate and beginner trails before you ride.
Is Signal Peak open?
All the Signal Peak trails and Campus Trails are open for the 2023 season!
Are the trails in Curecanti National Recreation Area open?
Enjoy the views of high water at Blue Mesa Reservoir from the Dillon Pinnacles trail, which is dry and ready to hike. The Curecanti Creek trail at Pioneer Point is good to go until the last quarter mile, which is underwater. Hermit's Rest and Crystal Creek trails are also open.
Spring trail rules
What to do if there is mud or snow on the trail
Only use trails that you know are dry and passable. If you encounter some snow or mud on the trail, hike or ride through it rather than going around it. This preserves the vegetation around the trail, keeping it pristine for future visitors. The hard-working land stewardship organizations of the Gunnison Valley also appreciate your care.
Spring weather in Crested Butte and Gunnison
What is the weather like in spring in Crested Butte?
Spring brings beautiful but highly variable weather to Colorado's Rocky Mountains. It can be clear and sunny one day and snowing the next. Check the forecast, and bring a wide range of clothing. Generally, Gunnison is warmer and drier than Crested Butte in spring. Expect highs in the 60s and 70s in Gunnison, and slightly lower in Crested Butte. Check webcams to view current weather conditions in Crested Butte, Almont, Gunnison and Monarch Pass.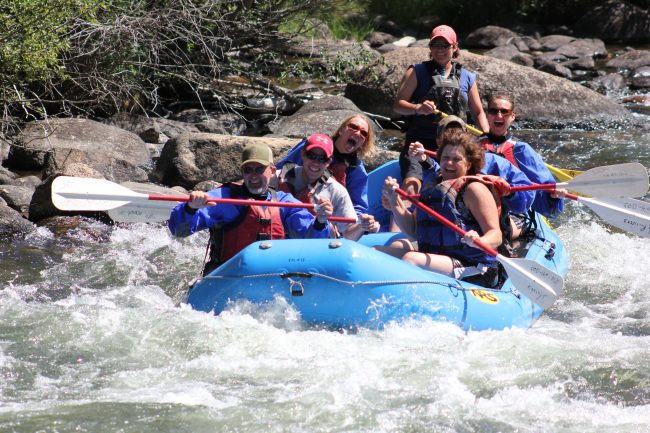 Other spring activities in the Gunnison Valley
Quickly melting snow has led to high water in rivers and creeks in Crested Butte, Almont and Gunnison. This spring and summer will be an exciting and fun year for whitewater rafting and boating of all kinds. Wildflowers will be plentiful this year! Brush up on some common varieties while you're waiting for the snow to melt. Also, remember that most of your favorite restaurants, bars and coffee shops in the valley's cozy towns are open for business! Looking for more spring activities? Here are some more ideas.
Planning your trip
Planning a spring trip to Crested Butte and Gunnison? Find information on flights, lodging and all things travel-related on our trip planning page.