Seven Reasons to Ski Crested Butte This Winter
Is Crested Butte a good ski resort? What is Crested Butte known for? Is Crested Butte worth visiting? These are a few questions you might be asking as you plan your Colorado ski vacation. We've got answers! Crested Butte, nestled high in the Rocky Mountains, is an epic skiing destination for adventurous travelers. Here are a few reasons to ski Crested Butte on your next ski trip!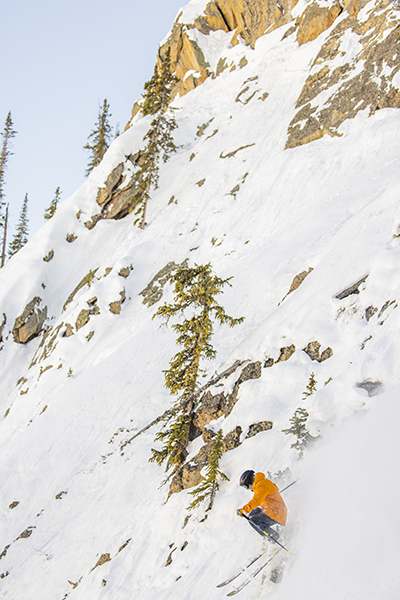 Epic extreme terrain
Crested Butte is steep—really steep. 37% of the runs on the mountain is classified as advanced terrain. Ride either of the two surface lifts (North Face Lift and High Lift, both T-bars) to access the double-black terrain in the Headwall, Teocalli Bowl, the Glades, Spellbound/Phoenix Bowl and Third Bowl. Check out the Crested Butte trail map to get acquainted with the lay of the land at the resort.
A solid base of snow already this year
The snowpack in Crested Butte is off to a healthy start this fall. Keep an eye on the local weather webcams to watch the snow pile up across the valley. You can also keep tabs on the snowpack in the Gunnison Valley on the Natural Resources Conservation Service website. Bring your powder skis and, as always, pray for more snow!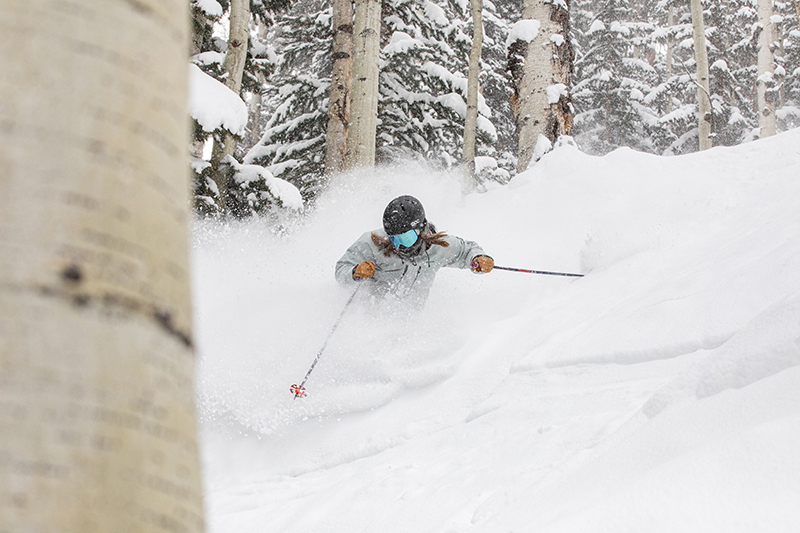 Unique tree skiing
The tree runs at Crested Butte Mountain Resort tend to be tight and technical, offering challenging and beautiful skiing. Aspen trees flourish at this altitude. Aspens have few low-hanging branches, allowing you to cruise through them with better visibility and fewer obstacles than in glades of other types of trees. Ski through picturesque groves of white aspen trees in the blue and black glades off Teocalli and East River lifts. The double-black runs on the front side of the mountain, such as Hot Rocks, Funnel, Banana and Peel, are also thickly wooded with conifer and aspen trees. If you're just learning how to ski in the trees, check out the green tree runs accessible from the Red Lady and Painter Boy lifts. Trees here tend to be more widely spaced than elsewhere on the mountain.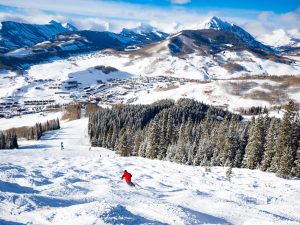 Fun mogul runs
Love to ski bumps? You'll find mogul runs all over Crested Butte Mountain. If you're looking for a long run, check out Crystal, Twister, Jokerville and Sylvanite, the fantastic black bump runs off Silver Queen Express. Resurrection, the trail directly underneath the East River lift, is another great option. All the double-black terrain has moguls, too. Don't worry—there are also plenty of groomed runs at Crested Butte. Carve up Paradise Bowl, or check out infamously steep International.
Easy flights—and no I-70 traffic!
Did you know there's an airport just 30 minutes from Crested Butte? Catch a flight from Denver, Dallas, Houston or Austin into Gunnison-Crested Butte Regional Airport (GUC) in Gunnison. If you choose to drive from Denver instead, it takes about three and a half hours. Don't worry—you won't have to brave the notoriously bad traffic on I-70. You'll be on Highway 285 and Highway 50 for most of the drive. Enjoy the beautiful Colorado scenery! Check out flight schedules and driving directions for more logistics that will bring you here to ski Crested Butte.
Colorado's coolest mountain towns
Crested Butte is located at the literal end of the road (Highway 135, that is), making it a true getaway from the real world. Mountain peaks tower over the brightly painted Victorian buildings downtown. Restaurants, bars and shops abound. Just 30 minutes south on Highway 135 lies Gunnison, a laid-back college town surrounded by pristine public lands. In addition to jaw-dropping mountain views, both places offer a wide variety of lodging and dining options.
Other fun things to do
Whether you stay in Gunnison or Crested Butte, there are plenty of activities other than downhill skiing. If you're looking for another way to enjoy the great outdoors in Colorado, check out cross-country skiing, snowshoeing or snowmobiling. With easy access to national forest and wilderness land, the Gunnison Valley is also a popular backcountry skiing destination. Need a break from exercise? Browse the events calendar to find live music, races and other happenings in the Gunnison Valley. Find a cup of coffee or a great dinner restaurant. Stock up on holiday gifts at a local shop. You can even get married or host an event here!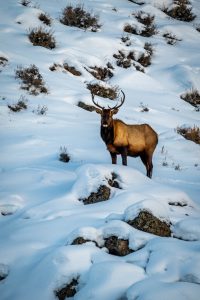 Start planning your trip to ski Crested Butte
If steep skiing and a fun apres-ski scene sounds like the perfect recipe for your next winter ski trip, start planning now. Get insider tips on conditions, travel, lodging and more!
Stay in touch
Join our email list for news and travel tips! You can also follow us on Instagram, TikTok, YouTube and Facebook.