Plein Air Painting at 20 Degrees
By Shaun Horne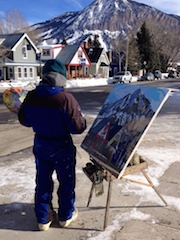 Contrary to expectation, the challenge of painting in the very cold has little to do with freezing paint, and lots to do with keeping water-based you unfrozen. I paint with traditional oil paint, which doesn't freeze at any temperature that I have met, and in fact behaves better in the winter, not drying out so fast on the palette.
People think I'm really hardcore when I'm painting in low temperatures – I guess imagining that I am cold and tough. However, the truth is I am actually quite warm; I have to be or I would make rushed, impatient and bad decisions painting.
The trick to painting in the extreme cold of winter of Crested Butte has to do with dressing in lots of layers.  If you keep your body core really warm, you can afford to lose some heat through your hands.  Painting requires that you retain some manual dexterity, so you want to be warm enough that you can use less-than-maximum gloves.
Dressing for low-temp plein air painting takes extra time, quite a bit. On the other hand, I meant to make plein air painting my job, so I consider the extra time spent dressing part of that job. If I was an astronaut, I would spend even more time dressing. There is in fact an extra joy in painting in environments that are hard won, and a sense that you are witness to nature's more secret moments.
I call this get up my dork suit.
The five stages of the dork suit.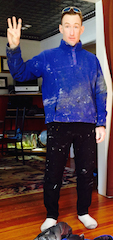 The name dork suit somehow diminishes the fashion embarrassment of wearing this. For painting at 20°F, I am wearing two puffy fleece pants, two pair of socks, a T-shirt, two fleeces, and a goose down jacket, all inside a really big one-piece ski suit, which can occasionally be found in ski town thrift shops. Because you are not moving much when painting, you need much more poof than you would need skiing. If it was colder, I would add a goose down vest, a third fleece pant and hand warmers.
The other trick to really cold painting is bomber, super-warm boots. Normal winter boots will not do. I have found that old school paratrooper boots from army surplus stores really get the job done. I have the white kind nicknamed "mini-mouse" boots, and mine are two sizes too big. They are crazy warm, and are so big they act like snowshoes. If I'm painting in the snow I add crampons, so I'm not sliding around on compacted snow.
I wear a medium-weight backcountry glove. On my head I wear sunglasses (to retain the function of my retina), a baseball hat (to keep direct sunlight off of my sunglasses), headphones (to listen to KBUT Radio), and a big, loose winter hat to hold it all together.
To my amusement I have found that my winter headgear is either frightening or objectionable to dogs. Dogs almost universally regard my winter headwear as part of my head, which makes my head definitely too big and me a strange and puffy creature they have never seen, which they don't like. Or maybe they don't like my paintings, are sure they could do better and want me to know about it.
For a chance to see me without my dork suit and view great art, stop by Oh Be Joyful Gallery and the many other local art galleries in downtown Crested Butte during ArtWalk Evenings this winter on Jan. 17, Feb. 14 and March 21.
Shaun Horne paints landscapes with a large-scale plein air method and owns Oh Be Joyful Gallery in Crested Butte and Telluride. He starts and finishes his large canvases on site by returning day after day to the same place and light, in the manner of Claude Monet. On the other hand, Shaun paints with an American hard-edge more akin to Rockwell Kent or Georgia O'Keefe. These edges are time consuming relative to Monet's soft massing, and more so at the large plein air scale Shaun adopted from Kent. In consequence, Shaun has developed among the most intense and sustained plein air painting methods to date. Born in 1968, Shaun has already produced over 800 large-scale, pure plein air, multi-session paintings.