Pizza, Mountain Biking and Skiing' It Doesn't Get Much Better!
My journey and love for the Gunnison Valley began as a student at
Western State College
in 1994. I had come to Colorado by way of Denver from Minnesota, and I originally moved out to Gunnison with my sister and her family. After working for the previous owners of
Mario's
and graduating in 1997, I got married, started a family and reluctantly moved to the Front Range. In 1998, my family and I moved to Portland, Oregon so I could attend Western Culinary Institute. After completing the program, I spent 6 weeks in Ireland studying with a French chef. I then found myself back in Colorado working for a large local restaurant company in Fort Collins.
After 12 years away from the valley, my wife and I were fortunate to have the opportunity to move back to this incredible valley where we met and started our family. We purchased Mario's Pizza, a longstanding Gunnison favorite, with the understanding that we had a responsibility to keep the traditions going. It has been a challenge, and a lot of hard work, but we have loved it and are so happy to be back in the most beautiful place in Colorado!
This year we are celebrating the 50th anniversary of Mario's, and five years of ownership for my wife and me. Our favorite part of owning Mario's is hearing all of the stories from people who have worked and eaten at Mario's over the last 50 years!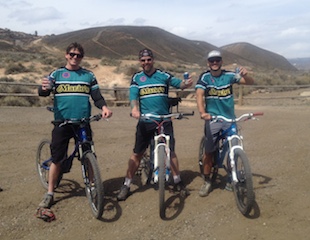 I never had the opportunity to enjoy the mountains while living on the Front Range, but now – I try to get in as much mountain biking as my free time will allow, both at Hartman Rocks Recreation Area in Gunnison and in Crested Butte. I also make plenty of time for skiing in the winter with my daughter. Besides loving the trails, I feel incredibly fortunate to be able to raise two beautiful daughters in a community that feels a lot like a very large extended family. We have been welcomed back here and have reconnected with lots of old friends, and made a lot of new ones.
Mario's Penne Pasta with Vodka Sauce
8 to 10 oz. cooked penne pasta
3 to 4 oz. pancetta
4 oz. vodka
1 T. chopped garlic
8 to 10 oz. crushed plum tomatoes in sauce
2 oz. chopped fresh basil
½ tsp. crushed red pepper flakes
2 oz. heavy cream
Salt and pepper to taste
In a hot sautè pan, cook pancetta until crisp. Carefully add the vodka to your pan; be aware the vodka will flame and do not try to blow it out (this will burn your face off) as the alcohol will burn off quickly. Next add garlic and crushed red pepper flakes, sautè for 30 seconds. Add tomatoes with sauce and cream and fresh basil. Bring to a quick boil, then down to a simmer. Add cooked pasta until pasta is hot, about two minutes. Serve with a garnish of shaved parmesan and your favorite IPA beer to wash it down.