By Joellen Fonken
Kilometers skied, forecasts analyzed and countless waxing sessions start to prepare a person for Nordic racing in Gunnison County. Fall turns into winter, slow or fast depending on who you talk to. Reality is that the local Nordic race season lasts for only a few short months, just like the short winter days; once we really start thinking about it too much, the season's over.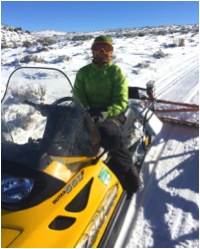 Just south of Gunnison, a 6-mile ring of granite amphitheater sets the stage for the 11th annual Kenny Mac Ski Fest at Hartman Rocks Recreation Area.  Gunnison Nordic sets 22 kilometers of track on this desert-like playground with its rolling terrain and views of the Continental Divide, San Juan and West Elk mountain ranges.
Kenny Mac Ski Fest, scheduled annually for the last Saturday in January, is slated for Jan. 31 this year, bringing Nordic skiers of all ages together. The youth races kick off the day on the base area trails just off Gold Basin Road.  The 1, 3, and 5K race loops are great for spectating from the starting line. Adults take the line for a 12 or 24K-length race ,challenging all skiers right off with a climb up Kill Hill.  The course then rolls through sagebrush, mountain mahogany, and the ring dyke of granite.  New this year is the Cold Cash Snowflake Dash, a fun 5K tour where participants scavenger for the most hidden snowflakes to win a pot of cash.
After a December and January local Nordic race series ends in Crested Butte, all attention focuses on the popular Alley Loop Nordic Marathon (an American Birkebeiner qualifier).  Serious participants set their sights on podium finishes or personal best finish times. Recreational skiers put great interest and creativity into the treads and accessories that make up the costumes they wear as they ski around the course loops ranging from 1.5K up to 42K.  The town folks gather along the twisty course and cheer on the gliding parade of skiers on the first Saturday in February, which is Feb. 7 this year.
A big lure and the uniqueness of the Alley Loop are actually the alleys of the town of Crested Butte. The ski course is set throughout the historic town's alleys, pathways and bridges and then onto the Crested Butte Nordic Center groomed terrain with a rewarding view of Paradise Divide. The course is challenging for all skiers due to the un-natural skiing terrain of sugar-like snow; the navigation of narrow bridges and their railings; and unusual structures and cornering.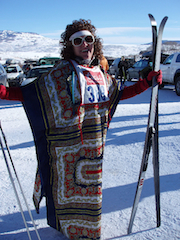 The Nordic skiing and racing scene in Gunnison and Crested Butte is similar to many mountain towns but is especially vibrant and active. All ages of skiers embrace the kick-and-glide activity that is rewarding in both physical and mental benefits. Young skiers are the future of the sport, and seasoned individuals share waxing and technique secrets with fellow skiers.  You can't have a bad day on Nordic skis, even if your wax is wrong.
Joellen Fonken has skied the Alley Loop's 20K race three times and is training to tackle the full marathon this year. She enjoys all aspects of skiing from telemark skiing to grooming track for Gunnison Nordic.  When it's not snowing, Joellen rides mountain and road bikes and is always up for a remote backpack trip anywhere.