Laurel's Summer Bucket List
Summer here in the Gunnison Valley goes fast. The phrase, "blink and you miss it" is spot-on. Skiing is still my favorite, but summer beats winter in the Gunnison Valley. Long days. Sun. Wildflowers. More bikes than you can shake a stick at.
With summer being so short, I suffer from FOMO (fear of missing out) more in the summer than I do in the winters. I am always trying to do something epic and I sometimes end up missing out on the little things that make summer here so great. So this summer, I'm going to try to fit in a few more of the experiences that so many of our visitors love. I'm also shooting for riding at least 250 unique miles of singletrack, but that's a different story for a different bucket list.
Attend at Least One of Each of the Different Live Music Shows
After working a long day, it's hard to motivate to leave my house to do anything, even see live music. Once I get home, the only way I want to leave is on my bike to go ride some of the trails that we can ride from our door. But, we have really incredible music acts come into town from all over the country. In fact, you're likely to find live music at least somewhere in the valley a majority of nights every week. And a lot of it is free! I want to do better about taking advantage of that.
Monday nights bring Alpenglow at the Center for the Arts in Crested Butte. The schedule hasn't been posted yet, but it's always good. Tuesday nights brings Burgers and Brews at the IBar Ranch in Gunnison. On Wednesday, Mt. Crested Butte and Crested Butte Mountain Resort play host to the Live! From Mt. CB series— this line-up looks right up my alley! Thursday nights are the Classic Country series at the I Bar.
On top of these weekly events, the Crested Butte Music Festival offers everything from opera to their first-ever RAVE at their Mirror Palace venue. I went to one show at the Mirror Palace last year. It was a terrific show and an even better experience. The bar, the booths, the food, and the vibe were all spot-on and make it the coolest music venue I've been to in Crested Butte. I'll definitely be back this year.
Usually I get to the last week of the concerts and realize I haven't been to any all summer long. Not this year!
SUP the Slate River
I'm still a very beginning SUPper (I'm such a beginner I don't even know if that's the proper term!), but I have designs on renting from CB SUP and getting my dog a doggy life jacket to head out some evening and SUP the Slate River. It just looks like a super chill way to enjoy an evening here.
CB SUP is our partner in putting on the Blue Mesa Beach Bash, so I may see if I can convince Courtney to come with me. She taught me to SUP last year on the Blue Mesa when she took me to be her guinea pig testing out the course for the beginner race for the Beach Bash. I think it goes without saying that I'll be hitting up the Blue Mesa Beach Bash again this year. Who doesn't love a party on the beach?
Do the Proper Morrow Point Boat Tour
In 2014, my husband was injured when his parents came to visit us in June. They're pretty active people, so we knew we'd have to find something for them to do each day. One of those days, we did a boat tour with the National Park Service. Typically that boat tour is of the Morrow Point Reservoir. But in 2014, the waters were too high so they were doing the tour on the Blue Mesa Reservoir instead that June. We went down Cebolla Creek on the little pontoon boat and learned a bunch about the history of Blue Mesa and the Black Canyon, and it was terrific. But, I still feel like I need a rebate to go back and get the proper tour on the Morrow Point Reservoir.
Sit on an Elk Avenue Bench for a Whole Hour Mid-Day on a Weekday
Locals joke a lot about bench-sitting. You'll notice locals and visitors alike camped out on benches for hours at a time, mid-day. Sometimes I'll see the same folks sitting when I get to Elk Avenue in the morning that I see again in the afternoon. Sometimes they move to make sure they maximize their time in the sun. Sometimes they just park it and stay put.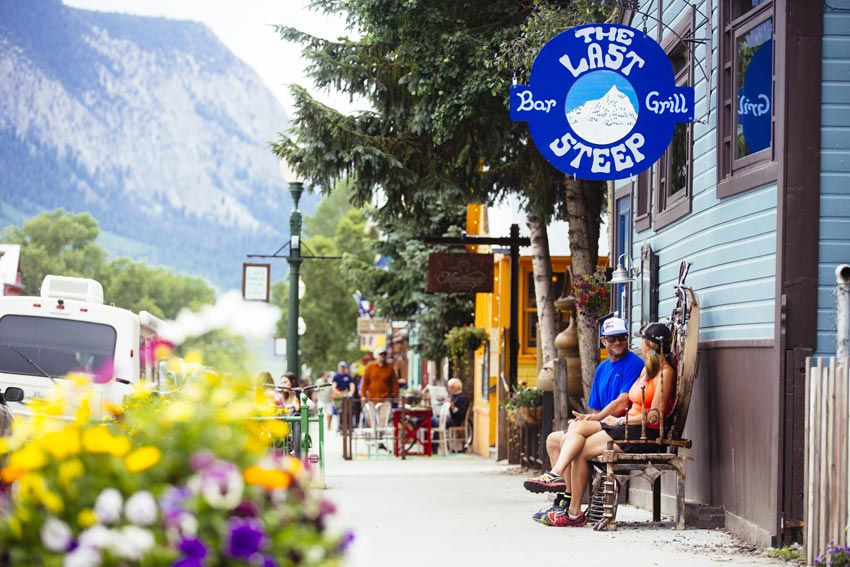 I have never been any good at siting still. I want to take at least an hour some weekday this summer, bring a sketchbook, and sit on a bench. I am self-aware enough to recognize that planning out my bench-sitting doesn't really fit in the spirit of bench-sitting. Baby steps, right?