Feast in the Field: A Local Food Story
By Cassie Pence
Before farm-to-table was even a trend, Chefs Dana Zobs and Stacee VanAernem met the only farmer from Paonia delivering to Crested Butte, Enormous Brontosaurus Farm, at the 4-way to buy fruits and vegetables for their personal chef businesses.
For these passionate women, local and organic is the only way to cook. It's just the way they do it. That was more than a decade ago, and they are still leading the charge in farm-focused food.
"Local, organic food just tastes better'" Zobs says, who together with VanAernem, owns Crested Butte's Personal Chefs.
It's been 25 years since the two first started cooking together, rolling sushi at Lil's, and now their catering company is one of the most sought after for private parties and weddings. The chefs say it's their dedication to quality ingredients, joking they have a reputation for being "picky."
"The food you cook is only as good as your ingredients," VanAernem says.
On Thursday, Aug. 2, at 5:30 p.m., Chefs Zobs and VanAernem will create a five-course meal that showcases their dedication to local food. Feast in the Field is a true farm-to-table experience in the beautiful outdoor setting of Red Dog Ranch located in Crested Butte.
The dinner is not only a celebration of local food, but seeks to tell the story of the people who grow it and the land that sustains it. Farmers and ranchers break away from busy harvests to attend the event. The Feast in the Field raises money for Mountain Roots, a nonprofit that makes the Gunnison Valley's food shed more sustainable and abundant through education, outreach, production and the creation of new markets for area farmers.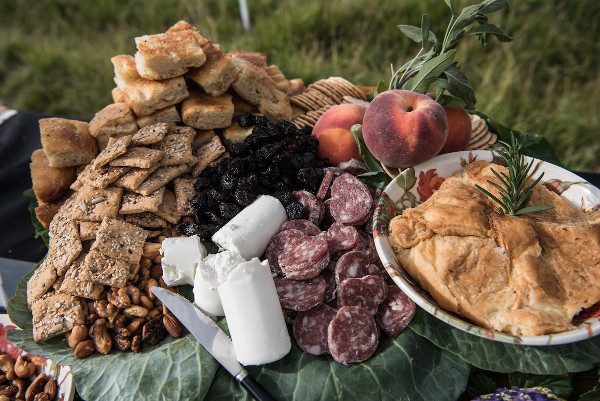 Chef Zobs has supported Mountain Roots for many years, teaching kids to cook in the classroom as part of the non-profit's Farm to School Program.
"I remember teaching science and math while making farmer's cheese, multiplying the recipe and teaching the chemical reaction. And then we got to eat it right away on crackers," she said. "When you teach kids how to cook, they think more about what they are eating."
Hors d'oeuvres and a sampling of wine, handcrafted local spirits from 291 Distillery, beers from Irwin Brewing Company and Big B's Hard Cider will kick start the celebration as guests mingle with the farmers, ranchers, distillers and vintners. Farmers and ranchers from Parker Pastures, Twisted Root, Calder Farms, Tassinong Farms, Thistle Whistle and Ela Farms will all be in attendance. Sitting elbow to elbow with the hardworking people who grew the food is what makes Feast in the Field a special experience.
"Restaurants mention the farm they get produce from and have them up on a board or publicize them in some way, but having the folks who produce the food attend the event is unique and gratifying," Mark Waltermire of Thistle Whistle Farm said. "I have a lot of pride when the food tastes good, and it's nice for me to feel appreciated."
Importer MundoVino will serve Catena and Casa Lapostolle wines and carefully pair each course. The evening will naturally move toward the fires to enjoy dessert and The Decc citrus-clove liqueur from 291 Distillery.
Tickets are $250 and include alcohol. You can buy tickets at www.mountainrootsfoodproject.org. Dinner benefits Mountain Roots, a Gunnison Valley nonprofit working hard to make our local food shed sustainable and abundant. For questions, email [email protected]