Wildlife, mountain views, old mines and ghost towns, and National Parks are all on the top of the list when it comes to sightseeing in Gunnison-Crested Butte. Take a drive on one of our scenic byways or go on a horseback ride to one of the many roadless Wilderness Areas that encompass large swaths of our mountains.
Sage deserts, stunning high peaks, and meadows filled with wildflowers. The vistas in Gunnison Country lend themselves well to those looking to take a sightseeing tour of one of the most diverse spots in Colorado. Whether you want to explore for a few hours or spend a week on the road checking out all that Southwest Colorado has to offer, Gunnison-Crested Butte is the perfect headquarters for your next trip to or through Colorado.
Scenic Drives and Tours
Gunnison County contains pieces of two official Colorado Scenic Byways, the West Elk Loop-Scenic and Historic Byway and the Silver Thread Scenic Byway. These beautiful drives offer the opportunity to explore the different views and varied terrain of Gunnison County. Or, create your own scenic drive itinerary.
Take a trip up Taylor Canyon to the Taylor Reservoir and enjoy the dramatic rock cliffs and the stunning river views. Watch for wildlife! This is one of the best places in Gunnison County to spot bighorn sheep and many bird species. Another popular driving tour is the Paradise Divide loop up Slate River Rd. or Gothic/Schofield Pass Rd. and coming down the other side. This, like many dirt roads in Gunnison and Crested Butte requires a little bit of clearance to negotiate.
Walking Tours
One of the best ways to go sightseeing in town is to take a walking tour of the main historic buildings and districts in Gunnison and Crested Butte. Both towns have been around for quite a while, and many historic structures remain thanks to the dedication of our local governments. The entire town of Crested Butte was designated a National Historic District in 1974, and many of the buildings on Elk Avenue and throughout town are the same as they were in late 1800's
Wildlife
Crested Butte and the Gunnison Valley are some of the best places in Colorado for spotting wildlife. Large herds of elk and mule deer roam the valley during the winter and can often be seen right from the highway. During the spring and early summer the Gunnison Valley is a stop-over point for every sort of migratory bird from the common robin to rare hawks and owls.
If you're looking for the best time of year to come sightseeing for wildlife it's hard to beat the early fall. During this time of year animals are more active as they look towards the coming winter and the hardship it will bring. Bears are easily spotted out looking for berries and nuts in the drainages, around town, and elk and mule deer group into huge herds in anticipation of the rut. This is the time to see the impressive sight of 200+ elk crossing a mountain pass bugling and fighting as they move towards the pastureland in the valleys.
Hot Air Ballooning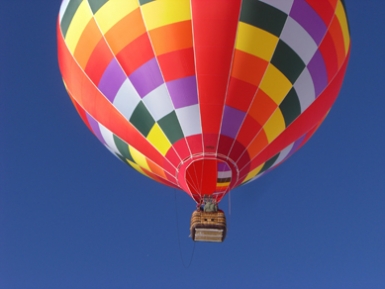 See the Gunnison Valley from a whole new vantage point! Take a hot air balloon ride with one of our local outfitters and enjoy the peaceful views from way up high. Just remember to dress warm. Even in summer months it can be cool up high.
Search Partners