Stand-up paddleboarding is quickly becoming one of the most popular outdoor sports in the country, and the Gunnison Valley has plenty of opportunities to try it out. Rent a SUP in town or bring your own, and explore miles of mellow rivers, alpine lakes, and Colorado's largest body of water, Blue Mesa Reservoir.
SUPing Blue Mesa Reservoir
Blue Mesa Reservoir is one of the state's undiscovered gems. The lake encompasses 96 miles of shoreline and many day-use areas and campgrounds dot the north shoreline along US 50. Most of these day-use areas have bathrooms, picnic tables, and great fishing.
Backcountry Camping Information
The lake does tend to pick up with wind during the afternoon. Start early for longer trips and make sure you give yourself plenty of time to get back before the wind starts to get rough.
Paddle Routes
Dillon Pinnacles
A short, fun paddle with some interesting geology. Park at the Dillon Pinnacles trailhead along US 50. These pinnacles are the result of erosion in the West Elk Breccia, an ancient volcanic mudlflow. By paddling along the shore towards the dam and then up West Elk Creek you'll get the best view of these spires.
Lake Fork Arm
The Lake Fork of the Gunnison dumps into Blue Mesa just above the dam. Parking can be found at the Lake Fork boat ramp just off CO-92 by the dam. Another parking area can be found just before the Sapinero bridge on US 50 West coming from Gunnison. This is just a dirt road down to the water, and some clearance may be required.
The arm extends up to 6 miles into the Lake Fork watershed depending on flow from the Lake Fork and water level in the reservoir. Backcountry camping is available along the Blue Mesa, and the Park Service maintains several primitive campgrounds for boat-in traffic.
Blue Mesa Beach Bash
Tito's Blue Mesa Beach is an annual SUP event on the Blue Mesa Reservoir. Held every August, it's an event for beginners and experts alike. SUP races, yoga, games and lessons take place all day long. It's also a great place to demo boards from some of Colorado's top manufacturers and decide which board is right for you!
SUPing Alpine Lakes
Gunnison County is home to over 70 alpine lakes. While many of these are located off hiking trails and in the valley's extensive Wilderness Areas, there are several with excellent parking and access.
Lake Irwin
Located just up Kebler Pass Road, this is one of the most popular areas in the summer. With views of towering Mount Ruby and Mount Owen above, it's easy to see why. Take Kebler Pass Rd. 8 miles out of town and then follow signs along the gravel road to Lake Irwin.
Lost Lakes
Lost Lakes are located a little further down Kebler Pass Rd. near the Lost Lake Campground. Three lakes surround the campground and a 3 mile loop trail connect all three. Lost Lake Slough is the lowest lake and most easily accessible by car. It may be shallow and muddy late in the season. Lost Lake is the best option of the three, combining a small hike with beautiful water and scenery. This area is even more impressive in September when Colorado's largest aspen grove is dressed in yellow.
Emerald Lake
Emerald Lake is another popular place during the summer because of the beauty of the East River Valley. It is located just below Schofield Pass and some passenger cars will struggle to make it all the way there.
Meridian Lake
Meridian Lake, also called Long Lake is a popular local's escape located up Washington Gulch. Please follow signs and stay off private property located along the lake. To get there drive up Washington Gulch Rd. and park where in the lot where the road turns to gravel. Jump across the creek and hike .3 miles up the hill to the lake.
Mirror Lake
Mirror Lake is located just past Tincup in the upper reaches of Taylor Park. Turn right off Taylor River Rd. at the Trading Post. Follow the gravel road up to the small community of Tincup and turn left in the middle of town. The road is rough, but AWD vehicles should be able to make the drive up to the lake. The road becomes significantly more difficult past the lake.
Taylor Reservoir
In the heart of Taylor Park lies Taylor Park Reservoir, a man-made body of water surrounded by the Elk and Sawatch Mountains. While the lake isn't huge, it isn't small either. Good places to paddle are along the base of Matchless Mountain, near the mouth of the Upper Taylor, and near Willow Creek.
River SUPing
Whether it's a lazy float or a hair-raising whitewater experience, sometimes it's just better to go from Point A to Point B. While many of the rivers in the Gunnison Valley are a little difficult for the average SUPer, there are a few options that don't push over Class II in difficulty. For more difficult options head over to the Boating page.
Slate River
The Slate River starts as a continuous Class 5 creek before reaching the valley bottom near Oh-Be-Joyful Campground. From here to the bridge at Brush Creek Rd. the river mellows out and winds it's way through willows and gravel bars for several miles. It is imperative that you check the water levels. Flows above 200 cfs should be considered high. You can run it down as low as you would like, but be prepared to carry around a few features below 75 cfs. There may also be a fence or two located in this stretch. Another reason to paddle this at lower water.
Put in points for this stretch are the Oh-Be-Joyful Campground and Gunsight Pass Rd. trailhead. You can take out at the bridge on Gothic Rd. or at the CO-135 bridge near Brush Creek Rd.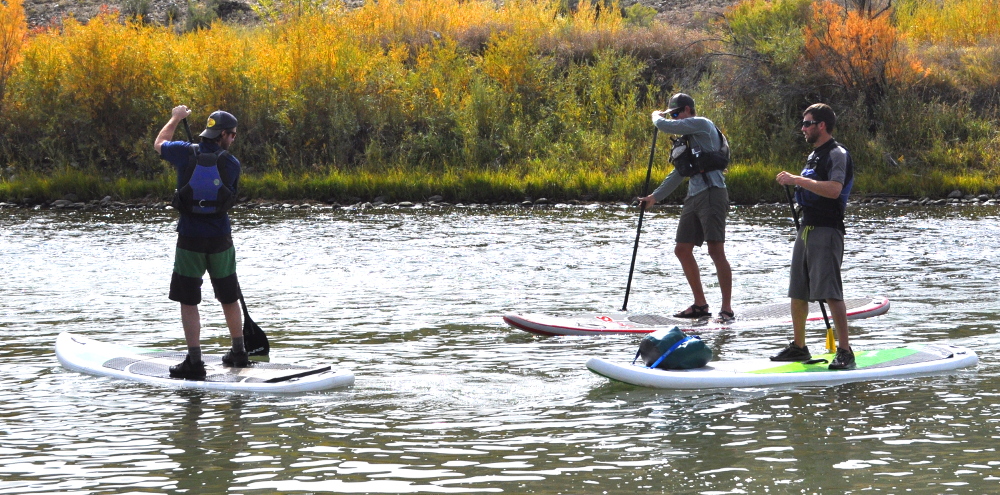 Lower Gunnison
This stretch of river is a little bit more difficult, but there is less maneuvering since the volume of water is much higher. The most popular stretch to SUP is from North Bridge to the Whitewater Park. North Bridge is located north of Gunnison CO-135 across from Garlic Mike's. The Whitewater Park is on US 50 West just past the turn for Hartman Rocks. A few spots in this stretch are easy Class 2. The Whitewater Park, if you choose to run it, is difficult Class 2.
Once again, check the river level. Flows above 1,500 cfs are probably too high for most people. The Gunnison rarely gets too low to run.
SUP Outfitters and Guides
Ready to get out on the water? These folks can make it happen for you!