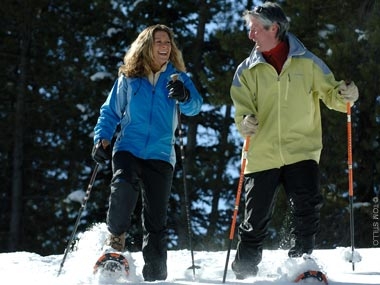 If you love to hike or run in the summer, you may want to participate in one of the oldest forms of snow travel while you're here in Gunnison-Crested Butte: snowshoeing! Snowshoeing is just like going on a hike during the winter and is a fantastic way to walk your favorite trails and drainages when the snow is everywhere. Snowshoeing is also one of the best ways to spot our elusive winter wildlife. Foxes, ermines, birds, and more are active in the winter time and the quiet steps of your snowshoes are less likely to spook them than any other method of snow travel.
Family-Friendly Snowshoe Adventures
Snowshoeing is a perfect, family-friendly activity to enjoy while visiting our winter wonderland. Equipment rentals are inexpensive, we have beautiful, well-groomed trails, and there's no learning curve. If you can walk, you can learn to snowshoe. The Gunnison Nordic Club and the Crested Butte Nordic Center trail systems are open to people on snowshoes and you can even take your dog along with you on some of the trails.
Search for Gear and Rental Shops
Romantic Stargazing in the Snow
For those looking for something a little different, Crested Butte Mountain Resort and the Crested Butte Nordic Center offer glorious evening snowshoe tours out under our brilliant night skies. Our thin mountain air and pollution-free skies make Crested Butte one of the best places in the United States to view the Milky Way. Both places offer dinner and drinks with your experience so you don't have to walk back hungry.
Search the Events Calendar for Snowshoeing