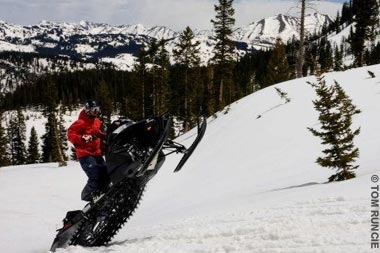 If you're looking for something a little different on your vacation in Gunnison-Crested Butte, you may want to give snowmobiling a try. With a guide and a "sled" (as the locals call it), you have the opportunity to get a little farther off the beaten path and explore areas it would take hours, if not days, to reach on foot. With a snowmobile, a quick 15 minute ride will get you out there. There is a reason so many people move here and immediately buy a snowmobile; they're just a lot of fun!
Groomed roads out Kebler pass and encircling Lake Irwin offer snowmobile fun within 5 minutes of town. Other opportunities include riding off-piste in Taylor Park,  and endless miles of backroads that aren't maintained for regular vehicles in the winter months. These roads and access points can take you into the deep untouched zones around our massive valley.
Gunnison County Sno Trackers provide excellent information about trails and closures on their trails page, and we advise you check it out before heading out for they day.
We also encourage all snowmobilers to "tread lightly," be courteous,  and consult all regulations before going out. Wilderness boundaries are not always easy to identify under snow, but they are enforced. Avalanches are also a serious concern in our area. Please carry a beacon, shovel, and probe and know how to use them. Check the Crested Butte Avalanche Center's website before heading out into the backcountry.
Family Friendly Snowmobile Adventures
For families looking to get out together and explore the powder at locations like Lake Irwin, outfitters have great beginner packages. Spend a full or half day out under gorgeous blue skies playing on pristine, sparkling snow. By the end of the day, the whole group will be ready to head back into town and chow down at one of our local restaurants. Riding a snowmobile can be one of the most tiring ways to play in the mountains!
Search for Snowmobile Guides