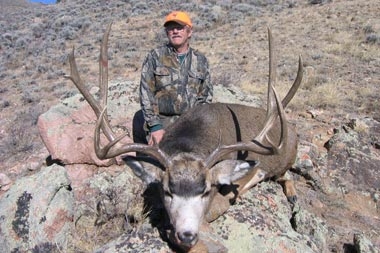 Hunting in Gunnison and Crested Butte is a big game paradise. Trophy elk and mule deer, as well black bear, mountain lion, moose, big horn sheep, and antelope are all options for the hunt of a lifetime in some of the most beautiful country you can imagine.
Small game hunting in the Gunnison basin can be pretty spectacular too. Gunnison County is just smaller than Connecticut, but contains 80% public lands. Hunt for coyotes in miles of sage, or chase bobcats through the high alpine tundra and spruce forests.
Gunnison and Crested Butte Game Management Units:
Game management units are the specific regions in which you will be hunting. All lottery applications will have you specify a GMU. There are 3 GMU's to look into if you are planning a hunting trip to Gunnison or Crested Butte. Almost all of them include an opportunity to hunt in designated Wilderness Areas.
GMU 54: This unit is located between the left side of Highway 135 North and the middle of the West Elk Wilderness. Be prepared to hunt above treeline during the early season and move lower as it gets colder. The lower elevations of this unit are private ranch land for the most part.
GMU 55: Located on the other side of Highway 135 from Unit 54 this unit contains a spectacular amount of public land. Stretching from Schofield Pass to Cottonwood Pass it is large and contains a lot of nooks and crannies. Expect to hunt above 9,000 feet for the most part, although having a private landowner tag during lower elevation late season hunts can up your odds significantly.
GMU 67: Unit 67 covers a large swath of Bureau of Land Management land south of Gunnison and extending in to the La Garita Mountains. It's rolling mountains, plains of sagebrush, and dark timber stands have a rich history of elk hunting.
Licensing:
Big game licensing in Colorado is not easily explained and is probably best done by Colorado Parks and Wildlife. Tags and licenses are split very specifically into game management units, sex, method of take, and season. Most of these specific tags are available through a weighted lottery system. Application to the weighted lottery generally has a deadline of early April every year.
Did you miss the lottery deadline and still want to hunt? Don't worry, Colorado Parks and Wildlife does sell over-the-counter tags for some species like elk and deer. Contacting a guide service is a great way to increase your chances of a successful hunt, as well as provide you with the correct licensing information that you need.
Search for hunting guides
Maps
Need maps of the valley? Check out CBGTrails.com for the most-up-to-date maps of the Gunnison Valley. Download the maps you need and you'll get access even when you're offline and far from civilization.