Gunnison County has over 2 million acres of public land within its borders. Regardless of whether you're putting together a pack trip to hunt trophy elk in the fall, or you're interested in a trail ride with the family there's plenty of room to ride.
Family Horseback Trail Rides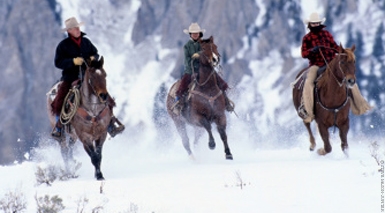 Several places in the valley offer trail rides on public and private land. Fantasy Ranch offers trail rides from their stables near the Snodgrass Trailhead during the summer, and from their Almont property during the fall and winter. Horseback during the summer is one of the best ways to experience the Wildflower Capital of Colorado, as well a spot wildlife like elk and deer.
If you want to experience a day trip into one of our remote Wilderness Areas where vehicles and motorized traffic are excluded then book a longer trail ride with one of the outfitters in the area. You won't have to work quite as hard to see some of the most beautiful and unspoiled areas in the Gunnison and Crested Butte area.
If you are looking for a therapeutic/adaptive horseback riding program in the area while you visit, we have one of the best in the country. The Adaptive Sports Center specializes in offering outdoor adventure to anyone with a disability. Their horseback program is located close to Gunnison in the beautiful Cochetopa area.
Pack Trips
Gunnison and Crested Butte are surrounded by designated Wilderness Areas that do not allow motorized access. That means solitude, untainted views, and very little visitation. Visiting Wilderness Areas on horseback either by yourself or through one of the outfitters in the valley means that you can experience all of this, and still bring the kitchen sink.
Many hunters choose to use horseback as their primary means of accessing remote hunting terrain during the fall. By going with an outfitter you can set up a drop camp and hunt different areas from horseback. When you shoot a 700 lb. bull elk 11 miles from the nearest road, you'll be really happy you brought a horse with you to help pack it out.
search horseback riding outfitters and guides
Maps
Need maps of the valley? Check out CBGTrails.com for the most-up-to-date maps of the Gunnison Valley. Download the maps you need and you'll get access even when you're offline and far from civilization.