Willowfly Anglers Fly Fishing Guide School
May 10, 2018

-

May 16, 2018

$1260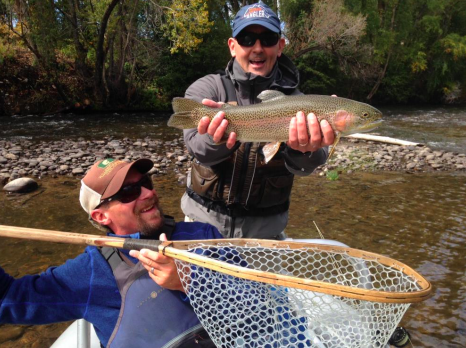 Want to become a Professional Fly Fishing Guide?
Curriculum includes: IFFF Casting Instruction, Rowing, Wading,
Entomology, Conservation, Equipment, Professionalism, and more!
Tuition: $1260
Included in cost: 7 Nights Lodging, Expert instruction, Class
Materials, Use of Waders & Boots, PFD's, Rods & Reels
Willowfly Anglers at Three Rivers Resort will be offering a professional fly fishing guide school from May 10 to May 16, 2018. Course size will be limited to 12 participants to ensure the highest quality experience possible. Classes will run from 8 am to 5 pm each day. Instruction includes some classroom time but most instruction will be on local rivers.
Why choose Willowfly Anglers Fly Fishing Guide School?
Willowfly Anglers is an Orvis-Endorsed Outfitter and has thrived over 35 years with some of the best guides in the industry. Our guides have over 100 years of combined guiding and instructional experience.
We offer a variety of local water not often found in one location: Tailwater, Freestone, Small Creeks and Stillwater (on-site pond and 2 large local reservoirs). The Gunnison and Taylor Rivers may be floated or waded with private access points to both rivers.
Equipment is included in the cost: waders, boots, rods, reels, PFD's.
Private water on site and private boat ramps accessing the Taylor River and Gunnison River.
Thorough curriculum including: Instruction from an IFFF casting instructor, entomology, ethics, wading, rowing, guide professionalism and client management.
Guest Speaker from our local Trout Unlimited Chapter.
On site lodging included!
Small class size to ensure high quality experience.
Large network of outfitters for employment referrals.
Great local fishing pre-runoff during May.
A head start on the Colorado minimum guide qualifications for those students interested in float guiding in Colorado.
Discount offered for the raft guide course (which will fulfill the minimum qualifications for float guiding in Colorado) if registered for both.
Opportunities to "fast track" river mile requirements for Colorado's trip leader status, necessary to float guide on your own in Colorado.
The best value of any guide school!
Tuition for the 2018 school is $1260.00 per student and includes 7 nights of lodging, class materials, the use of waders, boots, rods and reels, PFD's, and a diploma upon completion. Not included are a Colorado fishing license, leaders, tippet, flies, and lunches. The lodging included consists of a hotel-style lodge room at Three Rivers Resort, where the guide school will be based. The room is spacious and includes a queen size bed, fold-out futon, private bathroom and kitchenette (refrigerator, kitchen sink/counter area, small table, toaster oven, microwave and coffee maker).
Float fishing guides in Colorado must meet the minimum state requirements to guide commercially. This guide school course does not fulfill all of the Colorado floating requirements. Any participants wishing to be certified to float must also enroll in the Raft Guide Training course (above). If enrolling in both the Fishing Guide School and the Raft Guide Training course, overall tuition may be reduced by $100.
Completion does not guarantee employment.  As an Orvis-Endorsed outfitter, we have a large network of outfitters to which we can refer graduates for possible employment opportunities. For aspiring float fishing guides who enroll in the Raft Guide course, river miles needed to float fish guide as a trip leader may be accumulated by guiding commercial raft trips for Three Rivers Outfitting while being "on call" for fishing trips in the first year.
Registration closes April 23rd, 2018
Topics covered include:
Being a guide: what it takes and what to expect
Conservation and outdoor ethics
Necessary equipment
Entomology
Rigging and knots
Trout holding water and behavior by season
Casting instruction
Rowing for fishing basics and safety
Wading techniques and safety
Required for participation:  Have a valid Colorado fishing license and be at least 18 years of age.
Tentative 2018 Agenda:
Wednesday, May 9th: Arrive, check into lodge room and get settled.
Thursday, May 10th: AM Classroom and Casting/Lunch/PM Classroom and Casting
Friday, May 11th: AM Classroom/Lunch/PM Wading
Saturday, May 12th: AM Classroom/Lunch/PM Wading
Sunday, May 13th: All Day Wading
Monday, May 14th: AM Classroom/Lunch/PM Floating
Tuesday, May 15th: All Day Floating
Wednesday, May 16th: AM floating, PM classroom and class-overview. Final wrap-up.
In order to streamline our calendar we've moved guided mountain bike trips to a separate page on our sister site MTBHome.com. You can view those trips by guide service here.