Western Student Juried Art Show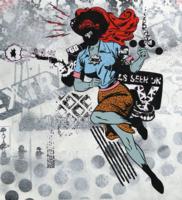 Join us for an evening of art and music! The Art and Music Departments at Western Colorado University are proud to present the 2021 Western Student Juried Art Show at the Center. This exhibition of visual art features finely-crafted paintings, photos, prints, ceramics, jewelry, and installation work by 27 current art students at Western Colorado University. Juried by Rosalind Cook, an internationally recognized sculptor. The Western Colorado University Music Department will also provide a sonic backdrop to the event with a three-hour-long musical performance in the first-floor atrium. The musical performance will feature both individual student and faculty performances along with larger ensembles that will encompass different musical styles throughout the evening. This event is free and open to the public, but capacity may be limited due to COVID restrictions. Gallery open hours Tuesdays, 1 – 3 pm and Fridays, 10 – 12 pm. Show runs April 6 – 30.
In order to streamline our calendar we've moved guided mountain bike trips to a separate page on our sister site MTBHome.com. You can view those trips by guide service here.