Virtual Meditation & Mandalas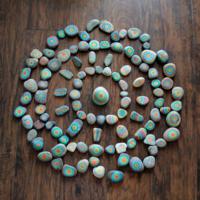 Meditation & Mandalas ~ Rock Painting Workshop Pre-recorded virtual class available for download April 20. Gather your whole family to paint mandalas on river stones with Boo Radford! This workshop will be instruction interspersed with meditation. There is something uniquely calming about focusing on the task immediately before you, allow yourself to create in stillness and with purpose. Quiet the mind while creating something beautiful. Instructor: Boo Radford. $25/student, $21.25/members includes all supplies.
In order to streamline our calendar we've moved guided mountain bike trips to a separate page on our sister site MTBHome.com. You can view those trips by guide service here.