Virtual Flash Fiction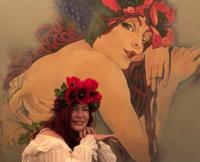 Flash Fiction: Online Literary Workshop Flash Fiction – Online Literary Workshop Saturday, April 18. 10:00 am – 12:00 pm. Registration Deadline: Thursday, April 16 by 5:00 pm. In this two hour workshop, students will approach writing flash fiction as an opportunity to experiment with sensory details, form, structure and style. Attention to details, style and structure is very important to the writer of tiny fictions and these elements can be incorporated into longer works. With that in mind, some of our assignments will begin with examining elements in written extracts, but we will be working with the sentence and the paragraph to convey meaning, be playful, and structure a small complete work. This can be shared in class or submitted privately to the instructor for comments. The first half will be exercises and a mini lecture, the second half -after a short break – will be creating and sharing. Students will join the live workshop online through Zoom. The link to join will be emailed to each student. Students should ensure that Zoom is downloaded on their computer/tablet/smartphone. Instructor: Enid Holden. Maximum of 4 students. $30/student, $25.50/members.
In order to streamline our calendar we've moved guided mountain bike trips to a separate page on our sister site MTBHome.com. You can view those trips by guide service here.