The Wildflowers & Science Extravaganza
July 15, 2017 @ 8:00 am

-

5:30 pm

$120
The Wildflowers & Science Extravaganza
Saturday, July 15
8 a.m. – 5:30 p.m. Wildflowers & Science Extravaganza Hike with 1% for Open Space, RMBL and the Crested Butte Wildflower Festival. $120 (includes gourmet lunch). 970-349-1775.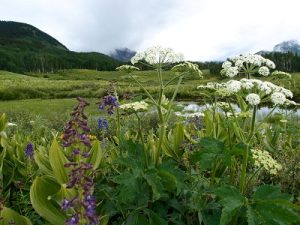 Do more than just identify the wildflowers! Learn, discover, explore and create in 1% for Open Space's
wildflower hike offerings during the Crested Butte Wildflower Festival.
The Wildflowers Science Extravaganza on Saturday, July 15 discovers what scientists at the Rocky Mountain Biological Laboratory are studying on Snodgrass Mountain! RMBL scientists use wildflowers to understand a range of topics, including pollination dynamics, genetics, climate change, and impacts of invasive species. Join RMBL scientists and 1% for Open Space Executive Director Molly Murfee roaming through various research sites learning about: current research being conducted live on these lands; open space preservation as a key to understanding our physical world; and how these two organizations work together on land conservation for scientific research. The Snodgrass Extravaganza explores several research sites through the topics of pollination dynamics, watersheds, climatic data gathering and entomology. It's an all day excursion from 8 a.m. – 5:30 p.m. and the cost is $120, which includes a gourmet lunch.
This hike helps to benefit the work of 1% for Open Space in raising funds to help preserve our gorgeous land including its sweeping viewsheds, bountiful recreational access, valuable working ranches, and important ecosystems, wildlife habitats and watersheds. For more information visit www.1percentforopenspace.org.
In order to streamline our calendar we've moved guided mountain bike trips to a separate page on our sister site MTBHome.com. You can view those trips by guide service here.