Thanksgiving Nordic Ski Camp
November 23, 2017

-

November 26, 2017

$15 – $117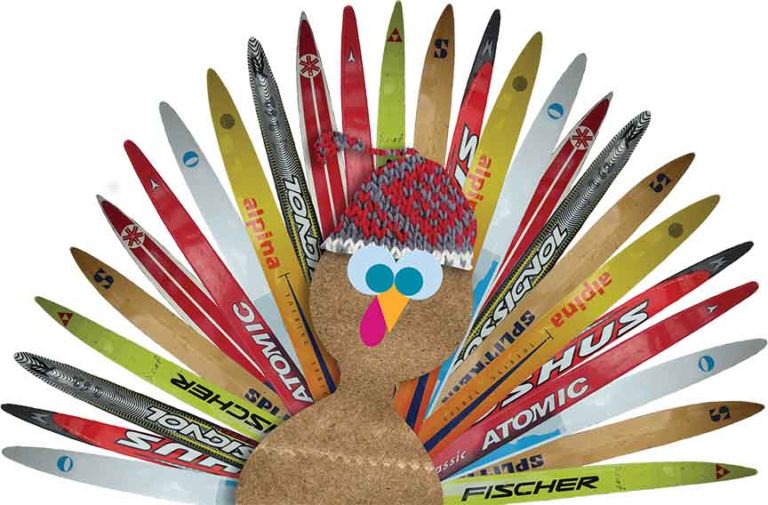 We're going on 30+ years of snow at Thanksgiving here in Crested Butte.  However at two week before T-Day, and currently no snow on the ground in town, it is uncertain what form the camp will take this year.
** 2017 Thanksgiving Camp Contingency Plan **
Plan A:  It dumps!
Ski the in-town nordic network as presently scheduled!
Plan B:  It snows… but not enough to provide in-town skiing.
We may however be able to move clinic's up to our higher elevation, groomed venue at Lily Lake, a beautiful location a few miles north of town.  Refunds will be issued to any registrant who is not happy with this alternative ski option.
Plan C:  No Snow Accumulation 
We will adjust to a dry-land training camp, offering both traditional, as well as, creative ski specific activities to enhance your ski fitness.  Dry-land training is an integral part of every ski racers' fall training and you will enjoy our coaches' imaginative and fun activities, including – ski walking, Mousehufs, Spenst bounding, ski core – balance & agility and roller skiing.
We will help each camper develop a fall/winter training plan – including video analysis, double pole fitness testing on Ski Erg machine, and fast wax education.
Full refunds will be issued to those not wishing to participate in a dry land camp.
---
Schedule
Wax Bench & Equipment Rental
8 a.m.
Round Robin Refresher Clinic
9 a.m.-11 a.m.
Nordic Strength Training – CORE Fitness
7:45 a.m. –  8:30 a.m.
Wax Bench & Equipment Rental
8 a.m.
Camp Welcome w/ Morning Refreshments
8:30 a.m.
Full Day Clinic's
9 a.m. – 4 p.m.  w/ mid day lunch break
Kids Camp
9 a.m. – 3:30 p.m.  w/ mid day lunch break
Introductory Lessons
12 p.m. – 3:30 p.m.
U16 Junior Training Camp
1 p.m. to 3:30 p.m.
Wax Bench & Equipment Rental
8 a.m.
Nordic Strength Training – CORE Fitness
7:45 a.m. –  8:30 a.m.
Camp Welcome w/ Morning Refreshments
8:30 a.m.
Full Day – Clinic's
9 a.m. – 3:30 p.m.  w/ mid day lunch break
Kids Camp
9 a.m. – 3:30 p.m.  w/ mid day lunch break
U16 Junior Training Camp
9:00 a.m. – 3:00 p.m
Introductory Lessons
12 p.m. 3:30 p.m.
Winter Kickoff Celebration – Crested Butte Railroad Depot
6 p.m.
Alley Loop Race Series (Race # 1)
10 a.m.
Camp Culmination Tour
9:30 a.m.  – Noon
---
How to Choose a Clinic
Appropriately identifying your ability level during registration is really important
Never Ever
Skiers who have never skied, or skied once or twice a long time ago
"How do I put these boots into those binder things?"
Beginner
Skiers who have skied occasionally, but not had much instruction; or have skied a couple times each winter but ski fitness is low.
"I've been sliding around on skis, but really don't know what I'm doing.  I need to learn how to do this right!"
Intermediate
Skiers who have skied frequently, have had some coaching and know what to do, and want tips and skills to ski more efficiently and faster.
"My friends are all faster than me and I want to be able to keep up.  If I'm going to do this sport, I need to learn how to do it right! I'm thinking about doing a race or two."
Advanced
Those who ski a lot, have had coaching in the past, race occasionally or frequently, and want to ski stronger, faster and with higher efficiency and are quite fit.
"I love nordic skiing and want to ski better.  I have goals for racing and would like to race faster.  I've been doing some ski training this fall."
Other valuable points for having a successful camp …
You can identify different ability levels for different techniques – you may be an intermediate in Classic, but beginner in Skate.
You can change groups at any time – even in the middle of a clinic; our coaches will help you decide if a different group is best and assist you in sliding over to a better match for your ability and fitness.
You can change groups at lunch if you get too tired to keep up, or feel you need a different level.
When in doubt, choose an easier group – better to start in an easier group, get your skills mastered and move up, than to get discouraged skiing with stronger skiers.
We will have 2 coaches in groups with 8 or more – those groups will split again by ability 10-15 minutes into the clinic.
If after reading these descriptions you feel you want to change the group you registered for, email events@cbnordic.org.  If you have questions, or need help deciding on which group best suits you, email Murray: murray@murraybanks.com
---
Clinics
All clinic costs include a complimentary CB Nordic trail pass.
Round Robin Refresher

Thursday, November 24th, 9 a.m. – 11:30 a.m. 
The Round Robin Refresher is a fun way to get back onto skis and refresh your muscle memory.  Participants of all ability levels will practice skills and drills with a variety of instructors – "round robin style."
Half Day – Introductory Lessons
Friday & Saturday, November 25th & 26th, to  12 p.m – 3:30 p.m.
We offer half-day, sessions for individuals curious about trying skate and classic disciplines for the first time.  These group lessons will be geared toward introducing "never-ever" participants to classic and skate technique.  Friday clinic will be Skate focused, with Saturday focused on Classic.
Full Day Clinics

Friday & Saturday, November 25th & 26th, 9 a.m. – 3:30 p.m.
We offer full day Skate & Classic clinics with professional instruction and video analysis for recreational through advanced ability levels.
Participants will be divided into groups based on ability at the outset of camp.  Groups will be comprised of no more than 8 students per instructor.  Less experienced skiers will get frequent breaks with refreshment in a heated enclosure.  Video analysis of your technique will be captured and reviewed on snow to maximize your learning experience.
Full day clinics on Friday and Saturday include a morning and afternoon session, separated by a  lunch break.  Sessions run approximately 2.5 hours long.
The Full Day Clinic fee includes complimentary hot soup lunch at the Nordic Center.
Kids Ski Camp – Full Day

Friday & Saturday, November 25th & 26th, 9 a.m. – 3:30 p.m.  
Our Kid's Camp provides kids grades K – 6th, an opportunity to experience the "fun"damentals of classic skiing with on-snow games, obstacle courses and winter adventuring!
Understanding that younger kids may not be inclined to spend a full day outside on snow, camper's will have the option in the afternoon to experience the Trailhead Children's Museum.  After being served soup lunch at the Nordic Center, kids will be chaperoned by camp instructors to the  Museum in Mt. Crested Butte, for an afternoon of indoor free play.

Kids Camp Registration includes: ski equipment, instruction, hot soup lunch and Children's Museum admission.

U16 Junior Training Camp
Join us for 2 1/2 days of skills, drills, games and easy distance skiing on Crested Butte's awesome trail network. This camp is designed especially for young skiers who are not quite ready to join their teammates at the West Yellowstone Camp, but want to get a jump on their technique and fitness for the coming season.
Coaches:
We invite coaches to ski along with the kids, help coach and learn from our coaches.  No fees for coaches who bring 3 or more skiers.
FRIDAY
1 p.m. – 3:30 p.m. Skate Technique
Opening games and challenges, then easy skiing with kids of your same ability.
SATURDAY
9:00 a.m. – 11:00 a.m. Classic Technique – skills, drills and easy technique skiing.
1:00 p.m. –  3:00 p.m. Skate Technique – easy skiing with technique tips, fun drills and sprints.
SUNDAY
9:30 a.m. – Skate Race – 2km, low key fun race with no prizes – just ski fast & have a blast!
---
Other Activities

Join our local nordic community for a social gathering, commemorating the camp, while sharing aspirations for the coming ski season!  Nordic themed entertainment, as well as  panel discussion to follow dinner.
Meal options include meat & vegetarian lasagna with salad & bread sides.  Beer, wine and soft drinks included.
Dinner Tickets: $30 / Adult ,  $15 / Youth
Tickets may be purchased through online registration
Nordic Strength Training – FREE Sessions
Friday & Saturday – 7:45 a.m. – 8:30 a.m.

Join fitness professional and ski enthusiast, Ginny Turner of CORE Fitness for specific strength that supports your Nordic skiing. Ginny will take you through several core and Nordic ski stabilization  exercise programs to support your skiing throughout the season. A virtual link to the training program, including video tutorials, will be emailed to each participant, to  keep your training motivation up at home!
Space is limited to 12 persons a session.  Sign up at the Nordic Center the day prior to reserve your spot.
Wine & Waxing – FREE Session
Friday – 4:00 p.m. to 5 p.m.


Join our coaching staff and wax reps from Toko and Swix for an hour of snacks, beverages and waxing instruction! We will have numerous wax benches and coaches to provide personalized hands on experience with kick wax, glide wax, scraping and brushing.
Is it really possible to wax, scrape and brush your skis with a glass of wine in one hand? Come find out!
Youth – 1k/3k & 5k Skate
Kids race FREE / $10 Adult Race Fee
A fun filled, multi-lap course will be set to put your new skillset's to the test!  Incorporating lot's of agility maneuvering with NO big climbs – this race against the clock is the perfect opportunity to get an idea for how your technique holds up under fatigue.  Video analysis of race performance provided to camp participants.
Pre-Register Here
Camp Culmination Tour
Sunday, 9:30 a.m. to noon – $30
A low intensity / long distance tour on the greater nordic network will be offer Sunday morning.  This capstone ski outing will be one last opportunity to gain personalized feedback from coaches, over the course of this casual morning tour.
Fisher Demos

A full fleet of Fischer skate, classic and twin skin ski models will be available for demoing Friday through Sunday.  Gear will distributed on a first come first serve basis.
You may reserve CB Nordic Classic and Skate rental equipment at a 25% discount when you register online.  Equipment can be picked up on site at the Crested Butte Nordic Center.  We encourage anyone renting gear to get themselves fit a good 30 minutes ahead of their scheduled clinic.
In order to streamline our calendar we've moved guided mountain bike trips to a separate page on our sister site MTBHome.com. You can view those trips by guide service here.