Tear it Up and Make Something of It ~ (Ages 5 – 10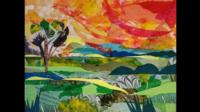 Tear it Up and Make Something of It ~ (Ages 5 – 10) A Healing Through the Arts Visual Arts Program Participants will be provided a 11X18 white sheet of paper and various colors of tissue paper. Our instructor will work with the little ones to help them understand the emotions they have experienced (happy, sad, confused, all feelings) and validate those feelings by manipulating the medium as desired and creating an art piece with it. The intent of the class is to understand that all feelings are beautiful and they can come together to create a piece of art. Feelings are valid and real. The first session will take place at the end of summer and will prioritize expressing how your summer was different due to Covid-19. The next two sessions will be after school has started to process the emotions that come with living with Covid-19 and how your day to day activities are now different. Instructor: Amber Butler. Tuesdays, 4:30 – 6:30 pm. August 18, September 1, September 15. Category: Coping with Uncertainty and Change Cost: $20 / GAC Members $17. $60 all 3 sessions / $51 members.
In order to streamline our calendar we've moved guided mountain bike trips to a separate page on our sister site MTBHome.com. You can view those trips by guide service here.