SonofaGunn 2021 Presents: "Molly Get Your Gunn"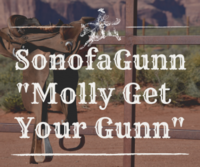 The Totally Fabricated Tale of Molly B. Denim and Her Quest to Save the Red Lady Thursday – Saturday, June 10th – 12th at the I-bar Ranch. Doors 7:00 pm. Show 7:30 pm. Travel back time to the Wild West in this year's 32nd annual SonofaGunn. Come see what crazy characters come together to Save the Red Lady in "Molly Get Your Gunn". Celebrate, laugh and support the Gunnison Arts Center's annual fundraiser while being hilariously entertained. Be sure to get your tickets early before they sell out. Don't miss the fun of SonofaGunn! Tickets $25/person.
In order to streamline our calendar we've moved guided mountain bike trips to a separate page on our sister site MTBHome.com. You can view those trips by guide service here.