Sky's the Limit: Musical Theatre Camp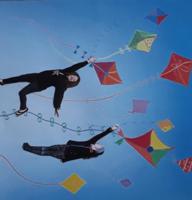 Sky's the Limit: Musical Theatre Camp ~ (Grades 1 – 8) Camp: Monday – Friday, July 27 – July 31. Grades 1 – 5: 9:00 am – 1:00 pm. Grades 6 – 8: 1:30 – 5:30 pm. Performances: Saturday, August 1. 11:00 am & 12:00 pm In this one-week camp, participants will act as writers, actors, designers and musicians as they create their own original musical! NO experience necessary, all you need to bring are your fantastic ideas and a readiness to explore (and an instrument if you play one and would like to add it to the soundscape)! Minimum of 8 students per age group needed to run camp. Maximum of 22 students per age group. Camp held in the GAC Dance Studio and/or Courtyard unless otherwise noted. Tuition: Early Bird registration through July 13: $170 July 14 – 24 registration: $200 Registration Deadline: July 24 by 5:00 pm. Pay what you can for performances.
In order to streamline our calendar we've moved guided mountain bike trips to a separate page on our sister site MTBHome.com. You can view those trips by guide service here.